Super results for bulls GenHotel members!
Genomics
Drouner K&L Augustus P Red, #1 R&W in Switzerland!
This proof run has given many bulls bred by GenHotel members new (genomic) breeding values. This has resulted in various international successes, including several national number 1 listings! Below a number of the many high scoring bulls.
Switzerland
No fewer than 4 of the top 6 red-and-white young bulls in Switzerland are bred by GenHotel members. Rank leader with 1656 gISET is Drouner K&L Augustus P Red, a Caudumer Solitair P out of Drouner K&L Aiko 1557 RDC VG-87. In second place is Sudena Safari Red, a Spark x Rubicon bred by Sudena Holsteins. Koepon OH Robin Red, a Rubels-Red out of the great brood cow Lakeside UPS Red Range VG-85,  is in 5th position and is the highest Rubels-Red son in Switzerland with 1569 gISET. Just behind him, K&L RM Inseme Barone Rosso Red, from the successful Canadian Glen-Drummond Splendor family, is number 6 with 1553 gISET.
Among the black and white young bulls, Wilder Holocron (Aristocrat x Fortune) is the highest Swiss-based bull bred in Europe (1666 gISET). Also in the top 10 is Wilder Hulk P, a Hotspot P from the Batke Outside Kora EX-94 family, who is also the highest polled bull with 1641 gISET. By far the highest type bull in the top 100 gISET is Koepon Showking, an AltaDateline out of Koepon Bandares Classy 402 VG-87. Showking will certainly confirm his name with 145 ITP (Index Type) and 144 Euter (udder).
Canada
Never before a red-and-white bull has managed to top of the black-and-white bull list in Canada. 3STAR OH Ranger-Red makes history and is the first bull in the decades-long breeding history to achieve this great performance! Ranger-Red is a Rubels-Red son out of Lakeside UPS Red Range VG-85, the super brood cow of Koepon Genetics, and is now in the Semex bull barn. With 3910 gLPI and 4113 Pro$ he is by far the number 1 worldwide for both gLPI and Pro$!
United Kingdom
The number 1 red-and-white proven bull in the UK is now with 626 PLI K&L Lz Conan PP Red. He is also the number 1 polled proven bulls, and he is even homozygous polled! Conan PP Red comes from the 3STAR Breeding Program and is a son of Red Rocks K&L Lazar P Red, a co-breeding product of Red Rocks Holsteins. Conan's dam is K&L BL Candle P RDC, a De-Su Balisto half-sister to Schreur Apoll P Red, making Conan PP Red a double 3STAR breeding product.
Scandinavia
In the Scandinavian calculation model (Denmark, Sweden & Finland) VH Bertram scores with 38 NTM in the top 5 young bulls. Bertram is now owned by Viking Genetics and was bred by 3STAR Genetics and sold as an embryo to Germany. His father is K&L OH Bellwether (AltaTopshot x Silver), his mother K&L OH Maria is a full sister of the well-known brood cow K&L OH Mirror (Rubi Agronaut x Josuper).
Italy
Tirsvad 3STAR Mumbai P, making his debut with 4354 gPFT, is the highest KNS Simon P son in Italy and also polled. His dam is the beautiful Pen-Col Superhero Mistral VG-89, who has several sons in AI and many high scoring daughters, from the American Gold-N-Oaks S Marbella VG-89 family.
Click HERE for all new April 2021 bull proofs.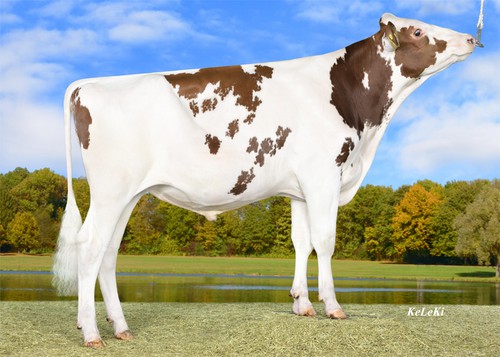 Sudena Safari-Red, number 2 gISET Red & White in Switzerland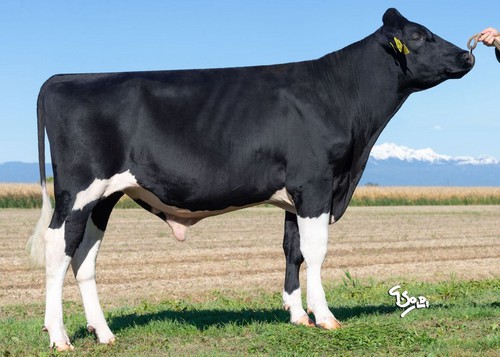 Wilder Holocron, highest in Europe bred young sire on Swiss base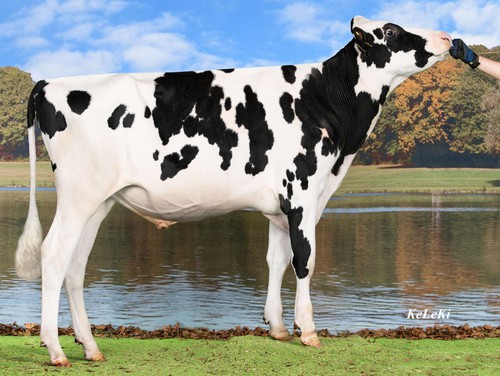 Koepon Showking, tremendous type improver in Switzerland (145 Type & 144 MS)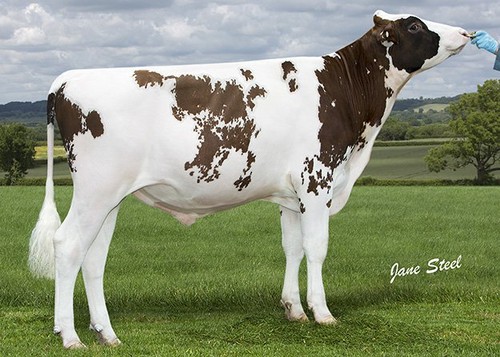 K&L Lz Conan PP Red, number 1 PLI proven R&W sire in UK
                                                                                         and also homozygous polled!