Sudena Leilenie 34 wins the special production class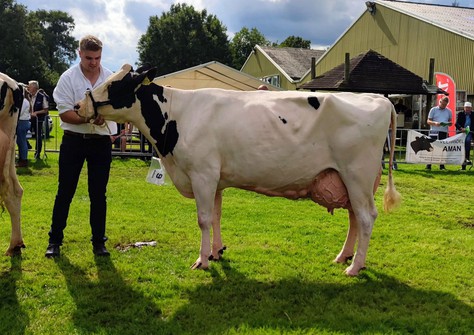 Type
Sudena Leilenie 34 produced more than 76.000 kgM.
GenHotel member Sudena Holsteins entered the show ring of the 70th 'Fokveedag Vriezenveen' last Saturday. Especially on the occasion of this anniversary, a special 'Production Class' was set up where breeders could sing up their durable dairy cows with a total life production of 70,000 kgM or more! The Mensink family managed to get their - almost - 9-year-old dairy cow Sudena Leilenie 34 in top condition for this show day and took the leading position in this impressive class.
Sudena Leilenie 34 calved for the sixth time in October 2022 and managed to achieve a total production of 76,154 kgM during her 'milk-rich career' so far! The 'only 150 cm' big daughter of the Dutch sire Heuvel Bulykin (Lonar x Paramount) gave, as breeder Ernst Jan Mensink describes himself, the ''surprise of the day''. The white beauty traces via Den Dogge Bel letta VG-89 back to the American Walkup Astronaut Lou Ann EX-94 and hopefully has many healthy kilograms of milk to go!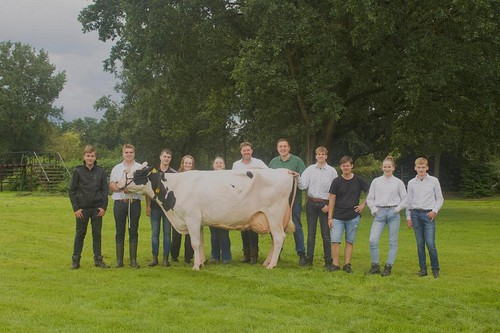 Sudena Leilenie 34 (Bulykin x Big Winner x Hole in One)
In the first category with B&W milking heifers, the very fresh Salsa P Red managed to win the second place. The Visstein K&L Money P Red daughter freshened at the beginning of July at the age of 1.11 and was purchased by the Mensink family and GenHotel, during the VOST Select Sale 9. In addition to the fact that Salsa P Red is red and polled, her genomics profile with high genomic scores in the German and Swiss system also made this Money P Red a very good catch! As a heifer calf, the red Jenniton Bolton Rowena EX-90 offspring was contracted by Swiss Genetics. Together with GenHotel also a polled heifer, named Sudena 3STAR Stella P Red by Mask Red, was bred. She tests 150 gRZG. Recently, even a homozygous polled Spread P Red son from Salsa P Red was sold to a German AI. The now daughter-proven sires Lyoder @Genes Diffusion and Leaninghouse Kingston @IPS from this cow family went before him in great success.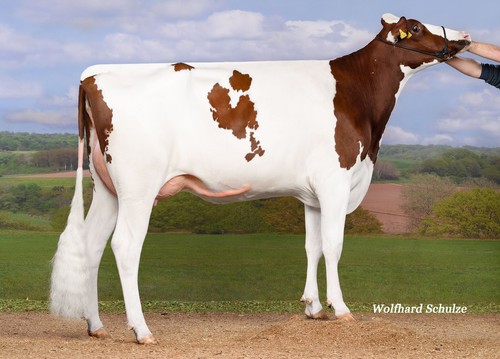 Dam Stina Red VG-86 (s. Stormy Red)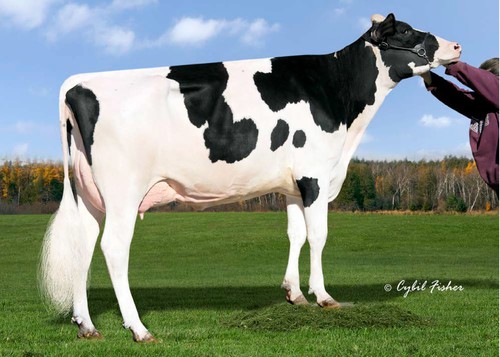 Jenniton M-O-M Savana-Et EX-90, 4th dam
The snow-white Leaninghouse King Abel daughter Sudena Abel Maui VG-87 has successfully participated at various local shows so far. Now in her third lactation with a life production of 55,958 kg of milk, the direct daughter of the American Ms Moviestar Maui VG-86 and thus granddaughter of Brookview-E Moviestar VG-86 - dam of famous sires Mardi Gras & Model - participated in the Intermediate Class. Maui VG-87 was placed third.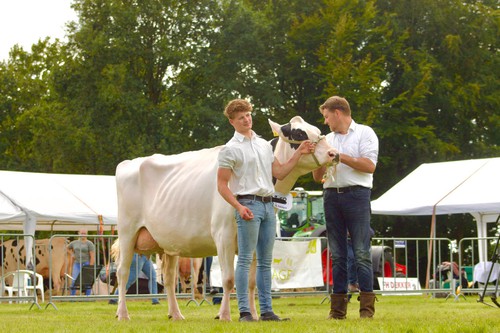 Sudena Abel Maui VG-87 (s. King Abel)
Sudena Lotje 35 VG-87, Ladys-Manor Olympian x Youri, compete in the Senior Class as a gfourth calver. Here she had to take on the famous Dutch bull dam and well-known show cow Wilskracht Warsi 879. The home bred Lotje 35 was praised by the jury and managed to achieve a 2nd position. The very strong built Olympian daughter won the Honorable Mention.