Sietskeshoeve 3STAR Gaby profiles herself as big influencer!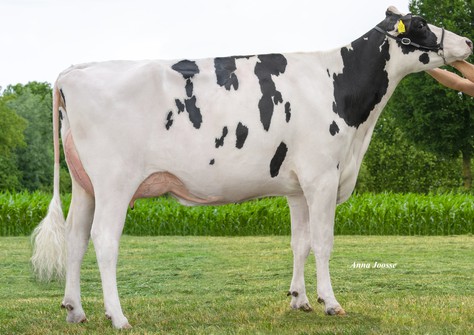 General
Sietskeshoeve 3STAR Gaby (Gigabyte x Rubi Agronaut)
Sietskeshoeve 3STAR Gaby was born in 2020 as a result of an embryo from the  3STAR Embryo Program. This combination, SH Gigabyte x K&L Poppe Gonda VG-86, was jointly owned by Poppe Holsteins and GenHotel, implanted at the Sietskeshoeve in Sleeuwijk, so after her birth Gaby came into the hands of these three owners.
The first genomics test results, which came in back in 2020, looked extremely promising! With an index of no less than 167 gRZG, Sietskeshoeve 3STAR Gaby broke all boundaries. Partly by supplying a total package of high indexes, the French AI Evolution contracted her for embryos and sire analysts showed interest in her male offspring. So when the time came, sons 3STAR Poppe Fokus (Foreman) left to Poland and Qnetics bought her SHS Clapton son 3STAR Poppe Foxrock. Highest female offspring are 3STAR Poppe Gabys (by Camus) with 155 gRZG/203 gISU and 3STAR Poppe Gabriela sired by SHS Clapton with 152 gRZG and as well a great gISU score in France. There are also two red carrier daughters born with both 150 gRZG, sired by DG DV Rammstein Red. 

3STAR Poppe Fokus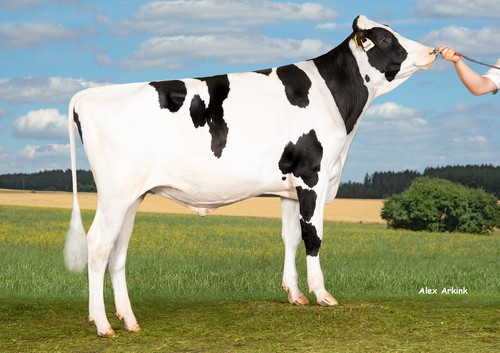 3STAR Poppe Foxrock
Dam K&L Poppe Gonda VG-86 (VG-88 MS) is one of the highest Rubi Agronaut daughters for both gRZG and gNVI. Tracing back to the Grietje/Genua cow family, this line belongs to the same cow family that delivered famous proven sires such as Emil 2, DT Improver, Tucano, Homerun and Jorrik. Gonda's dam, SPH Goldstern GP-84 (VG-86 MS), has as well a big reputation as dam of K&L Poppe Goal @Xenetica Fontao. She is also the full sister of Cyrano, owned by the German AI stud Qnetics. Within the female branch, this cow family not only delivers high indexes in multiple systems, but also excellent milk production and very impressive, high and well-attached udders. Gaby is with a current 152 gRZG and 2803 gTPI a great flagship and cornerstone for this cow family, as well as for the 3STAR Breeding Program! With this German index, she is still the number 2 Gigabyte daughter in Europe.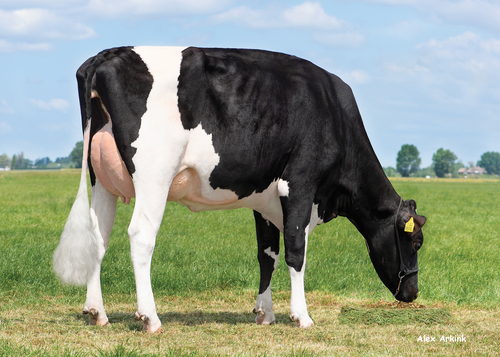 K&L Poppe Gonda VG-86 s. Rubi Agronaut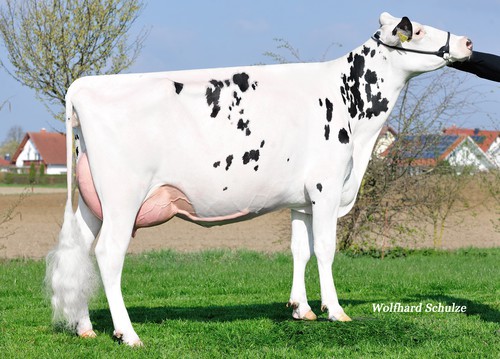 SPH Gallerie VG-86 (VG-87 MS), s. Butz-Butler Shotglass