All eyes on the ten years old Visstein Akim P Red!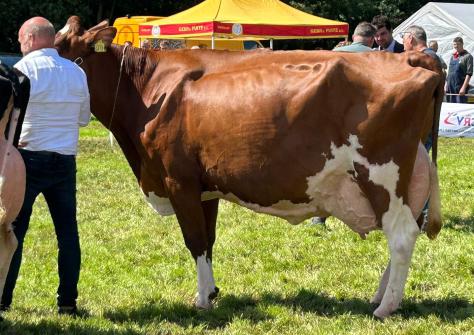 Type
Visstein Akim P Red VG-88
Last weekend, Visstein Holsteins took three Red Holsteins to the ''Fokveedag Oldebroek''. The eye-catcher was the ten-years-old, dark red Tiger-Lily Ladd P-Red daughter Visstein Akim P Red VG-88, which has been special to the Visch family from an early age!
Ten-years-old Akim P Red VG-88 freshened at the age of 1.11 years and is now working on her eighth lactation, where her lifetime production now stands at almost 100.000 kgsM with 4.17% fat and 3.44% protein! The Ladd P goes back to Millacres Nugget Mish Dera VG-85, which stands at the foundation of the bull dam Holim Heidi VG-87 (by Stan). This very deep American cow family goes back to the 40s, where in 1949 one of the first registered dams was born, namely Milleridge Footprint Inka.
Akim P Red VG-88 her granddam, Visstein Grace VG-85, is dam of the proven sire Visstein Danito RF (by Danillo), sold to Masterrind. And a Pine-Tree Ohio Style P son from the VG-88 Ladd P also graduated as daughterproven sire at the German AI stud RinderAllianz. Last Saturday the moment was there and the ten-years-old bull dam entered the class of senior cows during the Fokveedag Oldebroek, where she managed to take the lead and in the finales named Reserve Senior Champion!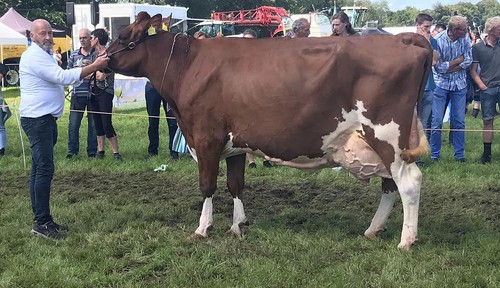 Visstein Akim P Red VG-88 with her owner Thijs Visch
In the afternoon the three exhibited cows, Visstein Akim P Red VG-88, the second calver Visstein K&L Md Aderina Red VG-86 (Marsden P Red x Aderina Red VG-89) and the first lactation bull dam Visstein 3STAR Adiva Red VG-87 (Crown Red x Aderyn RDC VG-86) formed a strong herd group with which Visstein managed to take second place!
Embryos of Adiva Red VG-87 are currently available. Click here to visit the EmbryoSale !
Find all the show results of Fokveedag Oldebroek here.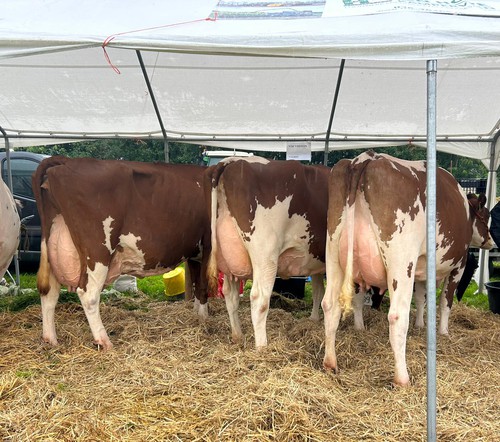 Visstein Akim P Red, Aderina Red & Adiva Red