Number 1 gTPI Gameday for Neppelenbroek!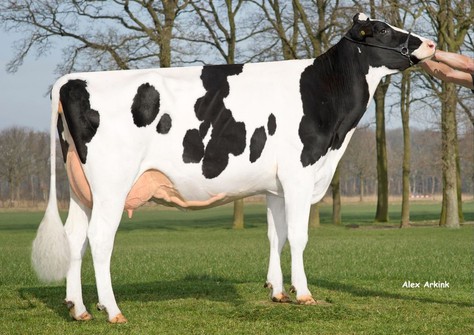 Genomics
De Oosterhof Mon Tahaya VG-86 (s. Montross), 3rd dam of Mon Tahaya 1
The Holstein Association USA and CDCB have published the genomic results for the month of July. For the newly tested females, this has once again delivered good results for GenHotel members with heifers in the top of Europe.
Mon Tahaya 1 is the highest RMD-Dotterer SSI Gameday daughter in Europe with 3094 gTPI, due to a great production proof combined with +2.02 PTAT. She is owned by Robert Neppelenbroek, The Netherlands, her dam is an early Siemers Renegade Parfect, who also scores above 3000 gTPI. Followed by King Doc x Montross x McCutchen x Colby, Mon Tahaya 1 is the sixth generation in a row to have a WWS bull as a sire. The dam line goes back to the American brood cow Clear-Echo 2635 Boliver 1204 EX-91, which has several sons and grandsons at various AI-studs in North America.
The offspring of K&L OH Mabel appears every time in the top regions of the female genomic rankings. 3STAR OH Makita and 3STAR OH Mayssa, two full sisters sired by Cookiecutter Holysmokes and 3056 and 3037 gTPI respectively, both score high for production, longevity and cell count. In addition, they score well for type, namely +2.16 & +2.09 PTAT and +2.49 & +2.21 UDC. Dam 3STAR OH Mazzali calves later this year and is a Peak AltaZazzle granddaughter of the proven super brood cow Mabel.
Highest red factor heifer this month is with 2958 gTPI Koepon Figaro Doma 64 RDC (by OCD Parfect Figaro), a full sister of Koepon Figaro Doma 63 RDC, who recorded a top result in June. Their full sisters Doma 65 RDC and Doma 66 RDC also score high for red factor animals, with 2905 and 2927 gTPI respectively.
The highest ranking type heifers, owned by GenHotel members, this month:
Rhala Barbie Saw, +3.50 PTAT (Peak Hammer x Arrow x Doorman x Butz-Butler Gold Barbara EX-96)
Willsbro Luster Amber 5158, +3.34 PTAT (Luster P x Miami x Atwood out of Kingstead Chief Adeen EX-94 family)
Rhala Barbie Drill, +3.34 PTAT (Peak Hammer x Arrow x Doorman x Butz-Butler Gold Barbara EX-96)
Click HERE for the top 50 gTPI newly tested females in Europe this month.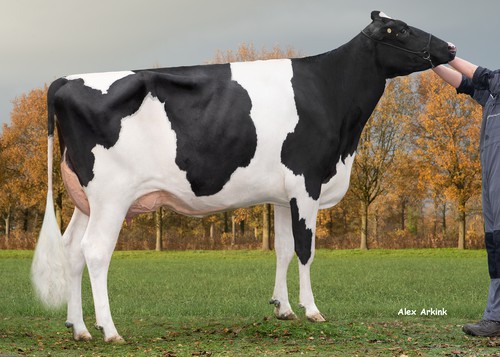 K&L OH Mabel (s. Granite), phenomenal brood cow in the pedigree of 3STAR OH Makita & Mayssa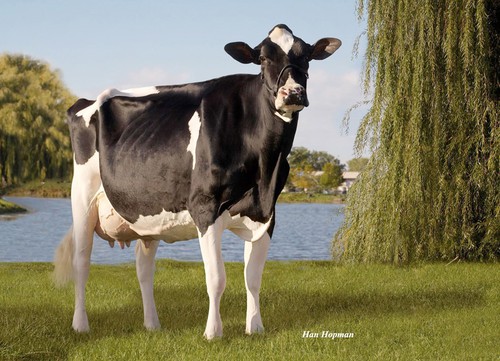 Scientific Durham Debutante Rae EX-92,
                     tremendous brood and show cow in the pedigree of Koepon Figaro Doma 64 RDC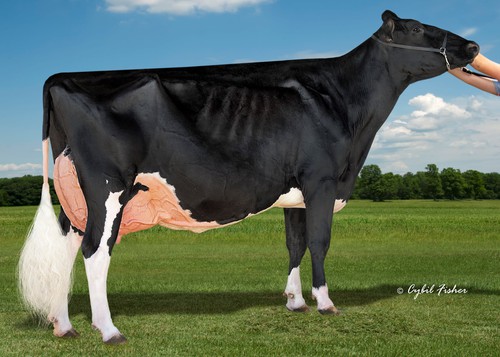 Butz-Butler Gold Barbara EX-96, 3rd dam of Rhala Barbie Saw en Rhala Barbie Drill