Koepon breeds full sisters with 162 gRZG & 163 gRZG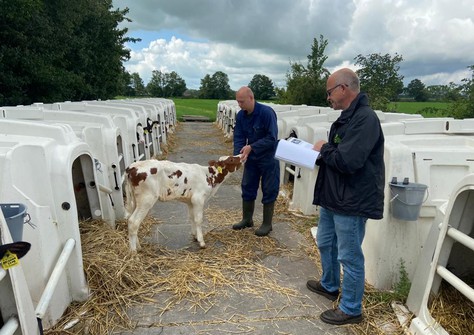 Genomics
The 162 gRZG scoring Koepon Skyliner Range 242 Red with Alex Borst and Eiso Busemann
This week Eiso Busemann (sire analyst VOST) and Martijn van de Boom (GenHotel) were among the first who could admire the extremely high scoring NH Evolution Skyliner-Red daughters at Koepon Genetics out of Koepon Sput Range 40 Red. The duo travelled this week through the Netherlands to visit and select (potential) embryo donors.
Koepon Sput Range 40 Red (153 gRZG/ 2773 gTPI/ 305 gNVI), a red K&L Sputnik RDC which via Koepon Swingmn Range 1 Red VG-85 goes back to none other than Red Impact Cow of 2021 - Lakeside Ups Red Range VG-86 - was successfully flushed with the former no. 1 R&W Interbull sire in Germany: NH Evolution Skyliner-Red (160 gRZG #5 R&W Interbull 4-2023). This flush resulted in the birth of five female offspring, of which last month some pretty amazing gRZG results came in.
The now just over one month old Koepon Skyliner Range 242 Red (Kappa casein BB) and Koepon Skyliner Range 239 Red (kappa casein BB) score a respective 162 gRZG and 163 gRZG! This makes them one of the absolute top gRZG Red Holsteins in the Netherlands and possibly in Europe! Both Range 242 Red and her full sister Range 239 Red transmit a huge amount of milk (1959M & 2305M), score fantastic well for the health triats and show a nice profile for conformation as well.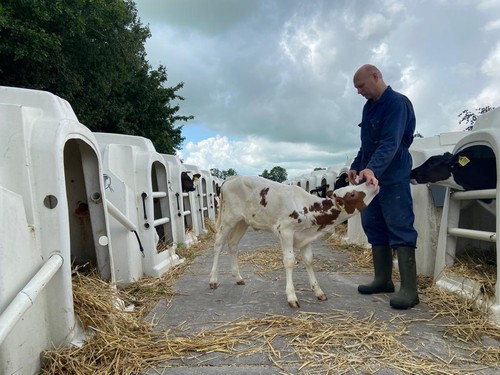 Koepon Skyliner Range 239 Red with Alex Borst (Koepon)
Their dam has been fresh since mid-July and has freshened at 2.03 years. Granddam Koepon Swingmn Range 1 Red VG-85 served as an important embryo donor for Koepon's program at the time and embryos were exported to Germany and France. During the Koepon Summer Sale of 2022, a Poppe Freestyle-Red daughter from this VG-85 Swingman was sold to France. Which highlights the huge demand in Range genetics as well!
These two RZG results once again prove the strength of the Koepon Range Red/Golden-Oaks Mark Prudence family. We will definitely hear more from these two young, Red Holstein sisters in the future!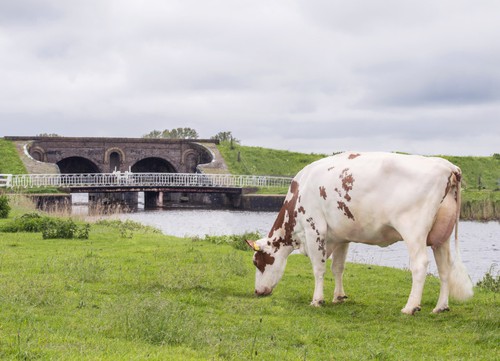 Lakeside Ups Range Red VG-86 s. Mr Salvatore RDC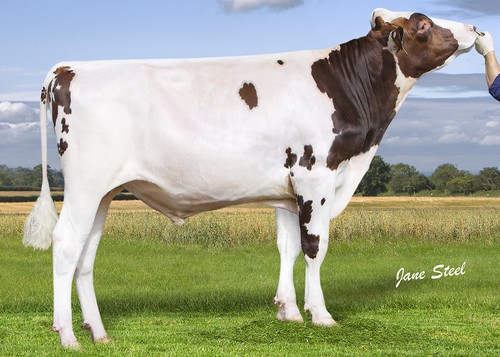 Koepon Ritzy Red (Swingman Red x Range Red VG-86) @ABS/Genus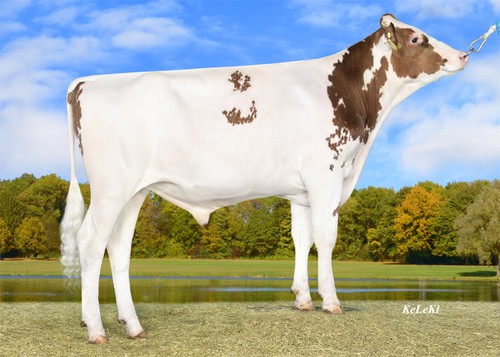 HMO Symbol Red (Swingman Red x Range Red VG-86) @Synetics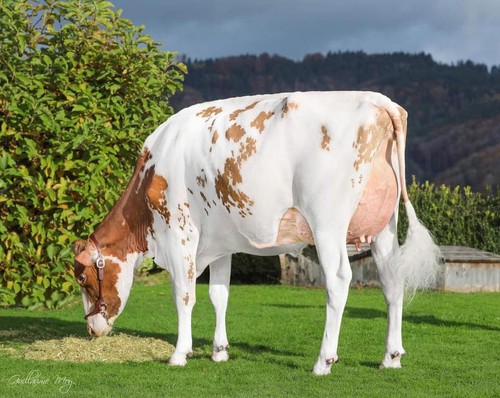 Koepon Swingmn Range 3 Red VG-85 CH (Swingman Red x Range Red VG-86) Frères Schrago, Zwitserland