New gICO confirms top bulls bred by GenHotel members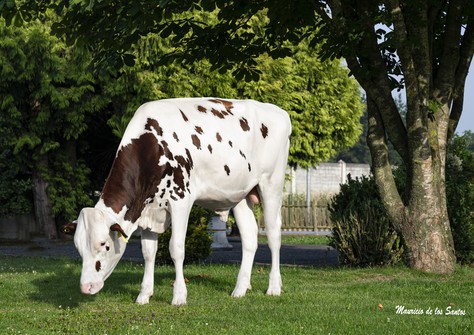 Genomics
Visstein 3STAR Gavino Red (1342 gICO)
Last month, the new Spanish gICO formula was launched. Where the top previously scored about 5000-5500 gICO, a new average of 1000 gICO has been established and a basic adjustment will be made every year. These changes not only result in a significant change in the Spanish total index, but also cause a change in the top 10 genomics and daughter-proven bulls.
On the national genomics basis, the KAX Gladius son Glax Delta remains at the top with 1356 gICO and is followed by a new number two with 1351 gICO, namely Rico Ripley. Back in R&W lead after two proof runs is Visstein 3STAR Gavino Red (1342 gICO). The Visstein Holsteins and GenHotel bred Gnabry RDC son from Visstein K&L Jacu Aderyn Red VG-86 was purchased by Xenética Fontao as a young bull and debuted in June 2022 as number 2 gICO Spanish genomics bull and number 1 Red Holsteins genomics bull.
In place 6 we find KNS Starmax RDC, bred by KNS Holsteins. This bull sires daughters with a huge will for production (+2129 kgM) with top conformation and is a son of KNS Derby Sieger Red, full sister of sire KNS Galant Red!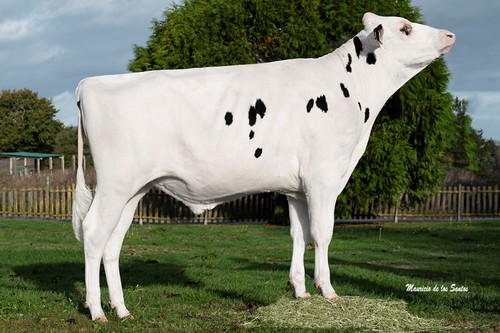 KNS Starmax RDC (s. Star P RDC)
Again named in the national top is the black-and-white SHA Foreman son from Tirsvad K&L Riveting Magnolia GP-84, 3STAR OH Magnoman. In addition to a total index of 1334 gICO, he transmits huge components (+0.44% fat and +0.24% protein) and scores 143 for productive life.
A bull also ranks high for several proof runs in a row is Diekers 3STAR OH Fladderak RDC (Freestyle-Red) delivered by Diekers Holsteins, De Oosterhof and GenHotel. This K&L Sv Sunny grandson is easy to use with 1331 gICO, a lot of milk and good fat and protein. The Freestyle-Red son is followed by the 1327 gICO scoring polled siree Schuit 3STAR Marcel P Red (Money P Red x Spark Red). With this total index, Marcel P Red is currently the highest red and polled bull available in Spain. The first embryos produces with his semen have been produced.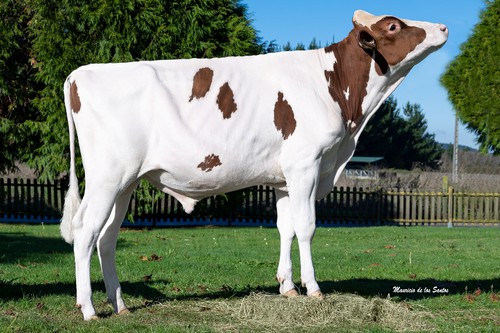 Schuit 3STAR Marcel P Red (s. Money P Red)
Highest proven Interbull sire, bred by a GenHotel member, comes from the herd of the Willem's-Hoeve. This is Willem's-Hoeve Woody, which is extremely popular in the Netherlands. Although the Double W Ranger son from the well-known Rita cow family did not yet appear in the top lists in April, Woody enters the gICO Interbull list with 1297 gICO in fourth place, including 525 milking daughters in his index.
In the new list of daughter-proven bulls owned by Spanish AI studs, we come across a well-known name in second place, namely former number 1 gICO genomics bull K&L OH Rossi Guay. Guay is the full brother of K&L OH Rozella VG-85, whose first daughters got VG-scores. Guay (1212 gICO) has been widely used in Spain, so his total index is based on more than 800 lactating daughters. Number four is with 1257 gICO Wilder Salud, a Salvatore RDC directly from Wilder Konzert RDC. Salud is a great leg improver with top health traits as well. His maternal sisters by Silky Red have been intensively used as donors for the 3STAR Breeding Program.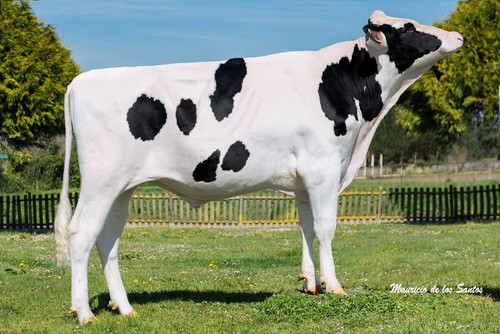 Wilder Salud (s. Salvatore RDC)
The former number 1 gICO of 2019, Tirsvad Hotspot Hondo, also continues to rank high in the top ICO. Tirsvad Genetics bred this bull from the combination Wilder Hotspot P x Tirsvad Sniper Gambia. Hondo transmits good fertility, healthy udders and longevity through a high 130 for Producive Life.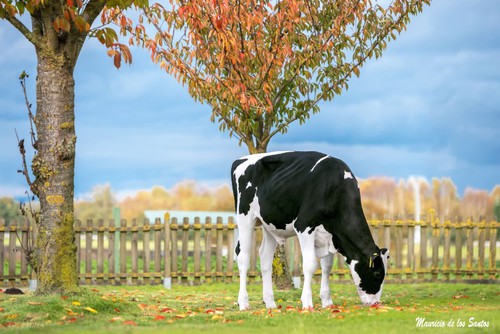 Tirsvad Hotspot Hondo (s. Hotspot P)
Kamps-Hollow Durham Altitude RDC EX-95 not only delivered top genomics sire Gavino Red, but also delivered his dam's maternal brother, K&L SV Salvatier RDC, in the daughterproven rankings in 9th place. In 2018, the red factor Salvatore RDC son already debuted as a young bull in the top 10 genomics list and now his first daughter tested index of 1252 gICO gives him a top 10 ranking again! Sisters Visstein K&L SV Aderina Red VG-86 and Visstein 3STAR Adiva Red VG-87 have been used intensively as bull dams.
With more than 1,100 milking daughters, K&L Poppe Goal is a very popular bull among Spanish dairy farmers. Goal is bred out of SonderKollektion purchase SPH Goldstern GP-84, also dam of the strong breeding K&L Poppe Gonda VG-86 (by Rubi Agronaut). The Adorable son turned out to be a bull with a flawless profile that could be easily used because of his 115 milking speed, good conformation, high longevity and a lot of milk as well as good components. His breeding value of 1243 gICO puts him in 14th place. Through six generations, Goal is descended fromr Genua VG-87.