New Moore Holsteins triumphs at regional show!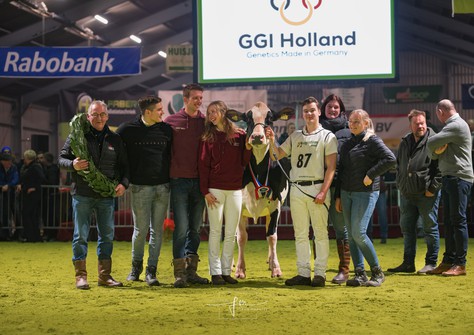 Type
Team New Moore Holsteins with their home-bred Grand Champion
Last weekend the annual Winter Show Zuidwesthoek took place. Participating member New Moore Holsteins had brought their best showstock and dominated the show ring!
For example, the Withaar-Prent family of New Moore Holsteins competed against a great competition. Starting with the young heifer calves, where Stantons Alligator daughter New Moore All Esme 161 took third place in her class. Esme 161 descends via New Moore Novo Esmeralda EX-89 (by Progenesis Novo) from showdiva New Moore Esmeralda 38 EX-93, which has a major reputation in the Netherlands, but especially at the Zuidwesthoek show winning two years in a row: Senior Champion & Res. Grand Champion 2018 and Senior Champion & Grand Champion 2019!
The success continued in the Intermediate category, where the red, third calver New Moore Tedbull Maria 463 Red VG-88 entered the showring. Maria 463 Red VG-88 is a daughter of sire De Rith Tedbull, bred by De Rith Holsteins. Partly due to the corona period, this Tedbull daughter, which was classified VG-88 as a heifer, could not be shown before. That finally changed during this regional show! Maria 463 Red, which calved in May 2022, was named Reserve Intermediate Champion.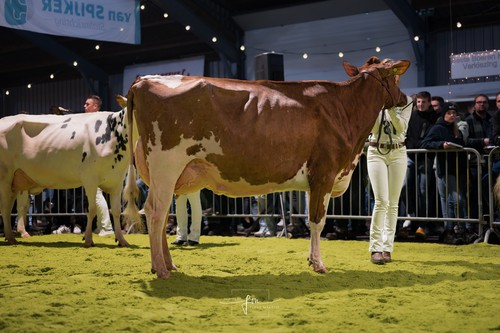 Also the Intermediate Honorable Mention of 2021, New Moore Fitz Esmeralda 103 EX-90, was again in full show condition. The third lactation Toc-Farm Fitz, direct daughter of New Moore Esmeralda 38 EX-93, scored EX-90 (EX-91 MS) in February - after almost a year in lactation. After being freshened for the third time late October, the ideal moment had come for Esmeralda 103 EX-90 in the Zuidwesthoek. In the final, the Fitz-daughter from the Withaar-Prent family had to compete against the imported HHH Vice Grand Champion 2022: Mattenhof Ghardaia EX-90. An exciting duel as a result, after which the judge decided to declare New Moore Fitz Esmeralda 103 as Senior Champion & Grand Champion 2022!