Early Rainow daughter with very interesting profile!
Sales
7th Dam: Sandy-Valley Bolt Sheila EX-92
Friday evening January 6th, you can attend the HighlightSale both live and online! This year's offer of 60 attractive sale lots includes a descendant of none other than Sandy-Valley Bolt Sheila EX-92. It is our honour to introduce her to you!
The young Dykster 3STAR Rilana is a Peak Rainow daughter which in 7 generations traces back to Sandy-Valley Bolt Sheila EX-92, an influential descendant of Snow-N-Denises Dellia EX-95. Besides the fact that Rilana is A2A2, she also owns a grandiose 160 gRZG (2651 gRZ€), 4971 gICO, 787 gPLI, 324 gNVI and a high gISU!
Dam SPH Alberta has proven to be a great genomic transmitter with no less than four sons at different AI's, something this particular branch is known for. Proven bulls like VenDairy Selfie, Sandy-Valley Saloon, Regancrest AltaIota and the worldwide known EDG Rubicon also hail from the Dellia line.
Sisters of Dykster 3STAR Rilana have already been contracted by several AI studs, establishing the next generation of bull dams! This Rainow itself transmits awesome fat and protein, high health traits and a notable plus in the milk.
Lot 5 Dykster 3STAR Rilana (Rainow x Bali x VG-86 Gymast)
Keep an eye on FarmersBid.com for the video of lot 5!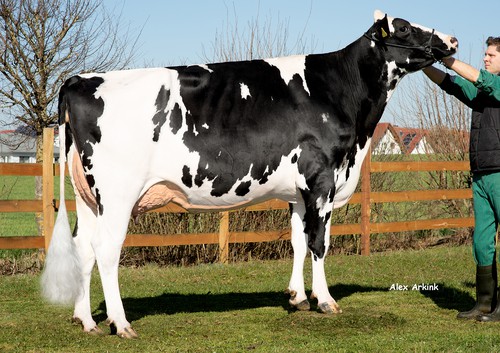 Granddam Alida VG-86 

VenDairy Selfie, full brother to Rilana's 3rd dam