New Dutch Annual Statistics (2020-2021)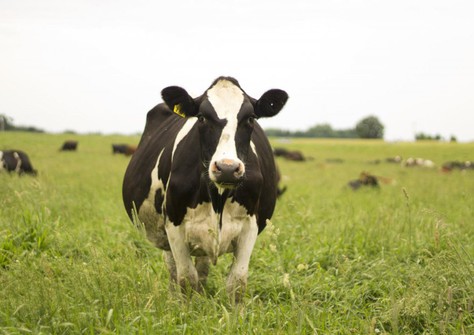 This week CRV published the average milk recording results of its members in the Netherlands and Flanders. In addition to the national figures, the top lists of the herd averages were also published. Here we again find GenHotel members in the rankings.
Remarkable is the fact that this year the lifetime production per cow has again increased by more than 1,600 kgs of milk. This can be explained by the increased number of total milk days and the slight increase in the produced kgs milk per day. Below is an overview of the past 5 years: 
JAAR AFVOER
NO. animals
No. lactations
total days in milk
longvity (days)
KG M/ day
lifetime prod. KG V + E

LIFETIME PROD. 

KG M
2021
245.965
3,7
1.228
2.180
29,0
2.826
35.624
2020
240.216
3,6
1.183
2.132
28,7
2.691
34.000
2019
233.374
3,4
1.108
2.052
28,5
2.491
31.553
2018
318.712
3,4
1.080
2.025
28,1
2.395
30.343
2017
354.451
3,4
1.084
2.035
27,5
2.354
29.845
Life production of the Dutch Herdbook cows (per year from discharge) Source: Coöperatie CRV.
Several GenHotel members have - regarding the average production of their herd - run another exceptional year. In the national list we find in eighth place Newhouse Holsteins (the Nieuwenhuizen family). The dairy farm counts 113 dairy cows that are milked by robots. The production of this dairy herd over the year 2020-2021 was 13,468 kgs milk with 4.20% fat and 3.50% protein, this with a relatively high average age of 4.08 years. The Nieuwenhuizen family even managed to take the lead in their district West-Nederland!
In the national top 25, and in second place of the Oost-Nederland district, we find Holbra Holsteins with an average production of 12,645 kgs of milk with 4.43% fat and 3.51% protein. The nearly 90 dairy cows of the Holmer family have been milked three times a day for several years now. This works out great considering the current fat and protein production of this herd! The absolute star in Holmer's herd is Holbra Hillie 20 EX-91 with a lifetime production of 129,003 kgs of milk with a stunning 4.91% fat and 3.80% protein!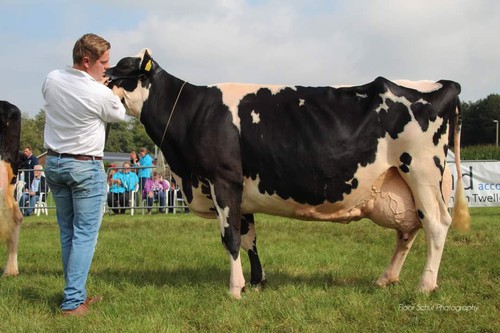 Holbra Hillie 20 EX-91 (s. Holbra AltaSpot)
Peelsehoeve Holsteins did a tremendous job as well with an avarage herd production of 12,839 kg M with great components (4.16% F and 3.55% P). Herewith they are just behind Holmer in the ranking list. The 128 dairy cows at Nooijen's farm can be found in the list of Noord-Oost-Nederland in a stunning 5th place. 
Mid-Oost-Nederland has several high-performing GenHotel members! For example, we find Beeze Holsteins (7th), Big Holsteins (9th) and De Wijde Blik (12th) high in this list. The Herder family (Dykster Holsteins) takes the lead in Centraal-Nederland with an average production of 12,502 kgs of milk with 4.21%F & 3.62%P. At Herder's dairy farm, almost 60 cows are milked automatically with a milking robot.
In the Flemish MPR statistics (Vlaamse MPR statistieken) of 2020-2021 we find with 13,179 kgs of milk, 4.17% fat and 3.45% protein Van het Zomerbloemhof placed 3rd. 
In addition to CRV, VVB Veluwe IJsselstreek also presented its annual figures. Poppe Holsteins reached the 6th place. The multiple flushes of (potential) bull dams and the persistence of this herd means that, even with a calving interval of 500 days, the 166 dairy cows of Poppe produced 12,151 kgs of milk with 4.28% fat and 3.62% protein!
Check out the CRV Dutch annual statistics of 2020-2021
GenHotel congrats all the amazing performing dairy farmers!