Classification results confirm quality of Breeding Program!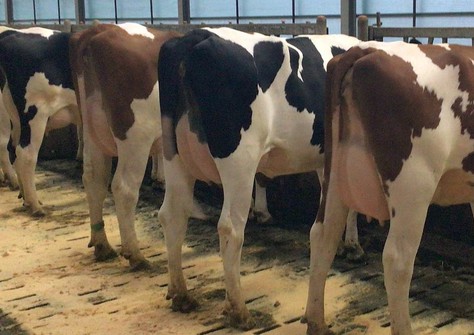 General
Classification at De Bont
Recently, several milking heifers, which are the result of the partnership between Ritmaster Holsteins and GenHotel, have been classified. The scores of 3 two-year-olds topped with VG-87. This proves the high quality genetics being produced by the 3STAR Breeding Program!
The classifications took place at several dairy farms, namely those of the De Hoef (Meeuwen), De Hoef  (Uitwyk), Ottevanger and De Bont family. No less than 3 first calvers scored VG-87. One of them is K&L RM Corinne Red VG-87 by Spark-Red, a descendant from the Wilder Kanu family. Due to her well-attached udder with correct teat placement, her mammary system was scored with the maximum score of VG-89. The full brother of Corinne Red VG-87 - Sietskehoeve K&L RM Solo Red - is the former number 1 R&W in Poland.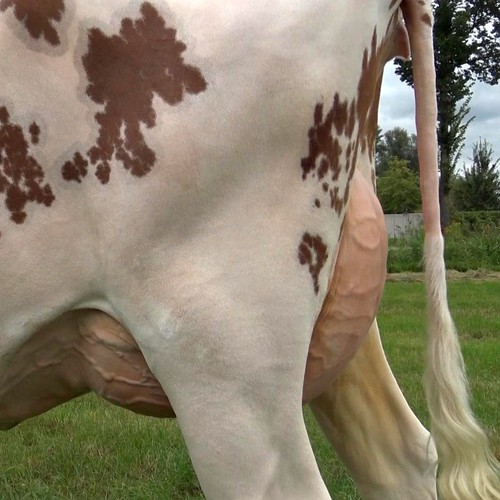 K&L RM Corinne Red VG-87, with MAX VG-89 MS
From the Wilder Koenigin Red VG-86 branch of the renown Wilder Kanu family, AM Kairo is classified. The complete Starello RDC granddaughter of Wilder Kaiserin RDC VG-85 was purchased at the VOST Select Sale in 2019 and since then she is able to maintain her gRZG index at 152 gRZG. Kairo also has the A2A2 Beta Caseïn. Her score of VG-87 is backed by VG-88 for Feet and Legs.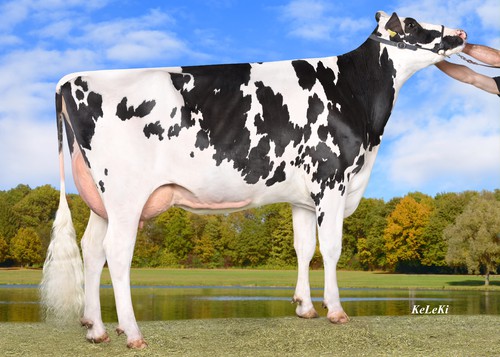 Wilder Kaiserin RDC VG-85 (s. Penley)
The 'double 3STAR Genetics' product K&L RM Ida 7309 (Veenhuizer K&L Jameson x K&L RM FD Ida 3 GP-83) received VG-87 with VG-88 Dairy Strength. She hails, as her name suggests, from the deep  Butemare Ida cow family.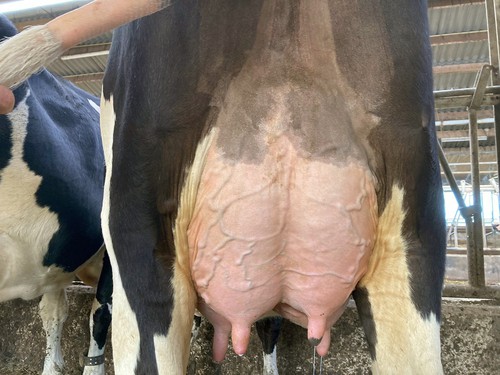 K&L RM Ida 7309 VG-87, with VG-86 MS
| | | | | | | | | | | |
| --- | --- | --- | --- | --- | --- | --- | --- | --- | --- | --- |
| Name | Sire | Dam | Col | Lact | FR | DS | MS | FL | TOT | Housed at |
| K&L RM Ida 7309 | Jameson | K&L RM FD Ida 3 GP-83 | B | 1 | 87 | 88 | 86 | 86 | 87 | De Hoef |
| K&L RM Corinne | Spark-Red | Kalibra DB 5632 RDC GP-83 | R | 1 | 86 | 87 | 89 | 82 | 87 | Ottevanger |
| AM Kairo | Starello RDC | Wilder Kai GP-84  | B | 1 | 87 | 84 | 86 | 88 | 87 | De Bont |
| De Hoef K&L RM Mariah-Red | Goal-Red | K&L RM Maryanne RDC VG-87 | R | 1 | 86 | 84 | 88 | 82 | 86 | De Hoef |
| K&L RM Marianna | Jacuzzi-Red | K&L RM Marinca RDC GP-82 | R | 1 | 86 | 85 | 86 | 85 | 86 | De Hoef |
| K&L RM Lady | Padawan | Veelhorst Balu Lady VG-85 | B | 1 | 85 | 86 | 87 | 81 | 85 | De Bont |