The 12th generation VG/EX at Ritmaster Holsteins!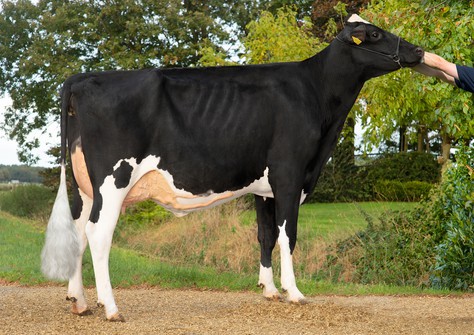 Sales
JK Eder DG Awesome Esmeralda RDC classified VG-86!
This week Ritmaster Holsteins introduced us to one of the most beautiful animals from their breeding program: JK Eder DG Awesome Esmeralda RDC. The purchase of this animal has been the key for Ritmeester to start their red Carf Emeraude EX-91 branch!
At the end of 2019 Ritmeester bought a direct Luck-E Awesome-Red daughter from JK Eder DG Esmeralda EX-92 (by Doorman) and with this the door to Red Holstein success was open. The then already beautiful JK Eder DG Awesome Esmeralda RDC was flushed to several red top type bulls to generate the first red offspring of - the only living brood cow in Europe with 6 EX daughters - Carf Emeraude EX-91. This goal was achieved by a flush with the progeny proven sire Swissbec Power Red, from which the first red  'Emeraude' Ritmaster Esmeralda 6 Red emerged! During the VOST Select Sale 9 you'll have the opportunity to invest in this impressive branch, when this Esmeralda 6 Red will be sold!

The first RED 'Emeraude EX-91': Ritmaster Esmeralda 6 Red (s. Power Red)
After multiple flushes Awesome Esmeralda RDC quickly became pregnant and calved last spring at the age of 1.11 yrs. The 305-day production of her first lactation is projected at 10,230kg of milk with 4.18% fat and 3.34%P protein. In addition to the great pictures of this red factor JK Eder DG Esmeralda EX-92 daughter, she received a tremendous VG-86 in her first latation. This makes her even the 12th generation with VG/EX!
You can benefit too from the unique possibilities of this brilliant cow family! From a flush with Swissbec Power Red x JK Eder DG Awesome Esmeralda RDC VG-86, embryos produced with sexed semen are available. With these embryos you will definitely may get your own red Esmeralda RDC VG-86 daughter in the barn! >>> Click here to go to the EmbryoSale.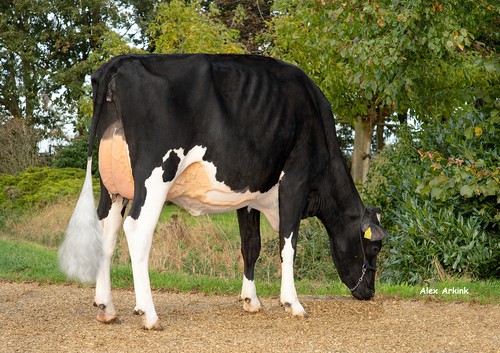 JK Eder DG Awesome Esmeralda RDC VG-86 (s. Awesome-Red)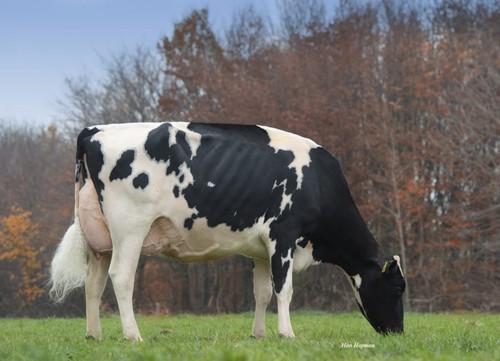 Dam: JK Eder DG Esmeralda EX-92 (s. Doorman)