Indexnews Germany
This morning the German December 2021 indexes were published. After a major update during the August index turn, we now see stable values for both the progeny proven as the young sires. Where in August the difference between the top of the young Red- and Holstein bulls were still quite mentionable, the Red Holstein bulls catch up slowly!
Young genomic bulls
In the top-10 of the B&W young bulls - for the third time in a row - sire of sons Foreman (by Freemax) manages to maintain his leading position with 168 gRZG. Foreman is followed by Camus (164 gRZG) and Sunrise (164 gRZG), which were 3rd and 4th place in the previous proof ron. The polled and RDC Star P RDC drops from place 2 to 5, but is still the no. 1 Polled bull and no. 1 red carrier bull in Germany with 163 gRZG. The highest newcomer in 4th place is 3STAR Secundus (163 gRZG) a KNS Simon P from the Genua family, bred by GenHotel and Anne Veenhouwer.
Once again, the young Red Holsteins bred by GenHotel members rank very well. Five of the top-10 red genomics bulls have been bred by GenHotel members! Newcomer, and also list leader is Spotlight by K&L Sputnik RDC from the American Des-Y-Gen Planet Silk family. With 165 gRZG he is only three points away from the number 1 B&W bull Foreman. This Spotlight takes the lead from Poppe Flight Red (by Rubels-Red) which is in 3rd place with 162 gRZG. Serge Red, a son of Schreur Shimmer RDC is the new number two with 164 gRZG. With 158 gRZG we find Sillus Red (by Solitair P) in the 10th place. His 135 EUT makes him the best mammary transmitter of the top-50 R&W gRZG!
Regarding the gRZ€ rankings, both Foreman (2878 gRZ€) and Spotlight (2726 gRZ€) are leading. Striking is the number of red polled sires in this list. Of the top 50 R&W gRZ€, 25 sires are Pp or PP and of these 25 there are no less than 15 bulls sired by Caudumer Solitair P Red! His first daughters are milking and they are looking promising!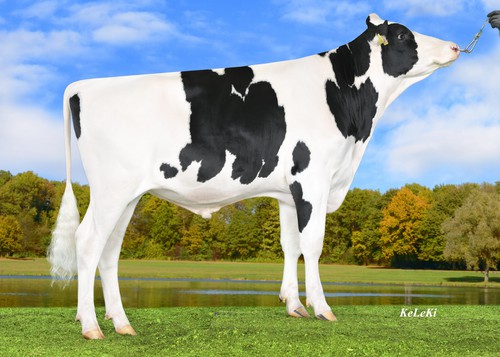 SHA Foreman (v. Freemax) @Rinder Allianz
Progeny proven
In the top-10 of the black & whites we find some changes. For example, the new number one proven sire is Casino with 158 gRZG. His qualities are a.o. a high milk production (156 RZM) and top longevity (127 RZN). Casino outplaces Semino - the former number 1 RZG. Lis Senetto successfully received his first daughter-proven index. With 149 gRZG, the Endco Superhero son bred by LisLeck Holsteins, debuts strongly at the 7th place in the list. Senetto is a son of the EX-91 scoring Lis Opal - no. 1 production cow in Luxembourg! With 114 daughters in lactation we also find Garido (Gymnast x Penley) for the first time in this list with 148 RZG. Also Gywer got his first proven index and is in the top list with gRZG 147. Riethil Summerlake (DG Charley x Riethil Summer Love VG-86) had a fantastic run and went from place 24 in August to a fantastic 5th place with 152 gRZG!
In the red rankings El Toro debuts with 145 RZG, +2023 kgM (142 RZM) and 123 RZE. His sire Stantons Eloped-Red, is also in the top 10 at place 6. El Toro strikes and takes the leading position. Wilder Baymax Red (144 RZG) - bred by Wilder Holsteins - has to settle for second place. He holds on well with extremely high health traits and more than 400 daughters in Germany. Aperol P (Schreur Apoll P Red x Poesie P) is the highest polled sire with an RZG of 143. At place 8 we find the homozygous polled Apo Red PP, also a son of Apoll P. The successful sire of sons which is bred by Schreur Holsteins is still going strong. He currently takes credit for 10 sons in the R&W RZG top 50 and is still one of the top 10 progeny proven sires in Germany!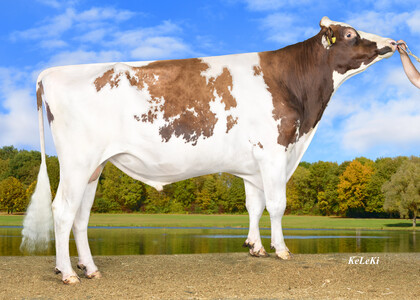 Morningview RUW El Toro (s. Eloped Red) @Rinder Union West

Casino (s. DG Charley) @VOST