Big Holsteins, "Most influential Dutch breeder (2000-2020)"!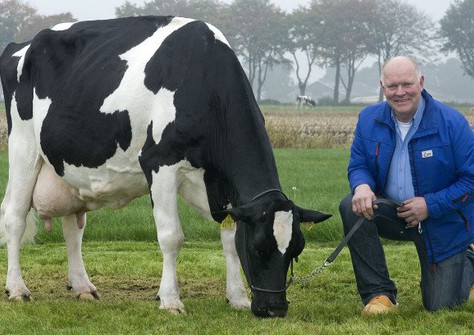 General
Jos Knoef & Big Boukje 192 EX-90 - 208.163kgM with 4.64% fat & 3.86% protein
Out of no less than 40 pre-selected Dutch Holstein breeders, Big Holsteins - Dutch breeder of the Year 2018 - was named 'Most influential Dutch breeder' 2000-2020. This competition - organized by HI Plus - was determined on the basis of the votes of readers. In addition to winning GenHotel member Big Holsteins, we find nine more GenHotel members in the top 20!
With a total of 152 points, Big Holsteins won this very precious title by far. Knoef's herd and its achievements has left a huge impression in the past few years. Not only because of the enormous longevity and life time production of Knoef's dairy cows, but their most promined cow families, such as the Big Anna Jacoba's, Big Super Stars, Big Boukje's and Big Clara's have put numerous bulls into AI! And the are also very active in the regional and national show ring, resulting in many champion titles.
Now, coming back to longevity and lifetime production, these cow families just are the queens of big life time production. For example, the 19-year-old Big Boukje 192 EX-90 hit it to world headlines a few years ago. She was the very first cow in the Netherlands to exceed the grandiose lifetime production of 200,000 kgs of milk! By that thime Boukje 192 EX-90 classified EX-90 as an 18-yr-old! However, Knoef's success didn't stop just there. This year the second 'Big' producer presented herself. Big Clara 123 EX-90 by Big Win 395 also reached this huge 200K milestone. Something that is very unique in the Holstein-world! Clara 123 EX-90 is also bull dam of Big Evergreen.
Meanwhile, the flagship of Big Holsteins is the number of 100,000 kg-lifetime production-cows. No less than 91 cows produced a lifetime production of 100,000 kg of milk or more!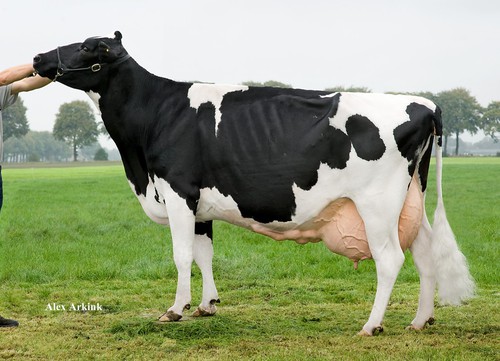 Big Clara 123 EX-90 (s. Win 395)
Anyone who has visited the Big Holsteins' GenHotel page may have noticed that the list 'Proud to have bred' is endlessly filled with AI bulls. In addition to the above mentioned Big Evergreen, this list also includes Big Winner (28,472 milking daughters in NL), Big Winnetoe, Big Spell, Big Surprise RF, Big Redbone and one of the most famous Big Malki (with 8790 daughters in the Netherlands). This Malki transmits the strengths of his dam line - the Anna Jacoba's - flawlessly, and has so far delivered at least 15 excellent daughters in the Netherlands. Malki's semen is now used worldwide, and it can be said that not only the Big Holsteins' influence in the Netherlands is huge, but is now spreading worldwide!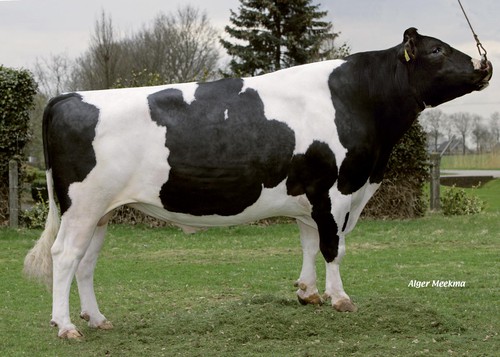 Big Winner (v. Win 395)
GenHotel congratulates its members, and in particular the Knoef family with this precious title!
The top-20 of the 'Most influential breeder in the Netherlands':
|   | Breeder | score |
| --- | --- | --- |
| 1. | Big Holsteins, Knoef | 152 |
| 2. | Bons-Holsteins, Bons | 119 |
| 3. | Giessen Holsteins, Van Vliet | 83 |
| 4. | Koepon | 71 |
| 5. | Drouner Holsteins, Albring | 67 |
| 6. | Jimm Holsteins, De Vries | 66 |
| 7. | Newhouse Holsteins, Nieuwenhuizen | 64 |
| 8. | Van Dijk-De Bruin | 61 |
| 9. | Southland Holsteins, Van Beek | 53 |
| 10. | Caudumer Holsteins, Haytema | 50 |
| 11. | Double W Holsteins, Booij-Ottens | 42 |
| 12. | Willem's Hoeve, De Jong | 40 |
| 13. | Poppe Holsteins, Poppe | 39 |
| 14. | Bouw Holsteins, Bouw | 37 |
| 15. | Barendonk Holsteins, Hermanussen | 34 |
| 16. | Batenburg Holsteins, Aalberts | 33 |
| 16. | Holbra Holsteins, Holmer | 33 |
| 16. | JK Eder Holsteins, Kolff | 33 |
| 19. | Bossink Holsteins, Van der Kolk | 32 |
| 19. | Mooijman Holsteins, Mooijman | 32 |