Aalshorst Holsteins strikes with full sisters from the Fienchen family
Genomics
Poppe Fienchen 580 RDC VG-89
Once again, the Poppe Fienchen family again delivered several successes in both female and male range, this time in the Aalshorst Holsteins ​herd. Two full sisters are born from the combination Star P RDC x Tirsvad Match P RDC, a combination that could bring both red and polled!
From this flush, several daughters are born and tested on both gNVI and gRZG. Two of these female heifers really stood out! Aalshorst Fienchen 54 P RDC, which carries the red factor and is heterozygous polled, scores a super 332 gNVI & 161 gRZG! Fienchen 54 P RDC ranks especially well with big values like 131 EUT, 126 GES and 135 gRZE.
Fienchen 54 P RDC's sister, as hoped, is a red and polled Star P RDC: Aalshorst Fienchen 55 P Red. With no less than 354 gNVI and 161 gRZG, she belongs to the polled en red top of Europe! Through their Tirsvad Match P RDC dam, which will freshen very soon from her first calf, followed by GP-83 Rubi Agronaut x VG-85 Apoll P Red x VG-86 Danillo, these calves descend from Poppe Holsteins' influential foundation cow Poppe Fienchen 580 RDC VG-89. 
The cow family behind Fienchen 55 P Red and Fienchen 54 P RDC has already provided many bulls to AI studs. Also a maternal brother of these Star P RDC's, sired by Poppe Freestyle-Red, recently went into AI!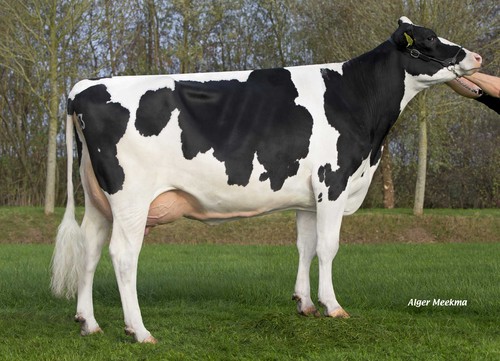 Poppe Fienchen 803 RDC VG-86 (s. Danillo), great-granddam of the two Star P RDC sisters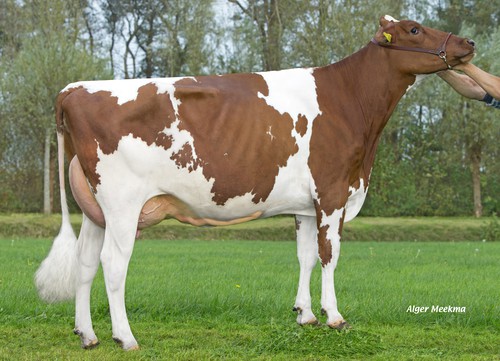 ​Poppe Fienchen 8685 Red VG-86 (Delta Colorado x Poppe Fienchen 803 RDC VG-86)