Super classification results at Caudumer Holsteins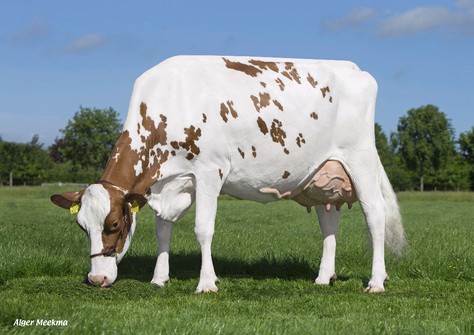 General
Caudumer Hinke 97 EX-90 by Classic, foundation cow of the Hinke family
During the classification day at Caudumer Holsteins, 17 Red- and black and white 2-yr-olds were scored, of which 9 with a score of VG-85 or higher. As a result, the average score of this classification came to a stunning 84.3 points!
Icons of this herd are the Lol and Hinke cow families, as the Lol family presents itself as amazing index transmitters and the Hinke's are known for their great showtype and longevity. From these cow families are the highest scoring heifers of this day. Caudumer Lol 426 RDC is sired by Kingfarm Holsteins Anreli-Red and, as her name suggests, comes from the well-known Caudumer Lol family. With a score of VG-87 she is the highest scored B&W 2-yr-old of the day. Lol 426 RDC VG-87 is a maternal sister of Caudumer Moment PP, a Moscato-Red P son owned by the German AI stud RUW. Granddam is the influential polled foundation cow Caudumer Lol 292-Red P VG-87.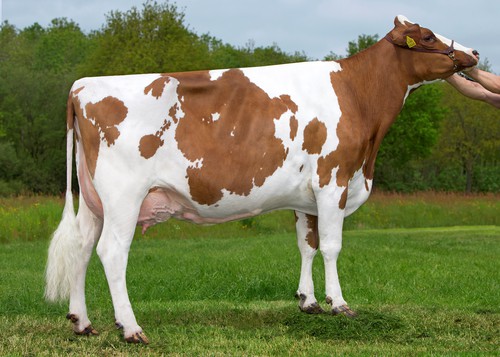 Caudumer Lol 292-Red P VG-87 (s. Lawn Boy P-Red), granddam of Caudumer Lol 426 RDC VG-87
A Barendonk Prestige-Red daughter of the well-known Caudumer Hinke 199 EX-90 - Intermediate class winner HHH Show 2014 - is with VG-86 (VG-88 DS) the highest R&W heifer of this classification. Caudumer Hinke 306 VG-86 continues the great genes of this show family: production, longevity and (show)type.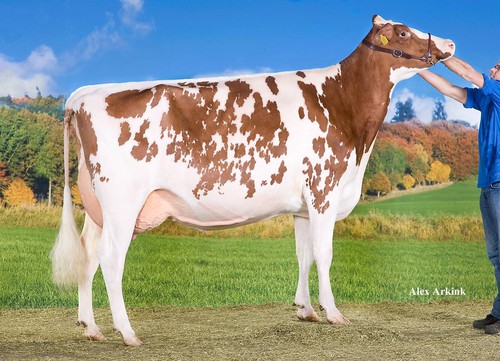 Caudumer Hinke 199 Red EX-90 (by Destry RDC), dam of Caudumer Hinke 306 Red VG-86
Caudumer Ebony 17 also reached VG-87 and is from a well-known cow family too. This first lactation Delta Lendor daughter is projected (305 days) at 9.148 kgM, 4.32% fat and 3.67% protein and thus proofs what her RZG and NVI profile already promised! Her dam, Caudumer Ebony 2 VG-88, is a former top gNVI heifer and was Junior Champion Workum 2019. The Ebonies of Caudumer Holstein descend from the powerful Zandenburg Ebony family.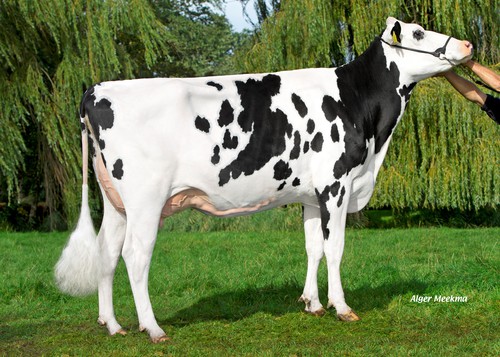 Caudumer Ebony 2 VG-88, dam Caudumer Ebony 17 VG-87
An overview of the highlights at Caudumer Holsteins this round:
| | | | | | | | | | |
| --- | --- | --- | --- | --- | --- | --- | --- | --- | --- |
| Name | Sire | Dam | Col | Lact | FR | DS | MS | FL | TOT |
| Lol 402 Red | Powerline P | Lol 351 Red GP-84 | R | 2 | 88 | 89 | 87 | 85 | 87 |
| Lol 426 RDC | Anreli-Red | Lol 392 P RDC VG-86 | B | 1 | 88 | 88 | 87 | 87 | 87 |
| Ebony 17 | Lendor | Ebony 2 VG-88 | B | 1 | 87 | 86 | 87 | 87 | 87 |
| Hinke 306 | Prestige-Red | Hinke 199 EX-90 | R | 1 | 87 | 88 | 84 | 85 | 86 |
| Lol 423 | Jim P-Red | Lol 371 P RDC VG-86 | B | 1 | 87 | 85 | 86 | 85 | 86 |
| Lol 393 P RDC | Batch P | Lol 392 P RDC VG-86 | B | 1 | 87 | 88 | 85 | 87 | 86 |
| Lol 424 | Nova Star | Lol 370 n.c. | B | 1 | 86 | 83 | 87 | 84 | 85 |
| Lol 427 | Smiley RDC | Lol 389 Red VG-85 | B | 1 | 86 | 87 | 83 | 86 | 85 |
| Larissa 2 | Benz | Alby GP-83 | B | 1 | 86 | 82 | 86 | 85 | 85 |
| Ebony 24 RDC | Jacuzzi-Red | Ebony 2 VG-88 | B | 1 | 82 | 83 | 85 | 88 | 85 |