High scores for Parfect daughters Martini
Genomics
3STAR OH Martini VG-86, dam of Southland Mabel 1 and Mabel 2
The December proof run has, also on the American basis, yielded a number of interesting, newly genomic tested females from GenHotel members Southland Holsteins, Koepon Genetics and Wilder Holsteins.
With 2983 gTPI, Southland Mabel 2 is the number 1 gTPI Siemers Rengd Parfect in December and one of the highest Parfect daughters in Europe. In addition, she scores +2.13 PTAT with +2.39 UDC and favorable for health traits. Her full sister Southland Mabel 1 is also in the top 50 gTPI of Europe this month with 2953 gTPI and scores even higher for type: +2.48 PTAT with +2.68 UDC! Their maternal sister Southland 3STAR OH Marije, an AltaMagnifique with high components and also favorable health traits, will be sold at the live-online HighlightSale on January 6 in Hamm.
With 2963 gTPI, Koepon Hsmoke Anita 10 is  now the number 2 gTPI Cookiecutter Holysmokes daughter in Europe. Her dam is a Peak AltaZazzle, which calves early next year, granddam is the high components Koepon Milestn Anita 3 VG-85 (by Peak AltaMilestone). This cow family goes back to the well-known brood cow Pine-Tree Ramos Alexia EX-91, also granddam of Seagull-Bay Touchdown.
Also at Wilder Holsteins there are 2 newly tested calves in the top 50 gTPI of December. Wilder 02651 is a Rmd-Dotterer Ssi Gameday with 2951 gTPI from the Batke Outside Kora EX-94 family. Her dam is a S-S-I Pr Renegade granddaughter of Wilder Herzdame P EX-90, the full sister of proven sire Wilder Hotspot P. The other top heifer is Wilder 75564, a Holysmokes with 2933 gTPI from the American Vir-Clar DE Classy VG-88 family. She too comes from a not calved yet AltaZazzle, who is then a daughter of Wilder Clark, one of the highest Mr Frazzled Aristocrat daughters in Europe. 
Highest red factor newly tested female this month in Europe is Ariane RDC, a Siemers Parfect daughter with 2947 gTPI and +2.56 PTAT from K&L SP Ariana-Red VG-86. Ariana Red is a Spark-Red from Willsbro K&L Nugget Aderyn RDC VG-86, a descendant of the great breeding cow Kamps-Hollow Durham Altitude RDC EX-95, and has several high daughters of Ranger-Red, Matty P RDC and Sailor PP.
Koepon Boraz Range 173 Red is the highest red & white of December and as far as known with 2925 gTPI the highest Red Holstein of all females tested in Europe! Dam of Range 173 Red is Koepon Zazzle Range 31 RDC, a granddaughter of the Global Red Impact Cow 2021, Lakeside Ups Red Range VG-86. The full sister, Koepon Boraz Range 171 Red, also scores with 2875 gTPI in the European top gTPI red & white.
Click HERE for the top 50 gTPI females in Europe of the month of December.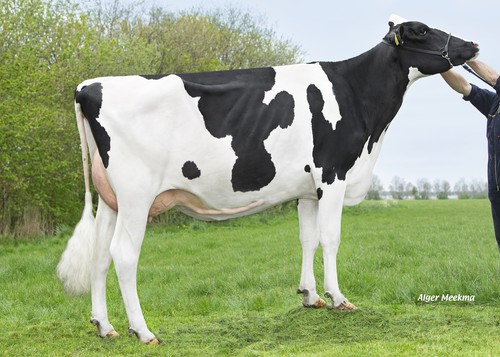 Koepon Milestn Anita 3 VG-85 (s. AltaMilestone), granddam of Koepon Hsmoke Anita 10

Wilder Herz P VG-87 (s. Powerball P), 4th dam of Wilder 02651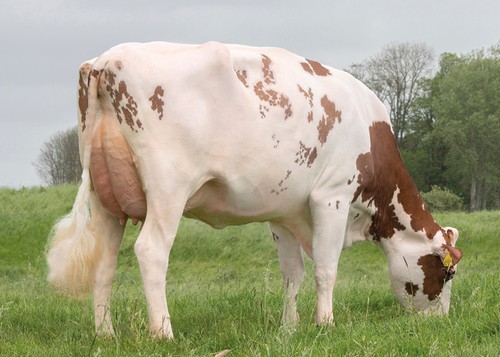 Lakeside Ups Red Range-Red VG-86, 3rd dam of Koepon Boraz Range 173 Red