December run filled with top 10 NVI listings for GenHotel members!
Genomics
Rhala RE Blues-Red: the new No.1 Interbull NVI R&W
The bull proofs of December 2022 have been concluded with the indexes from the Netherlands & Flanders (NVI). These lists feature several bulls bred by GenHotel members, including quite a few top 10's!
Polled
In the special NVI list for polled bulls, the bull Willem's-Hoeve R Sakarun P is in sixth place with 362 gNVI. The Delta Launch PP-Red son from the never disappointing Willem's-Hoeve Rita family shows huge components and also scores amazingly well with 110 Type. In the top 10 of the polled R&W bulls, is in place 7 with 333 gNVI Visstein K&L Money P Red. With this ranking, he even rises 12 points compared to his August index. The Tirsvad Match P RDC son transmits a huge plus in milk and maintained his udder score (112). His dam is Visstein K&L SV Aderina Red VG-89, about which we recently featured she was photographed and classified again.
Young R&W sires
The number 1 gNVI of the April index also rose to the surface this December turn. The popular sire Dg Dv Rammstein with 390 gNVI once again swaps his place with Delta Borax-Red (by Freestyle-Red). Highest debutant with 381 gNVI can be found at place 3: De Oosterhof 3STAR Fresco Red.  This new number 2 RZG of Germany with 163 gRZG debuts in NL/FL with a skyhigh milk transmission of +3455 kgM and the highest INET of all sires in the list with +693! With this he leaves Rammstein and CEH Spotlight behind him. Spotlight (367 NVI) is a young sire that has been in this top for some time and makes a significant increase of 11 points, with which he can be found in place 9. A name that we have also come across more often this week is that of Red Rocks Mask Red (#4 in Germany with 163 gRZG). Compared to August, he has risen 2 points in his index and ranks 6th with 373 gNVI. A bull that can be found as number 11 is Schuit 3STAR Marcel Red. This is a 362 gNVI scoring Money P Red son from the top breeding THI Tasty RDC (Welcome Bolton Gina family).
R&W Progeny proven
After a few index runs, Delta Jacuzzi-Red has been dethroned by Caudumer Solitair P Red. With only 46 daughters in his index, the Salvatore RDC son already manages to take a considerable lead with 307 NVI compared to the number two with 279 NVI. Again in 3rd place is Aalshorst Rody-Red with an increase from 277 NVI (April) to 292 NVI. The Riverboy RDC son from Aalshorst Geertje 187 RDC VG-85 has been in the top 5 daughter proven bulls for five turns in a row now! The no. 1 R&W proven bull in America also manages to get a place in the NVI top. Dg Oh Rubels-Red (by Argo RDC) is the number 3 INET with an index of 488 and transmits a huge 114 for Udders. This puts him 8th in the ranking. 
Daughters of the breeding bull Drouner Rednex (Effort Red x Freddie) were on display during the HHH show. He remains the undefeated frontrunner when it comes to conformation. With 115 Total Type and 115 Udders, the bull bred by Drouner Holsteins, has even risen slightly in those indexes. The bulls Red Rocks K&L Effort Red (by Elmau) and Poppe Efrain Red can also be found high in the top conformation transmitters.
A great first run for Excellent Genetics & Rhala Holsteins with their bred sire Rhala Re Blues Red. He is the new number one in the daughter proven Interbull list! Blues Red is 'only' one of the 7 sons of Mr Salvatore RDC in the top 10 of this ranking. The Kamps-Hollow Durham Altitude RDC EX-95 offspring tops the list with a nice 293 NVI and is the best milk sire with +3096 kgM! Dropped from place 3 to place 6 is the polled Schreur Argus P Red (237 NVI) with now 262 daughters strengthening up his total score.
| | |
| --- | --- |
| | |
| Red Rocks Mask Red @RinderAllianz GmbH | Visstein K&L Money P Red @RUW |
| | |
| --- | --- |
| | |
| Caudumer Solitair P Red @RUW | Dg Oh Rubels-Red @Genus/ABS |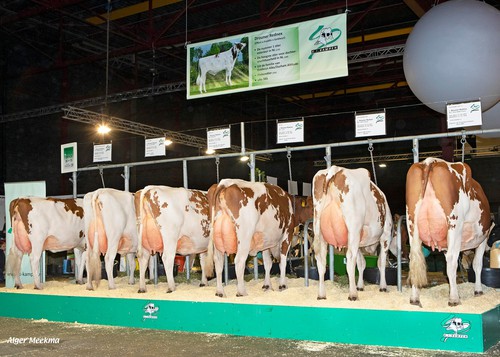 Drouner Rednex progeny group at the HHH Show 2022
Young B&W sires
Leader in December remains unchanged compared to the April run with Delta Encourage, a 446 gNVI scoring Bush-Bros Fragrant son. Midwolder Unlimited drops one place but retains his 411 gNVI and, on the other hand, still remains the highest longevity bull with +912 days.
B&W Progeny proven
The crown is transferred to Bouw Finder son Delta Reloader with 364 NVI based on 407 daughters in milk. With this, his predecessor, Peak AltaAltuve, dropped to place 9 in the ranking with 319 NVI. There is a substantial increase of 5 places and 12 points for Capnation Benello from the herd of the Dutch Captein family. With this, the Bernell son continues to make progress in several index runs in a row. This success may be caused by the fact that his sire is not far behind him in place 6 in the same NVI list. With only a difference of 4 points in index, Benello leaves the Adorable son Midwolder Martin, the number 2 based on INET, with 331 NVI just behind in fourth place. He comes from the same family as the young topper and earlier mentioned Midwolder Unlimited. Just outside the top 10 in 11th place is AltaTopshot son K&L OH Bellwether, which left to Genus/ABS as a young bull. With 32 daughters in the Netherlands/Flanders, he makes an awesome debut!
The undisputed new number 1 NVI B&W Interbull with 301 NVI is the Lenovo. This Legendary son was already a debutant in Germany earlier this week and now also knows how to take a strong position within the index of Netherlands/Flanders. A well-known name from the August index can also be found high at the top in December: Koepon Peak Tosco (292 NVI) in place 2. The Koepon home-bred sire rises no less than 17 points in his total score! The number 1 progeny proven and former number 1 NVI Interbull DG OH Topstone drops to place 5 with 677 daughters in his breeding value with an index of 288 NVI. 
| | |
| --- | --- |
| | |
| Capnation Benello @CRV | K&L OH Bellwether @Genus/ABS |
| | |
| --- | --- |
| | |
| Koepon Peak Tosco @RBB | OH Dg Topstone @Masterrind |