Two generations from the Roxys classifying VG-88!
General
Morningview Super Roxy RDC EX-90, 3rd dam Beeze Charley Rox 5 RDC VG-88
The first calver Beeze Rox 22 and her fourth lactation dam Beeze Charley Rox 5 RDC were part of the group of milking females that were recently classified at Beeze Holsteins. The day especially turned out well for these two Glenridge Citation Roxy EX-97 descendants, which were both re-classified with a top score of VG-88!
Delta Floris offspring Beeze Rox 22, which already received a final score of 87 points earlier this year, currently still produces more than 37 kgs of milk, while she freshened in January 2022! Since the last classification in March, Rox 22 has made a considerable development, because her re-score led to VG-88, with a maximum score of VG-89 for Dairy Strength. Her fourth lactation dam, a daughter of the bull Dg Charley, is also milked by the Van der Kamp family. This Beeze Charley Rox 5 RDC has a current lifetime production of 55,873 kgs of milk and was good for VG-88  with an excellent score of 91 for Feet & Legs.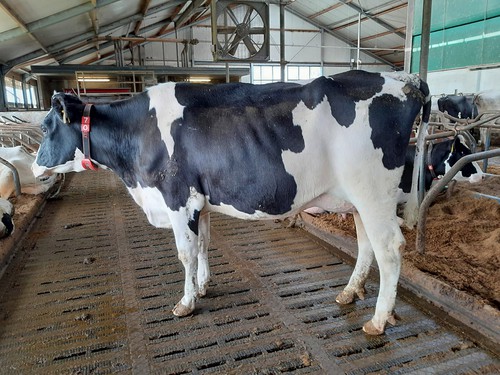 Beeze Rox 22 VG-88 (Photo archive March 2022)
From the influential and extended cow family of NH HS Marilyn Monroe VG-86, a first lactation Regan-Danhof Copyright daughter was good for VG-86. There was also a Vh Crown maternal sister, Beeze Oldleus Mabel, with VG-85 and VG-87 Mammary. She produced the 152 gRZG & 349 gNVI (8-2022) scoring Gladius daughter Beeze Oldleus Maan. These scored 2-yr-olds are daughters of the great brood cow Veelhorst Vekis Melody VG-87, which has already brought many high and super producing offspring for Van der Kamp. Think of Beeze Oldleus Maryam (by Gladius) with 154 gRZG and Copyright daughter Wkf Copy Marleen - born at WKF Holsteins - with 154 gRZG and 2861 gTPI, which will calve in April 2023.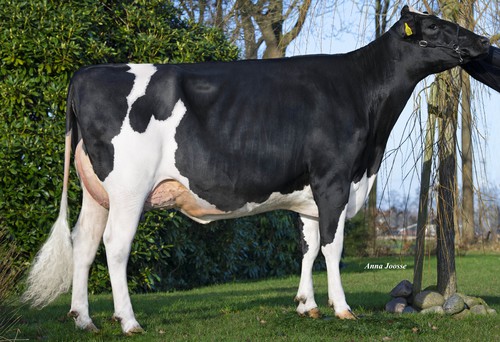 Veelhorst Vekis Melody VG-87, dam of the classified Mabel & Merle
There was a big hit for the 11-yrs-old Beeze Grietje 152. The eighth lactation De-Su Observer already produced more than 120,500 kgs of milk during her lifetime so far! The only 1.44 cm tall Grietje 152 was nicely put in the spotlight by her score of VG-85 with VG-86 MS! 
| | | | | | | | | | |
| --- | --- | --- | --- | --- | --- | --- | --- | --- | --- |
| Name | Sire | Dam | Col | Lact. | FR | DS | MS | FL | TOT |
| Rox 5 RDC | Charley | Kb Rox GP-84 | B | 4 | 84 | 89 | 87 | 91 | 88 |
| Rox 22 | Floris | Rox 5 RDC VG-88 | B | 1 | 88 | 89 | 87 | 87 | 88 |
| Merle  | Copyright | Melody VG-87 | B | 1 | 84 | 83 | 86 | 88 | 86 |
| Grietje 152  | Observer | Grietje 149 GP-81 | B | 8 | 82 | 84 | 86 | 87 | 85 |
| Mabel | Crown | Melody VG-87 | B | 1 | 84 | 86 | 87 | 83 | 85 |