Genhotel members start the 2022 show season with big titels!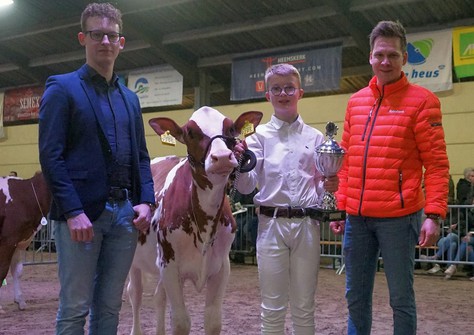 Type
Gert Bakker with BJH Cathrien Red.
After two years of waiting, the first shows in the Netherlands finally took place again. Noordeloos and Houten led the way and last weekend the shows in Beilen, Lochem and the Betuwe followed. During these impressive and well-attended competitions, there were also huge achievements for GenHotel members. We present all the highlights to you.
GenHotel congratulates all its members!
U.F.F. Wintershow
Junior 2-yr-olds:
In the youngest class it was Hedra Anne 1291, sired by Delta Floris, which was placed in 2nd position. She's a member of the Vero Anne family and bred by Hedra Holsteins. In the same class, Midwolder Martin daughter Jantina 292 exhibited by the Sturkenboom family was in leading position. This first calver Martin won the Reserve Junior Championship.
Intermediate:
Hedra Holsteins also performed strongly in the intermediate class. The second calver Hedra Riedel 919 VG-87 (by Midwolder Movement) has been lactating for a year, but managed to win her class. Later that day, she was crowned as Intermediate Champion. Dam of Riedel 919 is Delta Rainbow VG-85, a famous bull dam of a.o. Delta Reloader & Delta Concert. In the same category Hedra Neblina 1034 VG-86, a Delta Inductor daughter direct daughter from Delta Nayat VG-87, was in third place.
Senior:
The success continued for the Vernooij family. Hedra Sneeker 721 P RDC EX-90, a third lactation De Vrendt Martini P, was first in her class. As her name suggests, she comes from the durable cow family of Newhouse Sneeker 247 VG-89. The second category was led by a daughter of Bouw Snowfever, namely Janke 624 owned by the De Jong family. This Snowfever eventually won the Senior titel.
FVZH Wintershow
Showmanship:
The show in Noordeloos included a Showmanship competition, especially for the local Young Breeders. Participating were the brothers Rens & Gert Bakker, both in the youngest class. The brothers were very competitive to each other and managed to get the second and third position. The Reserve titel went to Gert Bakker of BJ Holsteins!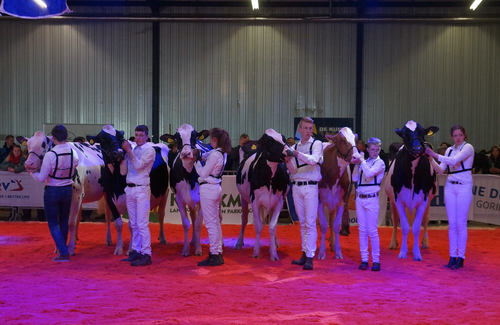 Showmanship Championship
Junior 2-yr-olds:
One of the few attending R&W cows was R&B WR Maibritt Red. She's an early Mr Blondin Warrior-Red out of ViG My Love Red VG-86, purchased as a heifer by Batouwe Holsteins. In a very strong category Maibritt was placed 5th.

R&B WR Maibritt Red (s. Warrior-Red)
FDV Wintershow Drenthe
Young heifers:
Winner of the second class was Drouner Cosmo 1836 (by Stantons Alligator), with Drouner AJDH Cosmo EX-91 (s. Mogul) as her 4th dam. The third class was won by Cosmo 1836's herd mate, namely Drouner Sublima, by Winstar-Mh Empire Maker. Sublima is a granddaughter of the legendary Blondin Goldwyn Subliminal EX-97, and was born from a joint purchase of Drouner Holsteins and GenHotel: Blondin Success (s. Blondin Raptor). At the end the fancy Alligator, presented by Jarn Gunnink, won the Junior Heifer Championship and Sublima was named Honorable Mention.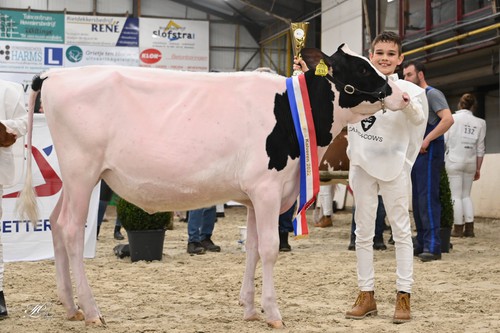 Drouner Cosmo 1836 (s. Alligator)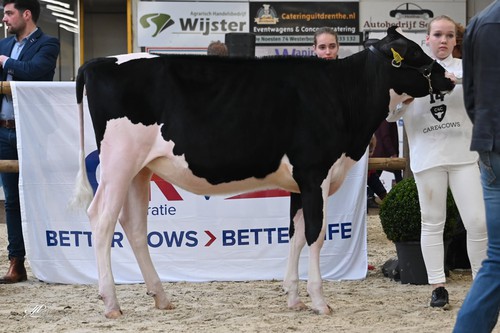 Drouner Sublima (s. Maker)
Heifers (> 1-yr-old):
A second place in the youngest class was won by Ritmaster Esmeralda 6 Red, by Swissbec Power-Red. Esmeralda 6 Red was born at Ritmaster Holsteins and purchased by Drouner Holsteins via the VOST Select Sale 9. After a strong performence in her class, this JK Eder DG Esmeralda EX-92 granddaughter was awarded with the title Honorable Mention.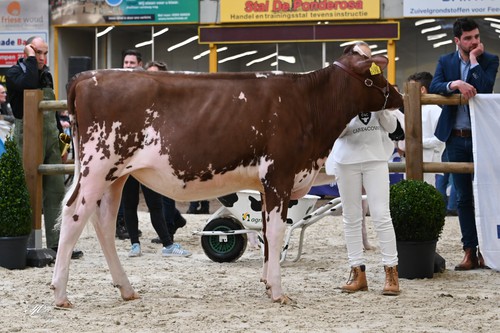 Ritmaster Esmeralda 6 Red (s. Power-Red)
2-yr-olds:
The junior 2-yr-old competition includes a special Jackpot award. The Jackpot went to Drouner Aiko 1718 Red (Mr Blondin Warrior-Red x Aiko 1288 Red EX-91). Duckett Crush Tatoo daughter New Moore Tattoe Esmeralda, bred by the Prent-Withaar family, was placed 3rd and was named 'Best Udder'. The success of the Albring family continued in the next category. It was Drouner Anna 1715 (also by Tatoo) who took the leading position and was awarded with the best udder of her class. The snow white Walnutlawn Sidekick daughter Drouner Aiko 1688 VG-88 was placed third in the 8th class. The judge selected his absolute Junior Champion in the Jackpot winner: Aiko 1718 Red!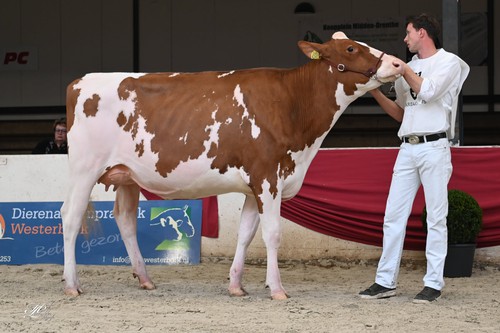 Drouner Aiko 1718 Red (s. Warrior-Red)

​New Moore Tatoe Esmeralda (s. Tatoo)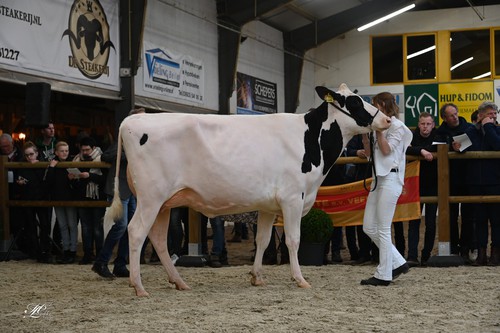 ​Drouner Aiko 1688 VG-88 (s. Sidekick)
Intermediate:
New Moore Fitz Esmeralda 103 EX-90, a direct Toc-Farm Fitz daughter of New Moore Esmeralda 38 EX-93, won the third place in her class. The oldest class was won by Drouner Ria 1420 EX-92 (by Mountfield Ssi Dcy Mogul), from the durable and stylish Drouner Ria family.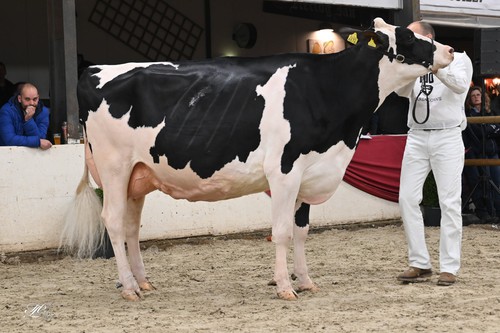 New Moore Fitz Esmeralda 103 EX-90 (by Fitz)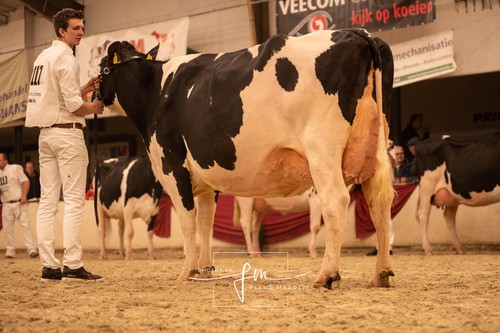 Drouner Ria 1420 EX-92 (by Mogul)
Fokveeshow Lochem
2-yr-olds
The Holmer family started the day successfully and took the lead in the second class of the R&W 2-yr-olds with Holbra A-L-H Rebecca VG-86, a Spark-Red from the Rainyridge Tony Beauty EX family. During the championship Rebecca was named Junior Reserve Champion of the red and whites! Herd mate Holbra Sonya 2 VG-87 (by Casper), descendant of Holbra Petra EX-90, was also class winner in the B&W competition and was named, just like the VG-86 Spark Red, as Reserve Junior Champion.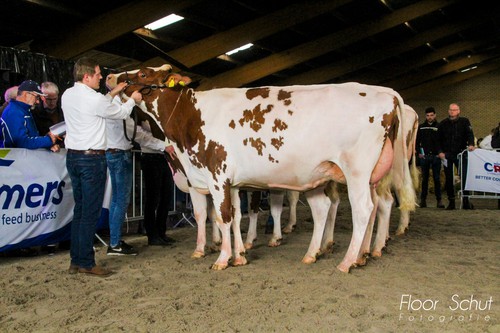 Holbra A-L-H Rebecca VG-86 (s. Spark Red), co-owned by A-L-H Genetics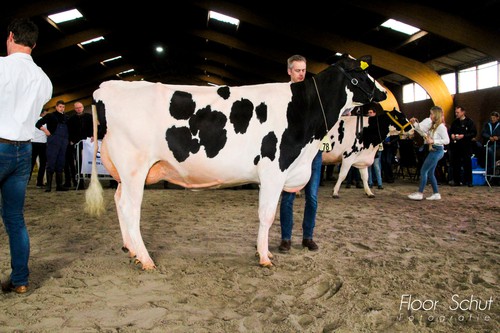 Holbra Sonya 2 VG-87 (s. Casper)
Avondbloesemshow Betuwe
Showmanship:
The De Jong family were the first to start off the Junior Showmanship competion! Both daughter Fay and son Nick where named Showmanship Champions. Willem's-Hoeve Wish-Star 2709 (by Willem's-Hoeve R Ajax) was very well presented by Nick. Fay showed Willem's-Hoeve Atlees 2708 (by Willem's-Hoeve Steyr).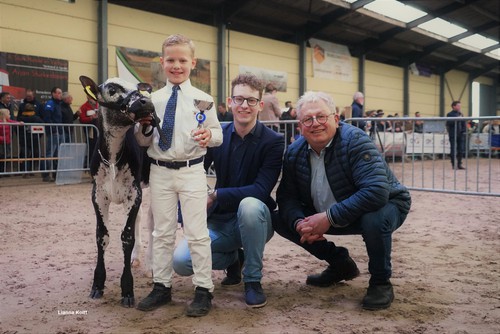 ​
Nick de Jong with Willem's-Hoeve Wish-Star 2709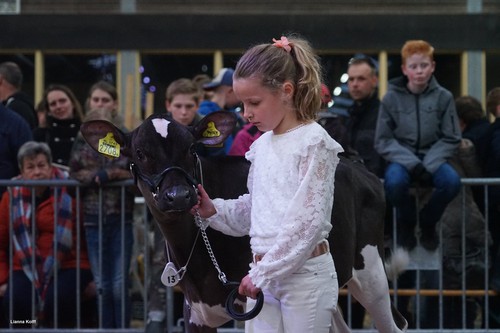 Fay de Jong with Willem's-Hoeve Atlees 2708
Senior Championship:
In the showmanship senior category Gert Bakker was on the move and showed a strong performance with his very own BJH Cathrien Red (Drouner Altitude-Red x Batouwe Catharina Brekan VG-87). He made it to the finals and won the championship! Third dam of this Altitude-Red, Catharina 68 EX-92 also attended the show at the age of 15 years old and won the 'CRV Rendementsprijs'.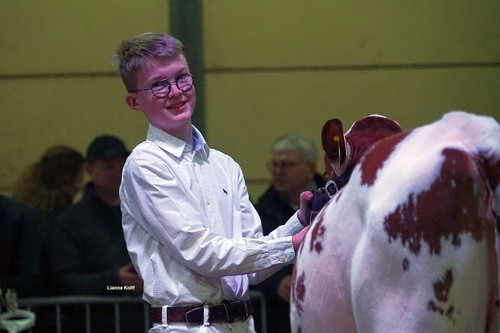 ​
Gert Bakker with BJH Cathrien-Red
2-yr-olds:
The VG-88 classified Our-Favorite Undenied, Willem's-Hoeve Rita 2134 won her class and also received a ribbon for best udder. During the finals, Rita 2134 was named Junior Champion!
Intermediate 
The success continued for the De jong family, because Willem's-Hoeve Rita 2043 VG-89 did a very good job. This second calver Seagull-Bay Silver took second place in her class and just like her herd mate, this Silver daughter was named the cow with the best udder of the class.
Senior 
A special day for the 6th calver Willem's-Hoeve Rita 9863 EX-92, because in her career she already won the prestigious title 'Miss Betuwe' twice. Third time's the charm, because the strong bodied Rita 9863 was, again, the best cow of the day! The lifetime production of this amazingly preserved Danillo daughter is 90.494 kgsM with 5.16%F and 4.05%P.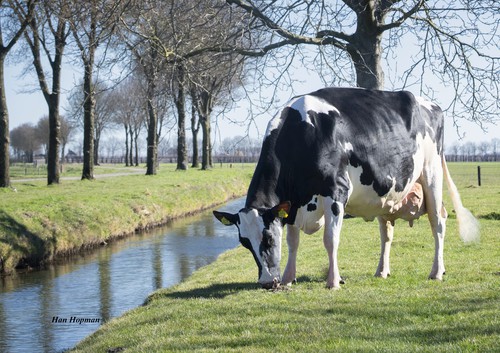 Willem's-Hoeve Rita 9863 EX-92 (s. Danillo)