GenHotel members' cows shine at local show Bathmen/Laren
Type
Oosterbrook Sofia VG-88 (s. Emperor RDC)
Despite the high temperature during the Fokveedag Bathmen/Laren last Saturday, members Holbra Holsteins and Oosterbrook Holsteins made a big impression in the show ring and managed to made it into the finals! Even literally, in the heat of the moment, they where awarded with several titels.
In the B&W ring, where 2nd and 3rd calvers were judged in the Intermediate category, the third lactation Claynook Casper daughter Holbra Joy 2 VG-89 of the Holmer family won the first place. Through Holbra Joy VG-87, Holbra Sandoya VG-86 and Holbra Sandian VG-88 she hails from Holbra Sana VG-89 (by Snowman), dam of the Italian proven sire Holbra Inseme Rodanas. The Heijink family of Oosterbrook Holsteins also had great success in this class. Oosterbrook Sofia VG-88, a very fancy Kenmore Jedi Emperor RDC, took first place and was followed by her herdmade Oosterbrook Esperanto Hanilla. She is a third calver Weelder Esperanto daughter classified EX-90. During the finals, Joy 2 VG-89 of Holbra Holsteins competed for the title and was named Reserve Intermediate Champion Bathmen/Laren 2023 by the jury. With this she equalled the success of last year where she also won the Reserve title!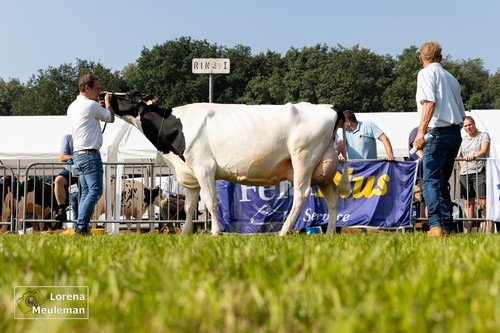 Holbra Joy 2 VG-89 s. Casper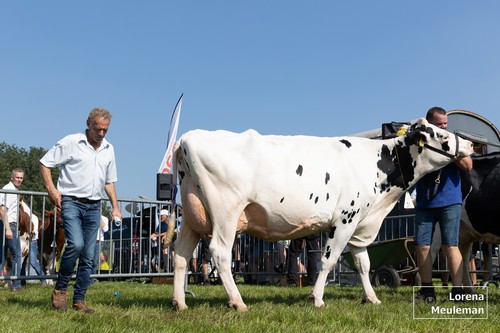 ​Oosterbrook Sofia VG-88 s. Emperor RDC
In addition to Esperanto Hanilla VG-89, her dam Oosterbrook Acm S Hanillo (by Hanillo) was also in great shape again to enter the ring. The termendous milk producer calved in April for the 6th time. With success, because she was placed in 2nd position in a strong class directly behind a fourth calver Golden Dreams, namely Doortje 54. This duo also formed the championship duo in the final. Acm S Hanillo won the Reserve B&W Senior Championship for the second time in a row after winning the Senior Best Udder & Res. Senior Champion last year. Earlier this week it was time for Hanillo to meet the classifier again what resulted in a new score of EX-90!
Holbra Charlynn, Charley x Holbra Sandoya VG-86, also made it to the championship after being placed 1st by the jury in the youngest category with senior cows. She is a maternal sister to Holbra Joy VG-87, dam of the aforementioned Joy 2 VG-89.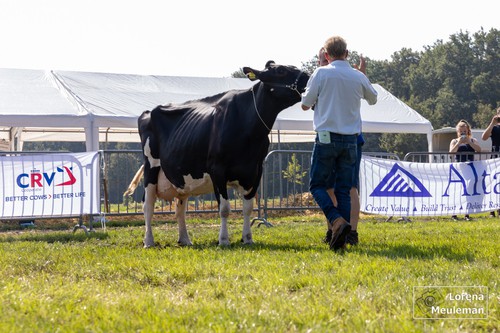 Oosterbrook Acm S Hanillo VG-89 (s. Hanillo)
Holbra ALH Rebecca Red VG-86 entered the R&W Intermediate competition and took third place in a very strong class. Rebecca is sired by Spark Red and a daughter to Primeval Bec RDC, a great-granddaughter of Rainyridge Talent Barbara RDC EX-95 (by Talent) - Holstein Canada Cow of the Year 2013.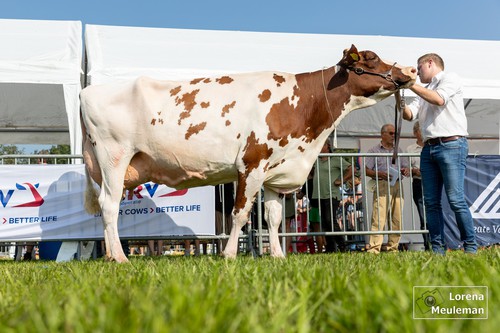 ​Holbra ALH Rebecca Red VG-86 s. Spark Red