Beeze Calinka 12 wins 'Boerenkoe' competition
General
Beeze Calinka 12, Penley x Balisto
The seven-year-old Beeze Calinka 12 was signed up by her breeder and owner, Beeze Holsteins, for the election of 'Boerenkoe', region of Ommen (OV). In this competition, not only the conformation of the participating cows is judged, but also udder health, milk production and fertility are taken into account in the final decision. The large number of cows participating was, in addition to being divided into regions, also divided into the number of calvings.
Calinka 12 is a daughter of the American sire De-Su Penley 11839 and traces back to a German cow family of HHG Chrissy VG-88. The Penley's great-granddam is the red Talent RF daughter WIT Calinka VG-87. This line also has delivered a few proven sires, including the red sire Serano (by September Storm). From Calinka 12, Van der Kamp bred two heifer calves which are both still present, namely a third calver Babylon RDC and the recently calved Beeze Calinka 14, sired by Delta Nominator-Red.
The fifth lactation Penley has so far achieved a lifetime production of 79,515 kgsM with 4.20% fat and 3.44% protein. She has an average calving interval of 399 days over five lactations and has never been over a SCS of 150. In the category of five lactations and more, this cow from Van der Kamp's herd took the winning title in the region of Ommen.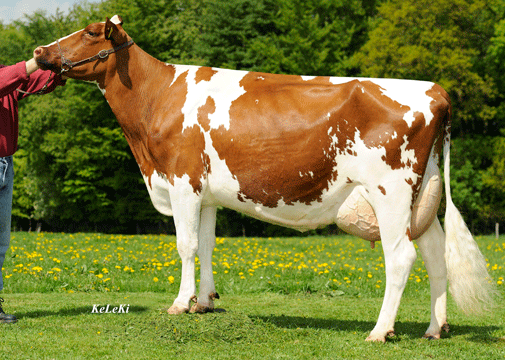 WIT Calinka VG-87, fourth dam