Top performance for Roubos with Strans-Jen-D Tequila-Red EX-96 daughter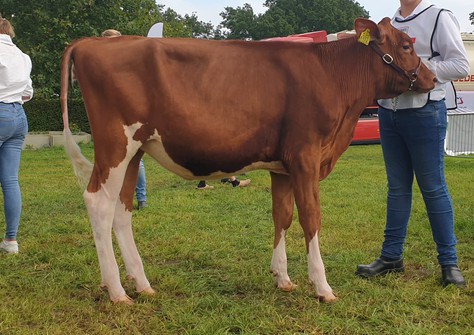 Type
Rh Unstopabull Tantrum Red (Photo: Arjan Roubos)
Although only 8 months old, RH Unstopabull Tantrum Red recently won her first title at the local show Cowvalley 2023! The Riverdown Unstopabull daughter was purchased as an embryo by Roubos Holsteins and has since grown into a beautiful, deep red heifer calf with a lot of show potential!
An image of her dam, that comes in mind as soon as you look at Tantrum Red. Dam Strans-Jen-D Tequila-Red EX-96 (by Scientific Director-Red) also has that same deep red color. Tequila-Red has built up an tremendous extensive list during her show career when it comes to (show) titles. The most impressive are: 
Grand Champion, Senior Champion & Best Udder R&W @WDE 2015
Senior Champion & Grand Champion @WI State R&W Show 2017
Senior & Grand Champion @WI Spring R&W Show 2017
2x All-American in 2014 & 2015
Intermediate and Grand Champion @ MN State Holstein Show 2013
Intermediate & Reserve Grand Champion @MN State R&W Show 2013
Granddam Jen-D Devil Tiffany-Red EX-95 (by Dutchline Red Devil) has also built up a world-class reputation! She was nominated for the All-American title no less than 9 times and has won the Supreme Championship at the MN State Fair in 2011. In 2014, at the Minnesota State Fair, Tiffany made history together with her daughter, Strans-Jen-D Tequila-Red, as they were the first dam and daughter couple to enter the Supreme Champion parade together in the same year. Tiffany won the R&W Grand Champion, while daughter Tequila competed and finally won the B&W Grand Championship.
Tequila-Red her embryos went all over the world and her offspring is also making a name for them selves in show business. For example, one of her daughters, Milksource Abbot Tessa-Red EX-92, is Grand Champion @Midwest National Spring R&W Junior Show 2019 and her milking offspring all score VG easily! This Unstopabull-Red daughter of Tequila Red EX-95 at Roubos Holsteins is possibly one of the few daughters in Europe sired by this R&W top type sire. Tantrum Red was named Junior Heifer Champion 2023.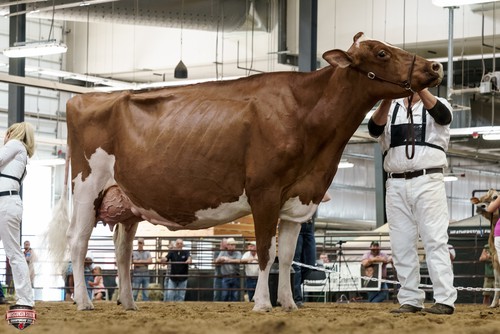 Strans-Jen-D Tequila-Red EX-96, Wisconsin State Fair 2017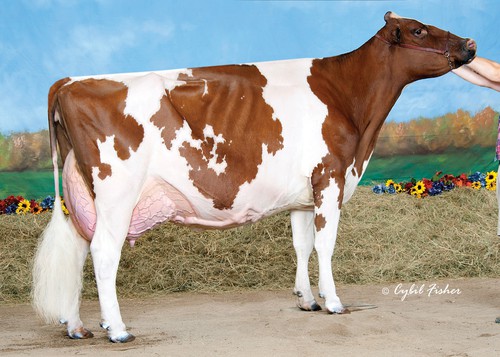 Grandam: Jen-D Devil Tiffany-Red EX-95