Update influential donors of De Oosterhof & GenHotel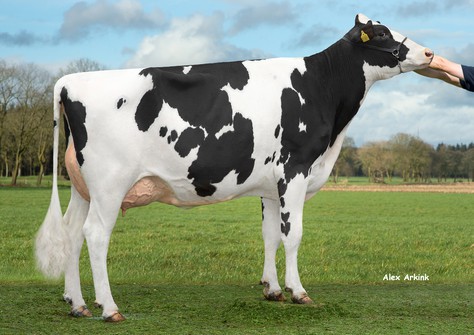 General
Tirsvad K&L Riveting Magnolia, dam of 10 AI sires!
The collaboration between De Oosterhof and GenHotel has made a big leap in recent years within both the Holstein and Red Holstein top breeding. This is also proven by the former and much flushed top donors (Magnolia, Ruby Sun, Kalicia RDC, Sunnyside Red and Reevestar), which have recently been photographed and/or classified!
GenHotel Selection Sale 2020 purchase Tirsvad K&L Riveting Magnolia (A2A2) proved to be of great value for breeding programs. At the time De Oosterhof and GenHotel purchased Magnolia, she was the number 1 NM$ and the number 2 gTPI Riveting in Europe and also in the German gRZG system the Gold-N-Oaks Morty Malibu EX-94 offspring scored extremely high. The direct daughter of multiple bull dam Pen-Col Superhero Mistral VG-89, was flushed many times to generate high offspring and that turned out very successfull! Of her 60 offspring, no less than 10 sons were sold to 7 different AIs. Among others: 3STAR OH Mancave RDC @Semex, 3STAR OH Magnoman @Xenética, De Oosterhof 3STAR Falcone RDC @MCB and De Oosterhof 3STAR Megastar @Genus/ABS. Magnolia has been in her first lactation since January 2023. She is scored GP-84 and projected at 8.410 kgsM, 5.25%F & 3.63%P in 305 days. High female offspring from this Riveting include 3STAR RM Martine (3048 gTPI/157 gRZG), 3STAR OH Magnia RDC (2909 gTPI/145 gRZG) and 3STAR OH Magan (2923 gTPI/153 gRZG).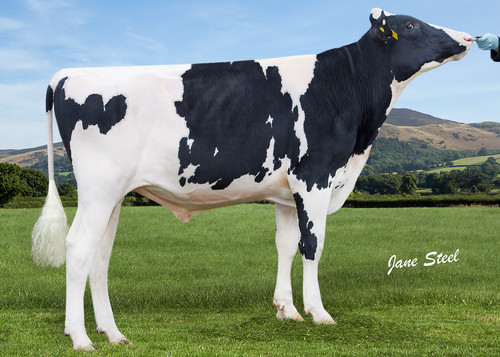 Magnolia son: De Oosterhof 3STAR Megastar (s. Stardancer) with 2951 gTPI and 935 NM$.
De Oosterhof K&L Ruby Sun Red (Rubels-Red x Salvatore RDC x Rubicon) is currently achieving a good daily production and will produce 8,423 kgM with 5.07%F & 3.69%P in 305 days. The recently photographed and VG-85 (VG-87 MS) scored Ruby Sun is a direct daughter of multiple bull dam K&L Sv Sunny Red GP-84. Sunny is the dam of the bulls K&L OH Matty P RDC @RUW, K&L OH Sunboy Red @Swissgenetics and 3STAR OH Rubelson Red @Małopolskie Centrum Biotechniki. Ruby Sun VG-85 herself also has a Crisalis RF son, that was sold to East Europe. This makes her the 8th generation bull dam in a row from the Des-Y-Gen Planet Silk RDC EX-90 family! Many (maternal) sisters of this Rubels-Red progeny were also of great value to the 3STAR Breeding Program. Such as: 3STAR OH Sunnyside Red (more about this further below), K&L OH Shiner Red, Exloër K&L OH Sharma Red, and Diekers K&L DL Whiskey RDC.

De Oosterhof K&L Ruby Sun Red VG-85 (s. Rubels-Red)
OH DG Topstone daughter De Oosterhof 3STAR Kalicia RDC was only five weeks fresh during the visit of the classifier and picture day, but convinced with her mammary and good feet & legs. The freshly calved Topstone descends in four generations via well-known bull dam Kalibra SX 5631 Red VG-87, from Wilder Kanu 111 RDC VG-88 (s. Snowman). Kalicia RDC is also the 7th generation VG-scored cow from this bull dam family with her first score of VG-85. A flush with KNS Serge Red resulted in red offspring from scoring up to 156 gRZG! This is including Waldclass 3STAR Kalicia 2 Red with 155 gRZG, at Van der Meulen Holsteins.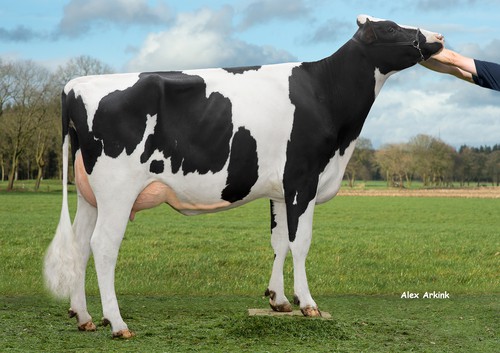 De Oosterhof 3STAR Kalicia RDC VG-85 (s. Topstone)
It was quiet for a while around the former No. 1 gTPI & NM$ R&W female worldwide, 3STAR OH Sunnyside Red, but now we can share great news about this outstanding 3STAR Breeding Program result. The fantastic scoring red K&L Sv Sunny Red GP-84 daughter, also full sister to the aforementioned Ruby Sun, stormed into the European and global gTPI rankings in March of 2020, with a huge score of 2797 gTPI, 973 NM$ and 163 gRZG! During the time that followed, Sunnyside Red was flushed with top bulls such as Koepon Camden RDC, HIN Sorelio P Red, Progenesis Monteverdi, 3STAR OH Ranger Red and Aprilday Ron Trumpet-Red to reach the top rankings in the generations that follow. With success, because daughter 3STAR OH Shirley Red (by Camden RDC) was in July 2022 the number 1 Koepon Camden RDC daughter worldwide on GTPI.  The number 1 gTPI female Trumpet-Red in Europe + number 2 gTPI Trumpet-Red worldwide was also supplied by Sunnyside Red with daughter 3STAR OH Sonnet Red! 3STAR OH Sunelio P Red (by HIN Sorelio P Red) is also worth mentioning with 155 gRZG and 2814 gTPI as a red, polled daughter and De Oosterhof 3STAR Bellawina RDC by Peak Rainow scores 2920 gTPI and is the highest scoring TPI daughter with red factor of the former No. 1 gTPI & NM$ female Red Holstein worldwide.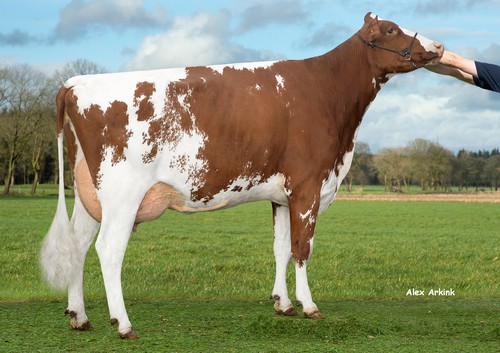 3STAR OH Sunnyside Red (s. Rubels-Red)
Dam of the high scoring Siemers Rengd Parfect offspring 3STAR OH Reevival with 3109 gTPI, namely De Oosterhof 3STAR Reevestar (A2A2), was also captured on camera. Reevestar is a S-S-I Bg Fzzld Riveting from the well-known K&L OH Mabel and freshened for the first time in October 2022. In addition to Reevestar's high gTPI daughter, she also achieved success with son 3STAR OH Ferrari (by Siemers Porsche), which is sold to Genus/ABS. Dam Mabel bred almost 60 offspring during her lifetime, of which two daughters from the combination with Riveting were born and this Reevestar came out as the highest for gTPI. Her TPI profile at the time showed that she would transmit extremely high fat & protein. The A2A2 producing Riveting from the Maybeline cow family is projected at 8,929 kgM, 4.92% fat and 3.52% protein.

De Oosterhof 3STAR Reevestar (s. Riveting)
Are you interested to join the 3STAR Breeding Program now? Click here for more information.