Willem's-Hoeve Holsteins achieves a really great round of scores!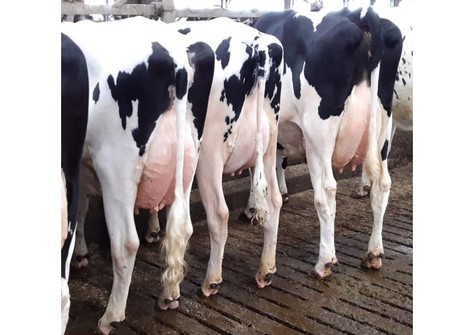 General
Rita 2491a VG-88, Javina 2 VG-87 & Rita 2134 VG-89
After the show success of last month, Willem's-Hoeve Holsteins recently hosted the herdbook classifier. This classification has led to exciting results. Among the long list of scored cows were also two of the successful participants of the recent Avondbloesemshow 2023.
A great number of no less than 17 milking cows were classified VG-85 or more. Two 2-yr-olds from the Rita cow family were even awarded with VG-88. One of these milking heifers, Willem's-Hoeve Rita 2491A, became class winner at the lately organized Avondbloesemshow 2023. The Mountfield Ssi Dcy Mogul daughter scored MAX VG-89 for both frame and dairy strength. The former number 2 gNVI B&W of 12-2020, Willem's-Hoeve Rita 2438, also received VG-89 (MAX) for Frame. This Rita is a Peak Remington daughter out of the maternal sister of the in April debuting proven sire Willem's-Hoeve Woody! From this Rita line, to which also Willem's Hoeve R Browning belongs, a third lactation Stantons Adorable sister of Woody also was classified this day. Willem's-Hoeve Rita 1959A, which calved in December, is projected at 15,619 kgM with 3.96% fat and 3.41% protein in 305 days. Her score of VG-88 with EX-90 Type emphasizes the strength of this impressive cow family.

Willem's-Hoeve Rita 2491A got her first score of VG-88!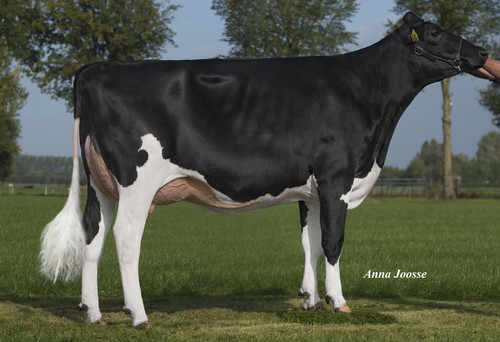 Willems-Hoeve Rita 1626 A VG-86, dam to Woody, Rita 1959A VG-88  and granddam to Rita 2438 VG-88
The only scored Red Holstein is Willem's-Hoeve Rita 2492 Red (by Gen-I-Beq Attico Red). As we are used to from her sire Attico, this red Rita has a great will to produce with a 305-day lactation of 9,627 kgsM, 4.37% fat and 3.80% protein. Rita 2493 Red, which freshened in January, was this classification good for VG-86.
Highest re-classification was for the Res. Intermediate Champion Avondbloesemshow 2023, namely the second calver Our-Favorite Undenied: Willem's-Hoeve Rita 2134. This classification day resulted in an EX-91 for her Dairy Strength with VG-89 for Udder. The granddaughter of Willem's Hoeve Rita 579 EX-91 ended up with VG-89 for overall conformation.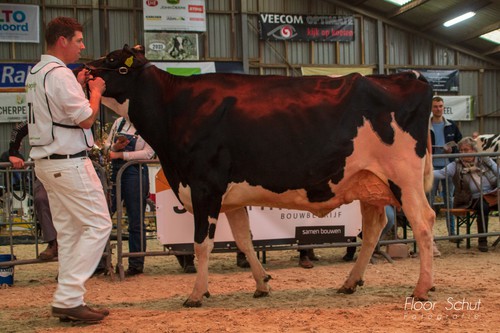 Willem's-Hoeve Rita 2134 managed to increase her score shortly after big show performance.
The Massias also delivered a nice dairy 2-yr-old with VG-87 points. This first lactation Seagull-Bay Silver, which got the polled gene through her maternal line, calved in February and easily produces 36 kg of milk per day. Willem's-Hoeve Massia 2520 P VG-87 descends in five generations from Mellencamp Massia 7731 P-Red VG-86, this VG-86 Lawn Boy Red - as we now know - will also produce the widely used homozygous polled Wilder Hulk P-son HIN 3STAR Hugo PP RDC generations later.
A 100% Willem's-Hoeve mating, in collaboration with GenHotel, delivered the VG-87 classified Willem's Hoeve 3STAR Javina 2521. The mating of Woody with Willem's Hoeve Javina 2136 VG-85 A2A2 connects these two strong cow families at De Jong. The VG-85 Lightstar was flushed several times for the 3STAR Embryo Program, with the sires KNS Simon P and Peak Chilton, which eventually brought 7 female offspring. 
| | | | | | | | | | |
| --- | --- | --- | --- | --- | --- | --- | --- | --- | --- |
| Name | Sire | Dam | Col | Lact | FR | DS | MS | FL | TOT |
| Rita 2134 | Undenied | Rita 1507 GP-83 | B | 2 | 89 | 91 | 89 | 87 | 89 |
| Rita 2491a | Mogul | Rita 1881 VG-87 | B | 1 | 89 | 89 | 88 | 88 | 88 |
| Rita 2438 | Remington | Rita 2078 GP-84 | B | 1 | 89 | 87 | 88 | 88 | 88 |
| Rita 1959 A | Adorable | Rita 1626A VG-86 | B | 3 | 88 | 90 | 89 | 86 | 88 |
| Massia 2520 P | Silver | Massia 1877 RF | B | 1 | 86 | 86 | 88 | 87 | 87 |
| Javina 2 | Woody | Javina 2136 VG-85 | B | 1 | 86 | 89 | 86 | 89 | 87 |
| Rita 2317 | Lexus | Rita 1710 VG-86 | B | 2 | 86 | 85 | 89 | 87 | 87 |
| Rita 2505 RDC | Optum Red | Rita 2040 VG-88 | B | 1 | 86 | 88 | 88 | 86 | 87 |
| Rita 2492 Red | Attico Red | Rita 0011 VG-87 | R | 1 | 88 | 85 | 87 | 85 | 86 |
| Baily 2435 | Atwood | Baily 2041 VG-88 | B | 1 | 83 | 86 | 89 | 84 | 86 |
| Rita 2526 | Impression | Rita 1443 VG-86 | B | 1 | 86 | 84 | 87 | 85 | 86 |
| Esther 2489 | Manhattan | Esther 1589 GP-84 | B | 1 | 85 | 84 | 87 | 87 | 86 |
| Rita 2226 | Tatoo | Rita 1804 GP-84 | B | 2 | 86 | 87 | 89 | 80 | 85 |
| Javina 2501 RC | Optum Red | Javina 1603 GP-82 | B | 1 | 84 | 87 | 87 | 83 | 85 |
| Rita 2426 | Reflector | Rita 1448 | B | 1 | 84 | 82 | 87 | 84 | 85 |
| Rita 2509 | Doorman | Rita 1884 VG-87 | B | 1 | 84 | 86 | 86 | 83 | 85 |
|  Rita 2432 | Silver | Rita 1457 VG-87 | B | 1 | 85 | 88 | 87 | 81 | 85 |