GenHotel's list with sire of sons is resfreshed!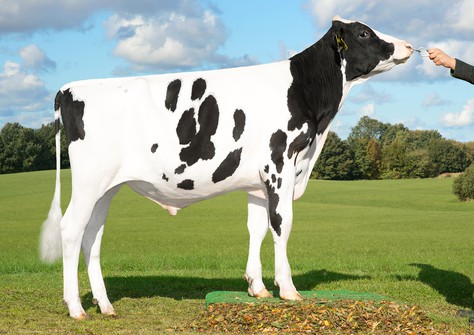 After the April 2023 index run, GenHotel has updated the list with sire of sons. Some bulls have been replaced by a number of impressive debuting high genomic young sires. With this we start the spring of 2023 with a new top list and we intoduce some newly available bull sires to you.
New top RZG bulls in the red & white list include GlH Redford (by 3STAR OH Ranger Red). He's a young sire bred by Geestland Holsteins, and a member of the Des-Y-Gen Planet Silk EX-90 cow family. The Ranger son will soon be available at the German AI stud RBW.

Moeder van Redford: Schreur Vision Red VG-87 (v. Ronald RC)
On the same list of Red Holsteins we also find a new redfactor sire, namely the 2982 gTPI scoring 3STAR OH Romaner RDC. The Ranger-Red son, bred by De Oosterhof and GenHotel, is the highest gTPI sire among the R&W Sire of sons list, published on the GenHotel site. Romaner RDC is also the #5 gLPI sire of Canada with 3922 gLPI. With 1078 lbs of milk, high components, a flawless linear profile and excellent health traits, the K&L OH Rozella VG-85 grandson can easily be used at any dairy farm. Romaner RDC is available at Semex.
With 339 gNVI we find Blumenfeld RUW Shake Red (Sputnik RDC x Skywalker) as R&W frontrunner based on NVI. With 157 gRZG, the as embryo imported sire from America can compete with the European top. Shake Red has a very strong foundation dam in Felder Den Barb Cindy EX-91, which means that the huge milk transmitter and 2569 gRZ€ testing Sputnik RDC son brings an outcross pedigree for Red Holstein. Although this cow family is quite scarce in Europe, Batouwe Holsteins owns several descendants from this family. They bought Share Dg Agnieska-Red EX-90 (by Payball Red), which goes back in six generations to foundcation cow Cindy. They managed to breed at least four red daughters from Agnieska-Red.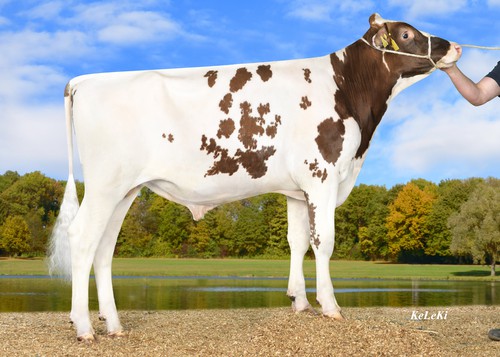 Blumenfeld RUW Shake Red, imported as an embryo in Germany and available at RUW
Now also available within the (homozygous) polled segment is Mo Red PP, a McDonald P Red son owned by RinderAllianz. The robot-capable Mo Red PP is a son of the HighlightSALE 2023 milking heifers sale topper RUW Serena P Red VG-86, sold for € 9,800! This means that the 155 gRZG & 260 gNVI scoring homozygous young sire comes from well-known Des-Y-Gen Planet Silk EX-90 cow family. He brings 1210 kgM, 141 gRZE and fantastic health traits to the table.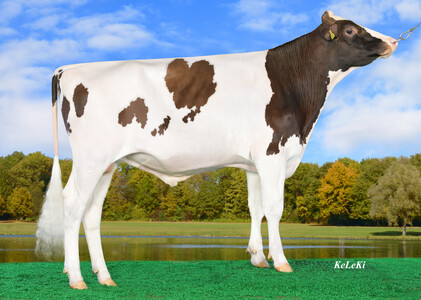 Mo Red PP,  a homozygous polled top sire available at RinderAllianz
When it comes to new, available sire of sons for Holstein, Peak AltaKawaii has now been added. This AltaKevlow son has a sky-high 3136 TPI with 1172 NM$ and is bringing the Holstein market up to speed. Through several generations, AltaKawaii traces back to Seagull-Bay Oman Mirror VG-86, a cow family that has already brought many bulls to the marked. T-Spruce G Frost Bite (Granada x Lionel x Samuri) has also been added with 3093 gTPI (1266 NM$). This bull is available at WWS/Select Sires and comes from the same line as proven sires Coyne-Farms Jabir and Jetset. For the aAa breeders, Frost Bite is an interesting asset, because he has the scarce code of 534!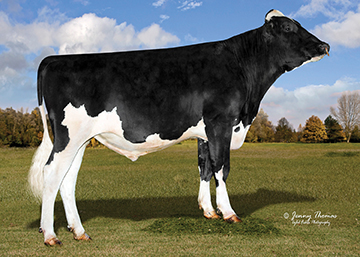 The high TPI/NM$ transmitting T-Spruce G Frost Bite, sired by Granada 
Germany's genomic powerhouse, RUW Champion, will soon be available to be used as a sire of sons too. With 160 gRZG (2550 gRZ€), the Clapton son debuted as the new gRZG leader in April 2023. Former number 1 Pröbstings Arizona (Arrozo x Merryguy) is still regarded as a popular bull and can therefore still be found on GenHotel's sire of sons page with 159 gRZG, 2858 gTPI and 273 gNVI.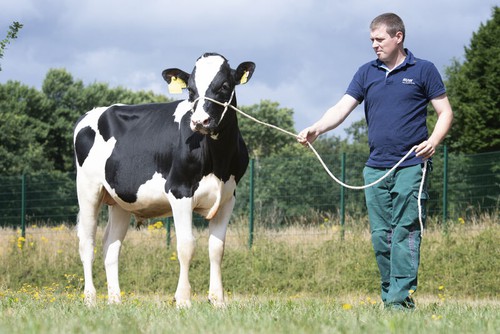 Former No. 1 Pröbstings Arizona remains in high demand
With 153624 aAa it is still interesting to also take a look at HM Strong P, a Star P RDC bred by the Dutch Henk Moonen. The polled Prudence EX-95 descendant scores 156 gRZG with lots of milk and great type, as we are used to from this popular cow family! For Red Holstein, the high genomic young sire Red Rocks Mask Red is still well qualified. This outcross bull from Red Rocks Holsteins is still in both the NVI and the German RZG top rankings with 319 gNVI & 158 gRZG. The Stamkos RDC x Wisent RDC bull also shows a remarkable aAa code of 153624.
From some of the Sire Of Sons are interesting embryos available now. Check the GenHotel EmbryoSale.