Great performances at the Dutch herd De Wijde Blik
General
De Wijde Blik Corrie 679 classified VG-88 this week!
De Wijde Blik's great performances have been piling up in recent weeks. In addition to great results that were achieved at the local Video Competition and the Champions League Cattle Judging event organized at De Wijde Blik, they also hosted a classifier with exciting results. Herewith we summarize this accumulation of highlights for you.
At the beginning of this year, the annual Video Competition for 2-yr-olds was organized by the Veestudieclub Ommen e.o. De Wijde Blik was again present and participated with two milking 2-yr-olds. The fantastically lined, De Wijde Blik Mariegold 6a Red was named Champion by the jury. Mariegold 6a is a Kenmore Triple Crown-Red tracing back to the well-known EX-93 Goldwyn daughter Mariegold. Dam of the Crown-Red is a red factor, VG-86 points Dalman Red daughter which is due for the fifth time, again from Crown-Red, in early June. Also participating from Nijman's herd was De Wijde Blik Marix, which calved in June 2022. In the summer of 2022, this Unix offspring, owned by the Gunnink family, already won the Junior 2-yr-old Championship of the Bissende Koe show. Now Marix, which also hails from the fabulous Mariegold EX-93, can also name herself Res. Champion of the Video Competition of Ommen e.o.! Marix's production is projected at 9,946 kgsM with 4.56% fat and 3.42% protein in 305 days.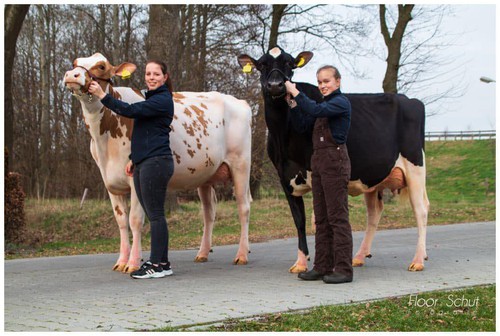 Michelle Nijman and Zarende Gunnink competing with 2-yr-olds Mariegold 6a Red & Marix
The classification that followed this week after last Saturday's successfully organised Champions League Judging competition, brought an average score for overall conformation among the 2-yr-olds of 84.6 points! The dairy farm of the Nijman family, which contains 60 milking cows, showed this classification day two 2-yr-olds which were scored VG-88! One of them is the aforementioned De Wijde Blik Marix, which received a maximum score of VG-89 for her mammary. Also VG-88 points were awarded to De Wijde Blik Corrie 679 Red by Kenmore Triple Crown-Red. In addition to VG-88, the direct daughter of De Wijde Blik Corrie 41 Red VG-89 (Honorable Mention Senior Wintershow Zwolle 2017 + granddam of De Wijde Blik Cor @KI Kampen) also received a maximum score for of VG-89 for Feet & Legs! Corrie 679 VG-88 is projected at 10,433 kgsM with 4.25% fat and 3.46% protein (305 days). 
| | |
| --- | --- |
| | |
| De Wijde Blik Marix VG-88 (s. Unix) | De Wijde Blik Corrie 679 Red VG-88 (s. Crown Red) |

The champion of the Video Competition Veestudieclub Ommen e.o, Wijde Blik Mariegold 6a Red, received MAX VG-89 for both her Dairy Strength and Frame which resulted in total score of VG-87. Although no descendants of the red Mariegold descendant are yet present at Nijman, with the current pregnancy by Red Rocks Mask-Red this will hopefully change at the end of 2023/beginning of 2024.
The collaboration with GenHotel also brought good results. The  well-known Schuit Solana P Red (by Caudumer Solitair P Red), which calved in October 2022, was able to develop further in recent months. Shortly after calving, owners Siepermann and GenHotel already realized the power of this Radieuse EX-91 descendant, which freshly showed a fantastic udder. After having sold several daughters through various sales the last couple of months, realizing a very persistent milkproduction, being a great brood cow and well taken great care of by De Wijde Blik, the youthful first lactation Solana P Red was classified VG-86 with max VG-89 MS!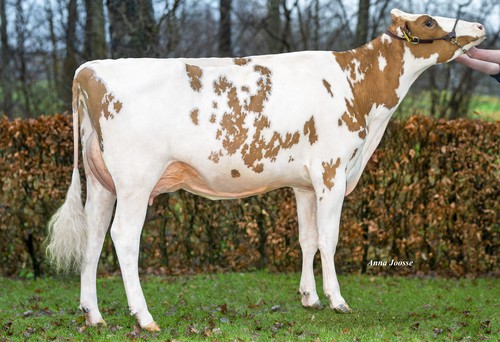 Schuit Solana P Red VG-86 (s. Caudumer Solitair P Red) 
De Wijde Blik 3STAR Pippa 1 P RDC scored this day VG-86 (VG-88 DS). The polled and red carrier offspring of Golden-Oaks Mark Prudence EX-95, is the 16th generation VG/EX scored cows in a row! Pippa 1 P RDC VG-86 currently peaks at more than 42 kg of milk per day. Maternal sister De Wijde Blik 3STAR Penelope (by Bellwether) was also introduced to the classifier, which resulted in a great VG-85. Penelope VG-85 is a full sister of De Wijde Blik K&L Pipa 2 VG-85, dam of the AI bull De Wijde Blik Paradise - bred by Nijman & GenHotel. Dam Visstein GK Pippa VG-86, which is born at Vissstein, is projected over three lactations on an average 305-day production of 12,157 kgsM with 4.28% fat and 3.62% protein and now has three milking daughters averaging VG-85.7!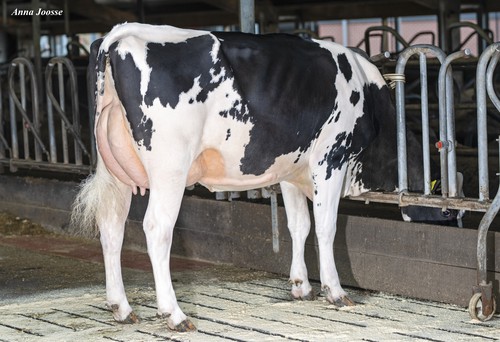 De Wijde Blik K&L Pipa 2 VG-86 (Bellwether x Visstein GK Pippa VG-86)
The highest re-scored cow of the day is GWH Emilia, the first placed cow of the Champions League Judging Competition. Emilia was purchased as an VG-87-points heifer by Nijman at the SonderKollektion 2020 and has now calved two times more at De Wijde Blik. The snow-white Walnutlawn Sunlight daughter is supported by no less than 8 generations of EX and is descended from Mor-Yet Goldwyn 682 EX-94. With a beautiful score of VG-89 (EX-91 Frame), the Sunlight is well on its way to becoming the next excellent generation from this impressive line!

GWH Emilia VG-89 (s. Sunlight)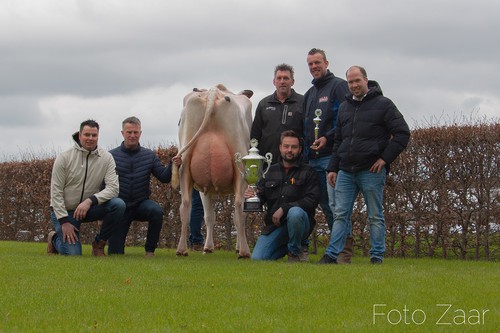 Winning team of the Champions League Judging Competition 2023 is the Zuid-Holland team.
| | | | | | | | | | |
| --- | --- | --- | --- | --- | --- | --- | --- | --- | --- |
| Name | Sire | Dam | Col | Lact | FR | DS | MS | FL | TOT |
| Emilia | Sunlight | Edana VG-89 | B | 3 | 91 | 89 | 88 | 88 | 89 |
| Corrie 679  | Crown-Red | Corrie 41 VG-89 | R | 1 | 88 | 88 | 88 | 89 | 88 |
| Marix  | Unix | Marien VG-89 | B | 1 | 87 | 88 | 89 | 87 | 88 |
| Jolein 11 | AltaRoble | Jolein 7 | B | 2 | 88 | 88 | 88 | 88 | 88 |
| Mariegold 6a  | Crown-Red | Mariegold 3 RDC VG-86 | R | 1 | 89 | 89 | 86 | 87 | 87 |
| K&L Sd Betty  | Sound System | Betty n.c. | B | 3 | 89 | 91 | 90 | 81 | 87 |
| Solana Red | Solitair P Red | Royal Flash RDC n.c. | R | 1 | 84 | 85 | 89 | 84 | 86 |
| Classy 1254  | Reeve Red | Classy 898 VG-88 | B | 1 | 87 | 87 | 83 | 88 | 86 |
| Pippa 1 P RDC | Abundant P Rf | GK Pippa VG-86 | B | 1 | 86 | 88 | 83 | 87 | 86 |
| Flora 119 | Ticket | Flora 116 GP-81 | R | 4 | 83 | 85 | 89 | 83 | 86 |
| Gretha 972  | Reflector | Gretha 570 GP-82 | B | 3 | 86 | 86 | 89 | 81 | 86 |
| Marilino 3  | Sidekick | Marilinio VG-89 | B | 1 | 83 | 82 | 85 | 88 | 85 |
| Daydream 26 | Reflector | Daydream 24 GP-81 | B | 1 | 87 | 87 | 82 | 85 | 85 |
| 3STAR Penelope  | Bellwether | GK Pippa VG-86 | B | 1 | 84 | 87 | 84 | 87 | 85 |