Tremendous USA genomics run for Zwanebloem Holsteins!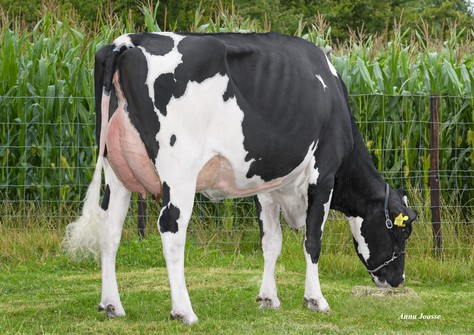 Genomics
Zwanebloem Bourbon Ruslana VG-86, 3 granddaughters in the top 50 gTPI in February
The Holstein Association USA has released the February genomic results this week. Among the females in Europe, Zwanebloem Holsteins with 8 newly tested females in the top 50 gTPI is main supplier this month. Highest heifer in Europe is now, with 3113 gTPI and 1153 NM, a German Peak AltaZazzle daughter, which traces back to the well-known breeding cow De-Su Shottle 7012 EX-92.
Tirsvad 3STAR Zazzle Miami, the second highest AltaZazzle this month, scores 3001 gTPI and 1012 NM with a very all-round breeding pattern. Miami is a granddaughter of super bull dam Pen-Col Superhero Mistral VG-89, out of the Gold-N-Oaks Malibu EX-94 family. Her full sister Tirsvad 3STAR Zazzle Monaco is also among the top 20 gTPI newly tested females in February with 2948 gTPI.
Zwanebloem Holsteins has a great month with no less than 8 heifers in the top 50. Highest is Zwanebloem Parfect Maneski, a Siemers Rengd Parfect with 2953 gTPI from the Whittier-Farms Lead Mae EX-95 family. Her two full sisters, Zwanebloem Parfect Lordi 2 and Zwanebloem Parfect Loreen score 2907 and 2905 gTPI respectively.
Zwanebloem Gameday Petula and Peggy 2 are the number 2 and 3 RM-Dotterer SSI Gameday daughters this month with 2935 and 2924 gTPI respectively. Their dam line goes back to the American cow family of Pineland Shottle Popple EX-91. Zwanebloem Parfect Positio, a Parfect daughter from the same family, also scores in the top 50 with 2870 gTPI.
The other 2 top 50 listings are Zwanebloem Parfect Britt 2 (Parfect x Nacash, descendant of Rainyridge Tony Beauty EX-94 family) with 2923 gTPI and Zwanebloem Parfect Bandid, a Parfect from the family of Sunnylodge Prelude Spottie VG-87, with 2881 gTPI.
At Willsbro Holsteins in England, Willsbro Have It All Pammy 34 is a very interesting Siemers Have It All daughter. Pammy 34 combines 2898 gTPI with +2.98 PTAT & +2.38 UDC and is the highest Have It All for gTPI in Europe. Her dam is a VG-89 Delta Lamba from the renown Windy-Knoll-View Promis EX-95 family.
Koepon Gameday Range 115 RF is with 2889 gTPI the highest red factor Gameday daughter in Europe and also one of the highest red factor females in Europe. Range 115 RF is a daughter of the recently calved Koepon Swingman Range 16 Red, a promising Westcoast Swingman half-sister of 3STAR OH Ranger-Red.
Another high-scoring Gameday is at Wilder Holsteins, namely Wilder 365264 with 2886 gTPI. This offspring of Batke Outside Kora EX-94 shows remarkably favorable scores for fertility and udder health in both the German and American systems, combined with high proofs for components.
In terms of type, the full sisters B&S Australia and B&S Alicia score very high with +3.74 and +3.54 gPTAT respectively. Both are Siemers Have It All daughters, owned by Batouwe & Schouten, of HC Archrival Arianne VG-89, the tremendous genomic type transmitter. Willsbro Hanans Amber 3382 is also one of her sire's highest gPTAT daughters at +3.62 gPTAT.
Click HERE for the top 50 gTPI newly genomic tested females in Europe.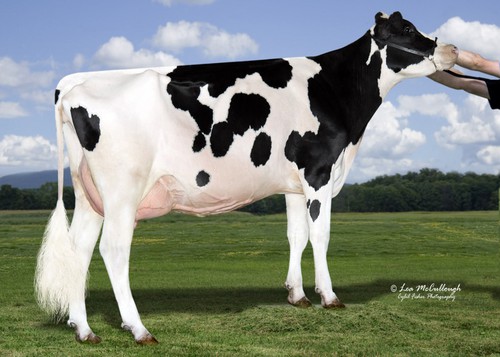 Woodcrest Mogul Pretty VG-87, 4th dam of Zwanebloem Gameday Petula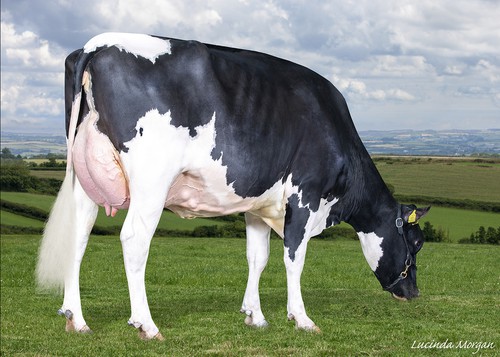 Willsbro Lambda Pammy 248 VG-89, dam of Willsbro Have It All Pammy 34