GenHotel-members in the elite regions of the Dutch top lists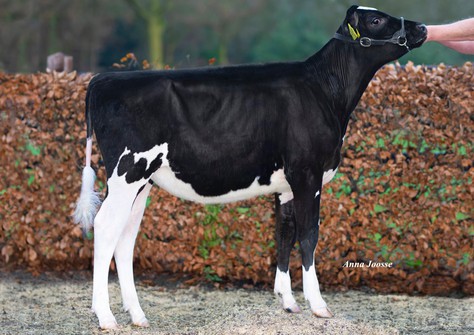 Genomics
HET Gladius Cherise, bred by Hurkmans ET, is the current no. 5 gNVI B&W
In the top 100 gNVI Holstein and Red Holsteins lists we find several heifers bred by GenHotel members! Meanwhile, the gNVI scores on both lists of the top heifers in the Netherlands and Flanders rise above the 400 gNVI.
Black & white
The current number 5 with 408 gNVI is HET Gladius Cherise, a KAX Gladius daughter from the Larcrest Juror Chanel EX-93 family. Hurkmans ET has bred this true genomic giant with 173 gRZG (3098 gRZ€), 2884 gTPI, 4739 gPFT 1698 gISET, 221 gISU and 814 gPLI! Soon, Cherise will continue her journey to Germany, after being sold for € 67,000 at the HighlightSale last month. 
New in the list are two polled, red factor full sisters by Delta Launch PP Red: Hedra Froukje 1541 P RDC (388 gNVI) & Hedra Froukje 1543 P RDC (369 gNVI). With the score of 388 gNVI, Hedra Holsteins' Froukje 1541 P is currently the highest polled heifer in the top 100 gNVI list, she's surpassing the polled Topstone daughter Midwolder Sanne P (383 gNVI) owned by Midwolder Farm. 
Exloër Delilah RDC is still one of the highest red carriers. She's a Rioaveso from the very well-known German KNS Daybright EX-91 cow family. In addition to her 379 gNVI (top 25 B&W), Delilah RDC also transmits a high 156 gRZG. Of former sire of sons Rioaveso we find no less than 18 daughters in the top 100, including the number 1, but also: HM Camie 14 (367 gNVI), Diekers 3STAR Riomirror (362 gNVI) and Plataan M 8113 (360 gNVI).
Regarding gINET, it's Koepon Plinko Classy 495 (367 gNVI, by Peak AltaPlinko), which is the second highest female with 671 INET.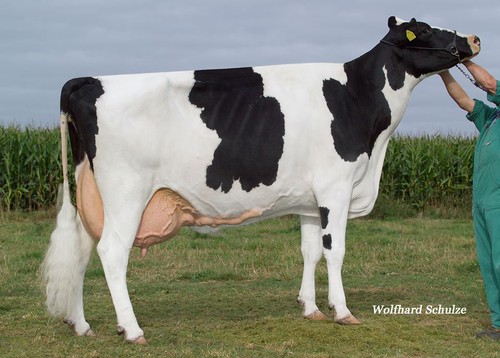 KNS Daybright EX-91 (s. Goldwyn), foundation cow of the KNS D'-family.
Go to the Dutch top 100 gNVI females list.
Red & white
Schreur 3STAR Emma Red, a 402 gNVI K&L Sputnik RDC from the German ZT Electra VG-88 family, is second in the red gNVI list. In the top 5 gNVI we find also Poppe Sanne Red. She is sired by Delta Eloy RDC and scores 395 gNVI. Sanne Red has been in the top 5 for several proof runs! The popular mating sire Poppe Freestyle-Red, bred by Poppe Holsteins, makes a great impression with his daughters, because in the meantime many high scoring daughters entered the top 100 list, such as Koepon Freestyle Range 111 Red (362 gNVI), Poppe Fienchen 2193 Red (356 gNVI), Koepon Freestyle Range 109 Red (343 gNVI) and Aalshorst 3STAR Konzert 6 Red (337 gNVI). 
Caudumer Holsteins performs well with the homebred Caudumer Lol family. The two maternal-sisters Caudumer Lol 512 PP Red (by Visstein K&L Money P) with 361 gNVI (810 LVD) and Caudumer Lol 495 Red (by Delta Nectar P-Red) with 355 gNVI are in de elite regions of the gNVI list. Lol 512 PP Red is even the highest gNVI homozygous polled!
Aalshorst Holsteins also has two polled maternal-sisters in the top 100 R&W. These heifer are descendants from the Poppe Fienchen family. A Star P RDC with 355 gNVI and also 161 gRZG: Aalshorst Fienchen 55 P Red. Her Delta Launch PP Red sister, Aalshorst Fienchen 59 P Red, also tests high with 349 gNVI.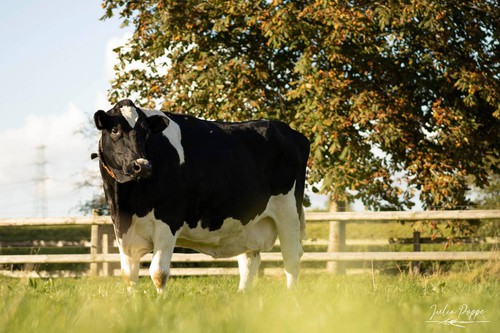 Poppe Fienchen 580 RDC VG-89 (s. Stol Joc), brood cow of the Poppe Fienchen family