Success for Huntje- and Holbra Holsteins at 'Fokveedag Bathmen-Laren'
Type
Winning herd group from Holbra Holsteins
Now that the dairy shows have started again - in many cases after a standstill for almost two years - breeders and show lovers can fully enjoy the summer and autumn shows again! This is also the case in Laren GLD, where the Fokveedag Bathmen-Laren took place last Saturday. GenHotel members Huntje- and Holbra Holsteins showed their best cows and achieved great results!
Huntje Holsteins achieved successes in the red-and-white ring. The title Reserve Junior Champion Red & White went to Huntje Holstein Anemoon 269 Red. She's a two months fresh Delta Rosebud-Red daughter out of the famous Huntje Anemoon 147 Red EX-90 (by Ladd P-Red) - the Junior Champion of Bathmen-Laren in 2017.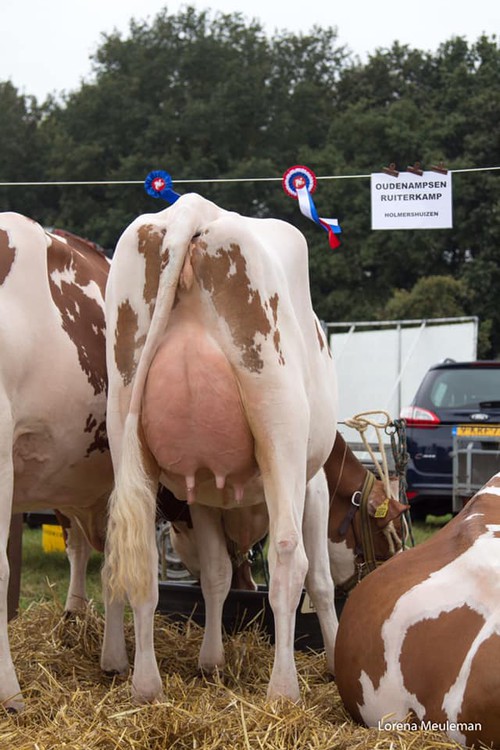 Huntje Holstein Anemoon 269 Red n.c. (s. Rosebud-Red)
In the red-and-white Intermediate Class, the mammary of Huntje Holstein Anemoon 223 Red VG-88 (by Atletico) got the sympathy of the judge. The second calver Anemone 223 Red VG-88 won the title Best Udder Intermediate R&W. She descends via a VG-85 Moodmaker from Huntje Holstein Anemoon 43 RDC VG-87 (by Zabing RF).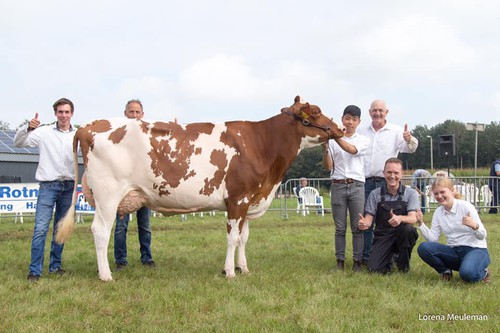 Huntje Holstein Anemoon 223 Red VG-88 (s. Atletico)
Where Huntje Holsteins won prizes in the red-and-white ring, Holbra Holsteins achieved beautiful results with their black-and-whites. Their success started by winning the B&W Junior Championship with Holbra Sonya 2. Sonya 2 is a Claynook Casper granddaughter of Holbra Sandoya VG-86 and hails from the well-known Golden-Oaks Mark Prudence EX-95 family. She impressed the judge with her feminity and stunning mammary.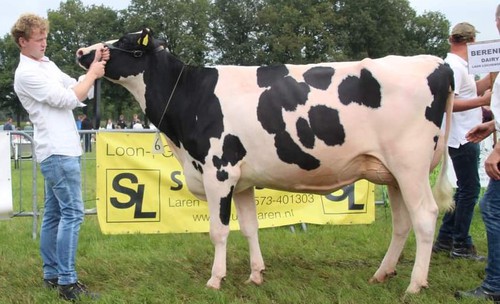 ​Holbra Sonya 2 (s. Casper)
Among the seniors, the 13-year-old Holbra Hillie 20 EX-91 (by AltaSpot) once again really stood out in the senior cows class. Back in 2019 she won the B&W Senior Championship, Grand Championship & Best Udder Championship, and again this year she represented the Holbra herd strongly. The in size average, but in production huge Hillie 20 EX-91 won this year's B&W Senior Championship with a lifetime production of 127.929 kgs milk, 4.90% fat and 3.80% protein (over 11.000 kgs F & P!).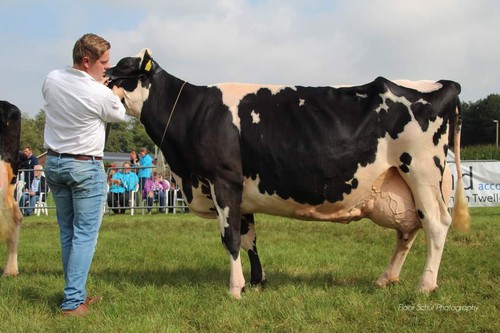 Holbra Hillie 20 EX-91 (s. AltaSpot)
In addition to the individual competitions, the Holmer family also participated with a B&W herd group. The trio (Holbra Malon 8 EX-90 s.Jetset - Holbra Malon 15 VG-87 s.Hartley - Holbra Sonya 2 n.c. s.Casper) competed against five other B&W herd groups from the region. Because of their individual qualities and amazing uniformity, Holmer managed to end this very successful day with another title: Champion B&W Herd Group!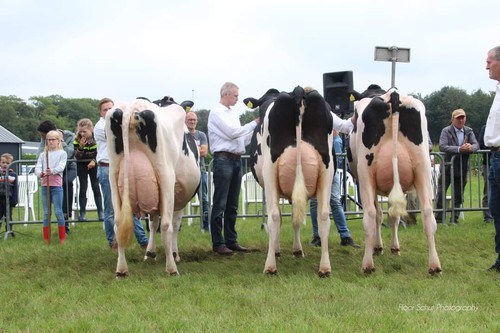 Holbra Holsteins' winning herd group
Pictures by Floor Schut & Lorena Meuleman