Koepon Sprg Classy 233 EX-90: delivers production & looks in just one beat!
General
Koepon Sprg Classy 233 EX-90
During a two-day visit by a group of breeding enthusiasts from Sweden, GenHotel, together with the 30 flown-over visitors, brought a visit at GenHotel members Herder, Poppe, Albring and Koepon Genetics to introduce these special guests to the top genetics that the Netherlands has to offer. During these visits, the Swedes were introduced to well-known breeding cows, including the almost eight-year-old Koepon Sprg Classy 233 EX-90!
The fifth calver Westenrade Altaspring stood out because of her enormous capacity, great feet and leg use, average size and a super attached udder with which she already managed to produce almost 87,000kgM. In March she classified EX-90 where she was richly rewarded with EX-91 for DS and MS! Through her GP-84 Doorman dam, she is descended from the well-known Koepon Snow Classy 97 VG-86 (by Snowman) that is still milked and realizes a lifetime production of 129,335kgM with 4.16% fat and 3.39% protein with which Classy 97 is currently 1 of the total 7 100,000 kg of dairy cows that is still present on Koepon's farm. Although dam Koepon Door Classy 161 is no longer present, she also managed to achieve a considerable production with almost 72,000 kg of milk in five lactations!
Sprg Classy 233 has brought a total of 11 offspring that were tested in different systems. Also, the Altaspring is dam of the bull Koepon Exponent (by Nuberon), which is available at KI Kampen. 
At the end of June, the 29th of june, an open house is planned at Koepon. Also another Koepon Summer Sale will be held through Farmersbid that week!  Keep an eye on the website for more info!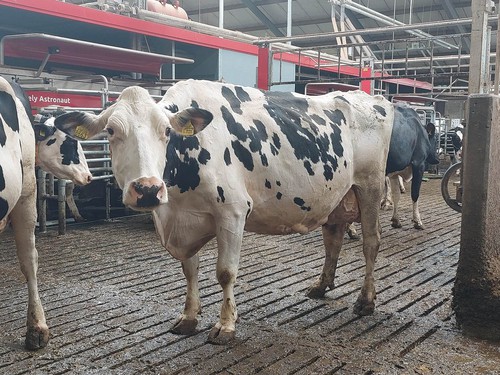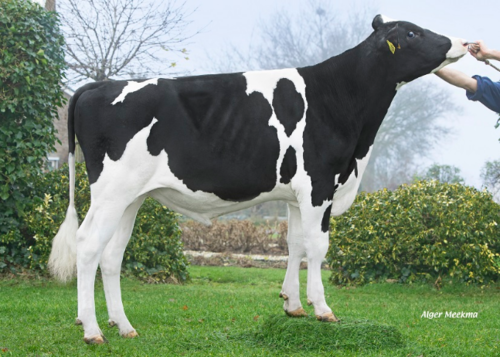 Koepon Exponent @KI Kampen