No. 2 NVI B&W for Willem's-Hoeve Holsteins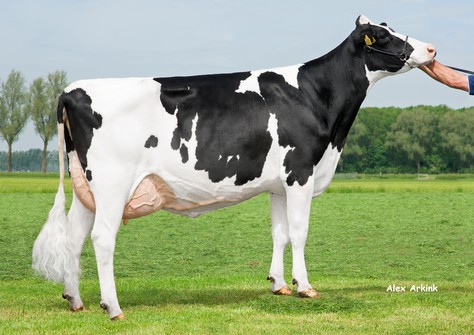 Genomics
Willem's-Hoeve Rita 885 VG-85
In the top index lists of December we find both in the top NVI R&W and in the top NVI R&W several heifers bred by GenHotel members.
On the B&W list we already find placed second a descendant from the Willem's-Hoeve Rita family, a cow family that can be found almost every single time in the top-100 NVI. With +385 NVI, high components and very attractive health traits, Willem's-Hoeve Rita 2438 is also by far the highest Peak Remington based on NVI. With her additional 593 INET (no. 2 INET) this granddaughter of Willem's-Hoeve Rita 1626A VG-86 (s. Jetset) is guaranteed to be a great future bull dam!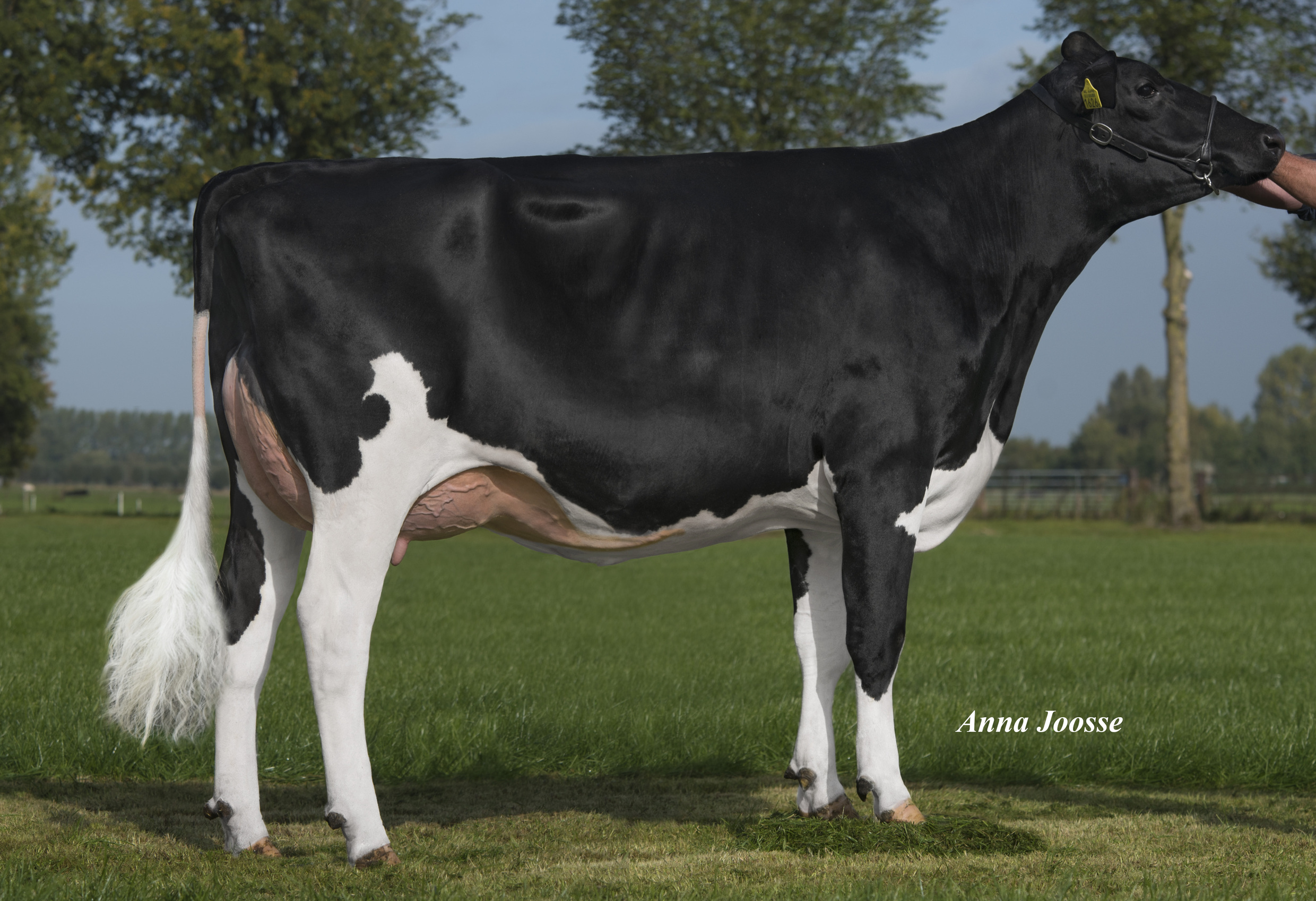 Willem's Hoeve Rita 1626A VG-86 (s. Jetset), granddam of the no. 2 NVI B&W
Not new in this top 100-list are Poppe 3STAR Golden 1977 (s. VH Crown) and her Bellwether half-sister JHS Holsteins 3STAR Gonda 1. With 354 NVI and 341 NVI, these daughters of K&L Poppe Gonda VG-86 (s. Rubi-Agronaut) are doing a great job. This proof run they are surpassed by their younger Gigabyte sister Sietskeshoeve 3STAR Gaby, which amazes with +368 NVI and her 12th place. In addition to her towering NVI, Gaby also scores a huge 166 RZG with 130 RZN, 133 RZS, 132 EUT and 139 RZE! This Grietje family also produced another winner, namely for Koepon Genetics. They have bred a +337 NVI Random x Rush Hour, Koepon Random Genua 57, the highest Koepon Random daughter based on NVI! Her granddam is the tremendous milk producer Koepon Book Genua 12 VG-88 (s. Bookem).

K&L Poppe Gonda VG-86 (s. Rubi-Agronaut) dam of Gaby, Golden 1977 and Gonda 1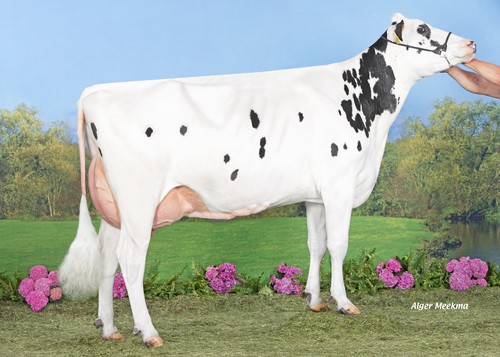 Koepon Book Genua 12 VG-88 (s Bookem) Current Lifetime production: 1169d  41.739 kgM  4.58%  F 3.78% P
Also a newcomer is home-bred Zwanebloem Holsteins Charl daughter Zwanebloem Charl Rozelle 2 (+365 NVI), from the Diepenhoek Rozelle family. With 155 gRZG and 2846 gTPI, Rozelle 2 is a really doing well in different systems! 
In this list, the Mars Froukje family is represented by Hedra Froukje 1279 (Floris x Jupiler). With +345 NVI she is the no. 5 NVI Delta Floris daughter in the Netherlands & Flanders. Floris' daughter HM Sneeker 228 of HM Holsteins is again included in this list, and once again she holds her No. 1 type position with 112 EXT.