New NVI's females NLD & FL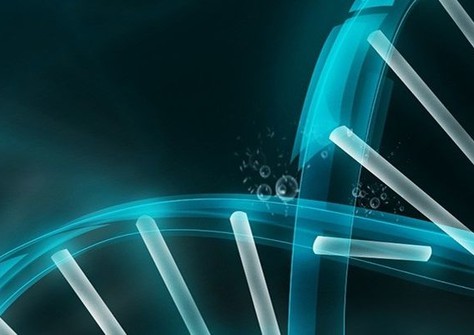 The new NVI genomic proofs of females have been added to the GenHotel website. On the "GENOMICS" page you will find for both Holstein and Red Holstein the 100 highest females for NVI in both Flanders and The Netherlands. You can also check the highest females per breeder by selecting the breeder and click next on the "GENOMICS" page of the concerning breeder.
In the top 100 Holstein is HET Adora Chanel, with 391 gNVI the highest Stantons Adorable in The Netherlands, owned by Hurkmans ET and from the Larcrest cow family. Midwolder Marjon 188, a Delta Reloader out of the French Remarlinda EX-90 family of Midwolder Farm, belongs with 383 gNVI to the highest daughters of her sire. And also K&L OH Espera, owned by De Oosterhof and GenHotel, from the famous Cookiecutter/Snow-N-Denises Dellia EX-95 family, is one of the highest female progeny of Weelder Esperanto.
For Red Holstein Poppe Red Hot Passion, a Manana Red x Fireman Red with 350 gNVI out of the Rabur Outside Pandora EX-91 family, is very interesting, due to her high score for gNIV and PL (898 LVD). The absolute topper for PL (963 LVD) is K&L SK Konzert Red. Konzert is a HAH Silky Red grandgranddaughter of Wilder Kanu RDC VG-88, the dam of Wilder Kanu P Red. The highest Red Salvatore RDC daugher for gNVI in The Netherlands and Flanders is named Beeze Oldleus Gwenna P Red, from Beeze Holsteins and out of the Molenkamp Grietje family.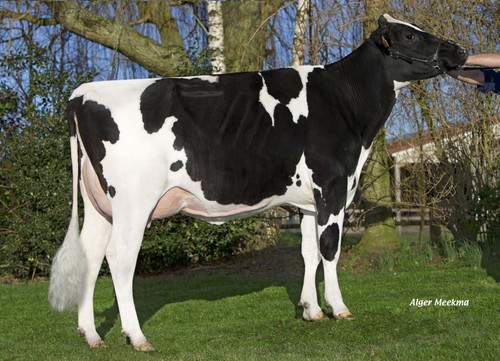 Roccafarm Beacon Chrissy VG-87, granddam of HET Adora Chanel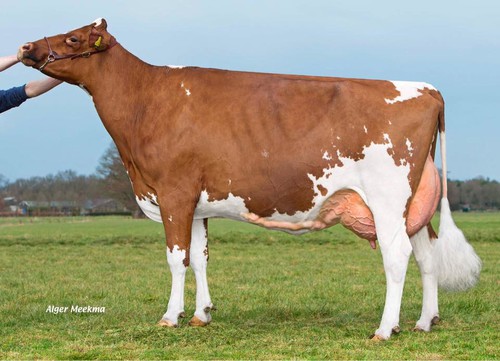 RZH Gwen P Red VG-88, granddam of Beeze Oldleus Gwenna P Red