Molenkamp Holsteins; new member at GenHotel
Molenkamp Holsteins, the "Red Holstein Breeder of the Year 2017" in the Netherlands, has been active and successful in Holstein breeding for years. Not only are they fanatically participating in local and national shows, but over the years they have also bred top ranking bulls and delivered to AI's.
Perhaps one of the most famous cows bred by Molenkamp Holsteins, the Van Wichen family, is Molenkamp Anky 4 Red. Although the Van De Peul Kylian daughter from the Apina Massia family was bred by Van Wichen, she continued her way to Caudumer Holsteins. There she grew into a tremendous milk producer, owing the title of highest red milkproduction cow in the Netherlands no less than two years in a row. Anky 4 Red also bred several sons which went in AI and was even scored excellent 90 points, while achieving the 10,000 kgs of fat & protein. The Anky family still has a large share in the Molenkamp herd. At the moment, Simax daughter Molenkamp Anky 177 RDC is with 312 gNVI one of the highest offspring from this branch based on her genomics. Soon she will be ready to flush.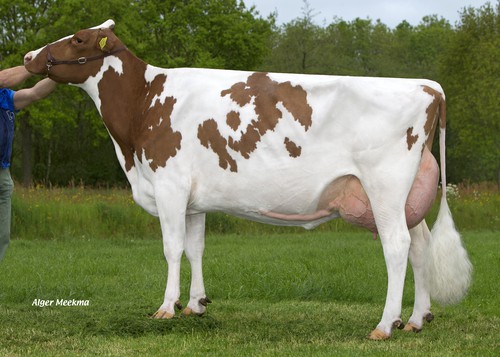 Molenkamp Anky 4 Red EX-90 (s. Kylian)
In addition to the Anky's, the Molenkamp Grietje family is also an important cow family for Van Wichen. At least 1/3 of the herd hails from the figurehead of this breeding family: Molenkamp Grietje 28 RDC VG-87 (by Jocko). The red carrier Jocko daughter was flushed multiple times, which eventually resulted in the birth of several AI bulls including Molenkamp Andy RF (by Goldwyn). The next generation of bull dams also followed rapidly. Molenkamp Kuyt Red (by Destry RDC) was bred from a Dudoc Mr Burns daughter and Destry RDC daughter Molenkamp Grietje 117 Red delivered Molenkamp Burnet Red, sired by the huge milk transmitter Poppe Snow RF.
Van Wichen also entered the European bull market with young sires such as Molenkamp Carter, Molenkamp Rita Moises and from the home bred Grietjes Molenkamp Isco and Molenkamp Milik P.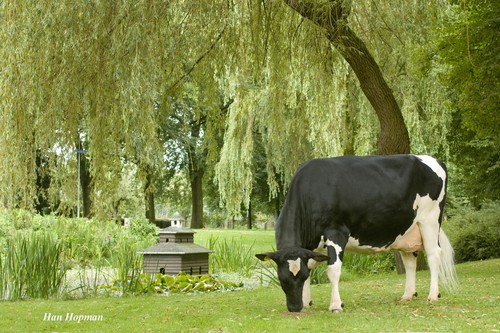 Van Wichen's most influential brood cow: Molenkamp Grietje 28 RDC VG-87
The years of success in (genomics) breeding gave Van Wichen the opportunity to also invest in new cow families. For example, by purchasing PG De-Su Commander 9026 VG-85, they introduced the Sully Shottle May EX-91 family into their barn. From this branch, these breeding enthusiasts now own a 2884 gTPI scoring Peak Fortnite: Molenkamp Madison 6148.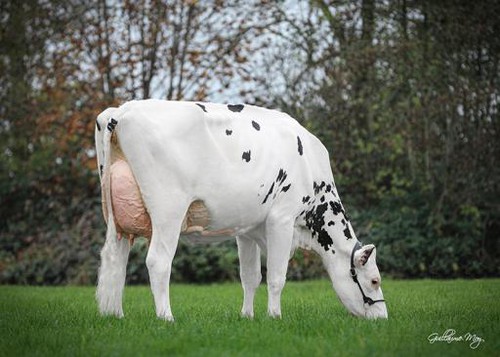 Molenkamp Madison 5742 VG-87 (s. Mitchell) dam of the high scoring Fortnite.
Within the showsegment, Van Wichen is currently co-owner of the fancy Blondin Thunder Storm daughter De Rith Thunder Vray. With VG-88 (VG-89 MS) she's one of the first and highest classified daughters of Thunder Storm in the Netherlands. The 2022 show season started well for Thunder Vray, she won the Reserve title of the Junior 2-yr-olds in Etten-Leur. Via a VG-87 Atwood she descends from Corse-Vray EX-92 (by Damion), dam of the world famous show cows Galys-Vray EX-94 & Hanna-Vray EX-95!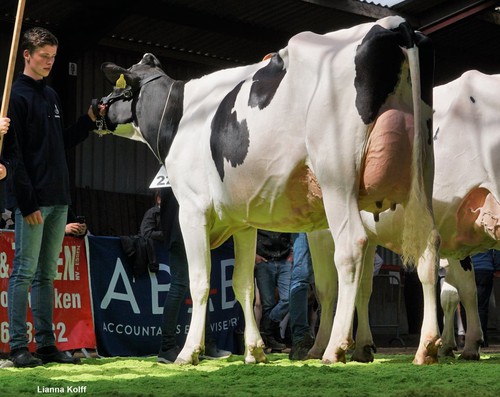 De Rith Thunder Vray VG-88 (VG-89 MS). Co-owned by De Rith Holsteins.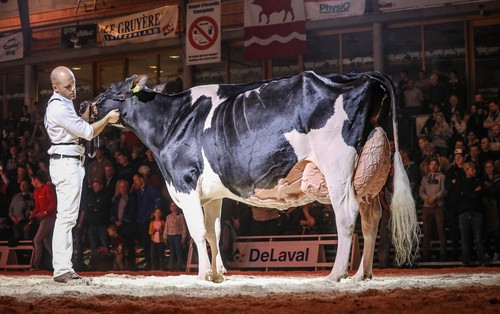 Hanna-Vray EX-95 (Atwood x Corse-Vray EX-92), full sister of Thunder Vray's dam.
Hanna she is the reigning Grand Champion Expo Bulle.
GenHotel welcomes Molenkamp Holsteins as a new member!