Maternal sisters of Bomaz Brute & Bomaz Rimrock RC photographed!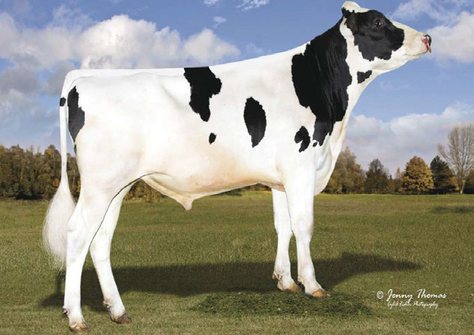 General
Bomaz Brute at Accelerated Genetics (WWS)
Two full sisters, both sired by S-S-I Bg Fzzld Riveting, were imported as embryos from America and are important brood cows in the 3STAR Breeding Program. In the meantime, several offspring from these toppers have been born and have started their first lactation in the Netherlands!
The sisters are 3STAR Bomaz Riva RDC (2673 gTPI) and 3STAR Bomaz Rive (2834 gTPI), daughters of the no. 1 gTPI Salvatore RDC worldwide: Bomaz Salvatore RC 8066. Their dam didn't only belong to the top redcarriers in America, but her high gRZG meant that she also threw high eyes in the German system. Salvatore RC 8066 thus served as a very important donor for owner Bomaz Holsteins. As a result, she became the dam of the bulls Bomaz Rimrock RC @Genus/ABS and Bomaz Brute @Accelerated Genetics/WWS. 
This big reputation makes the high Salvatore RC daughter the third generation bull dam in a row. Her dam Bomaz Delta 7166 VG-88 is namely the foundation cow behind the bulls Bomaz C3po and AltaDangerous. And the next generation, Bomaz Frido 6185, is dam of the very famous progeny proven Bomaz AltaTopshot!
Back to the sisters Riva RDC and Rive. The red carrier Riveting produced one of the first red offspring from this cow family: 3STAR Riviera Red. She is a Ranger-Red daughter with 156 gRZG, 2820 gTPI and 198 gISU! 3STAR Bomaz Riva RDC calved in August and is projected at 9,408 kgs of milk with 4.23% fat and 3.50% protein in 305 days.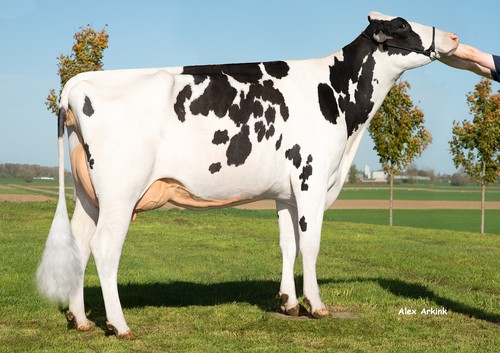 3STAR Bomaz Riva RDC (Riveting x Salvatore RDC)
The stronger built 3STAR Bomaz Rive freshened in May 2022 and produces easily. She too, just like her full sister Riva RDC, was used heavily as an embryo donor and was flushed to Siemers Rengd Parfect, Sandy-Valley R Conway and Denovo 16457 Halstead-ET. One of her highest female offspring is Parfect daughter 3STAR Parfect 8677 with 2949 gTPI. Rive was recently scored with VG-85.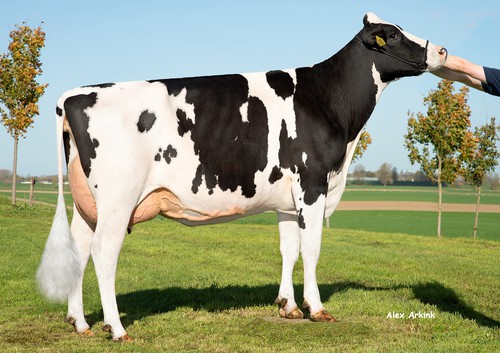 3STAR Bomaz Rive VG-85 (Riveting x Salvatore RDC)
The fresh Claynook Discjockey K&L OH Mistress is one of the classified cows. This Mabel daughter calved for the second time recently and was good for a first score of VG-86 with VG-87 Mammary. Her gTPI result was high (> 2700 gTPI) and even reached the top 50 gTPI in Europe back in February 2020. In addition to a high score in America, the Italian, French  and also Swiss system also gave good results for Mistress. Mistress VG-86 highest scoring daughter is 3STAR OH Missy (by AltaPlinko) with 2927 gTPI and 156 gRZG. The VG-86 Discjockey is projected at 10,266 kgsM with 4.34% fat and 3.73% protein.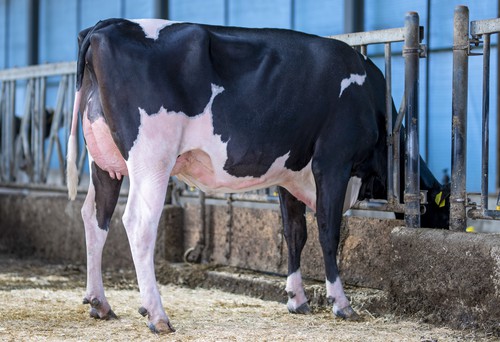 K&L OH Mistress VG-86 (Discjockey x Granite)
Also 86 points (VG-87 Mammary) was for 3STAR CR Javina, a VH Crown from the famous De Biesheuvel Javina family. Javina VG-86 is a maternal sister to the Peak AltaHothand son 3STAR HH Hermes at VOST. Their maternal-sister Willem's Hoeve K&L Javina 2314 GP-83 (by Merryguy), owned by Willem's-Hoeve & GenHotel was photographed last summer: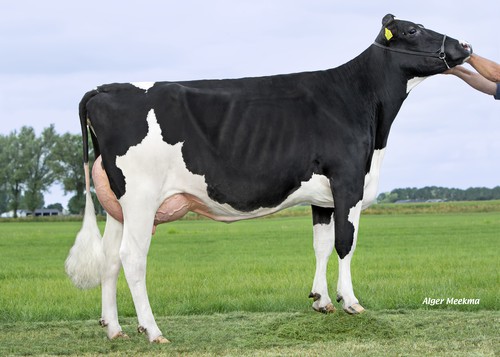 Willem's Hoeve K&L Javina 2314 GP-83 (Merryguy x Esperanto)
Two top heifers with VG-85, from different cow families and as a result of the 3STAR Breeding Program, are the red 3STAR OH Red Rose and Golden-Oaks Master daughter 3STAR Camilia. This scored and previously photographed Red Rose VG-85 is the fullsister of top ranking sire 3STAR OH Ranger Red. Red Rose was flushed several times as a heifer with sire of sons such as Koepon Camden RDC, ZFZ Crisalis RF, Drouner K&L Augustus P Red and Aprilday-Ron Trumpet-Red. A good example of her breeding power is shown by one of her daughters, namely HLB 3STAR OH Rose Red. This Koepon Camden RDC offspring scores 162 gRZG and 2842 gTPI. 
3STAR Camilia VG-85 is a top producing Golden-Oaks Master that is able to produce 10,722 kgs of milk with 4.16% fat and 3.10% protein in 305-days. Camillia hails via a VG-85 King Doc x Byway from Larcrest Circadian EX-91, granddaughter of the famous Larcrest Crimson EX-94!

3STAR OH Red Rose VG-85 (Rubels-Red x Salvatore RDC)