3STAR OH Aileen Red now VG-86!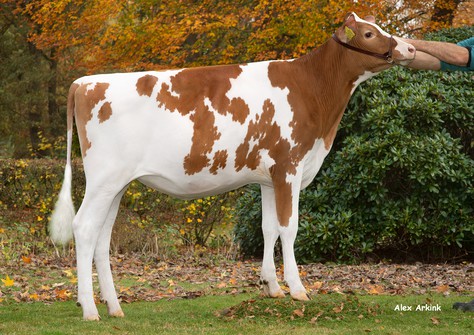 Sales
Aileen Red has grown into a wonderful dairy cow!
The Rubels-Red daughter purchased by Sudena Holsteins calved for the first time on the 1st of January 2022. Partly due to flushing, there are several great offspring of her present at the Mensink farm. And at her peak she produced more than 40 kgsM per day! At the end of her first lactation, but very persistent, 3STAR OH Aileen Red recently met the classifier!
During the GenHotel Selection Sale of March 2020, Sudena Holsteins hit the jackpot and bought one of the direct Rubels-Red daughters of Batouwe Ailisha Salva Red VG-86, which in 5 generations goes back to KHW Goldwyn Aiko RDC EX-91! The full sister of, among others, top brood cow 3STAR OH Alexia Red was good for VG-86, including VG-86 Mammary. As her genomics suggested, Aileen Red VG-86 also knows how to manage a fantastic milk production! In 336 days she has achieved 11,610 kgsM with 4.64% fat and 3.49% protein. This Goldwyn Aiko offspring is now pregnant by Rammstein Red and will freshen for the second time in March 2023.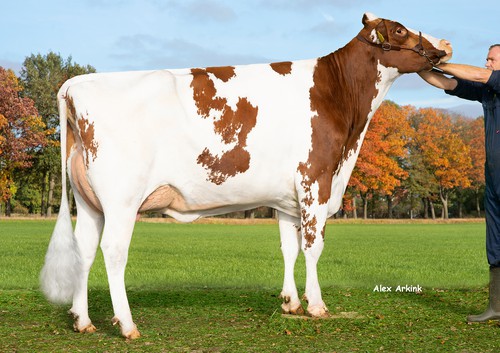 Full sister 3STAR OH Alexia Red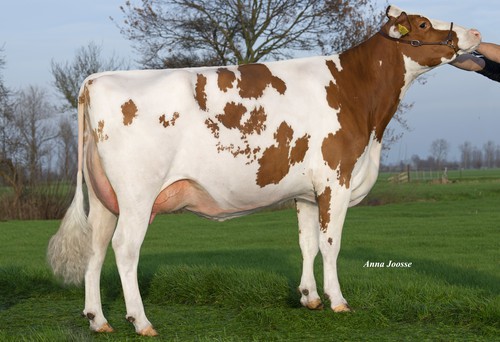 Dam Batouwe Ailisha Salva Red VG-86
In addition to the purchased Aileen, three homebred milking 2-yr-olds from Mensink's herd were rewarded with a great score of VG-85 too. These are Sudena Fay 4, a Koepon Random daughter which descends in two generations from Laurelhill Maestro Fay EX-90, Delta Floris daughter Sudena Josje 8 from the well-known Dutch Wietske cow family and Sudena Lotje 49 (VG-88 MS) sired by Delta Elixer-Red!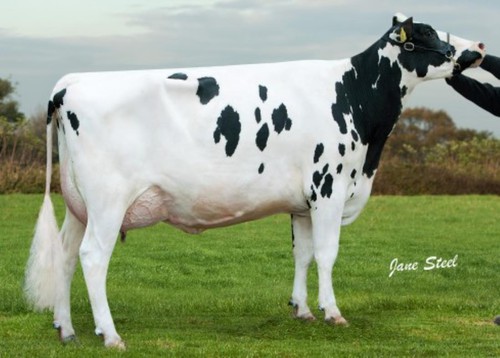 ​Laurelhill Maestro Fay EX-90