Impressive four at the Twentse After Summer Show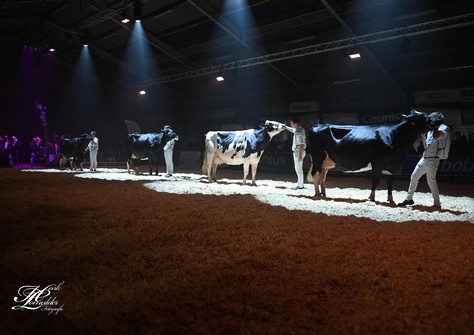 Type
Senior Championship of the B&W's (Photo: H. Lomulder)
Last Friday evening the Twentse After Summer Show took place. As in previous years, several enthusiastic GenHotel members were active in the show-ring during this awesome evening show. Striking was the quartet that made it to the B&W Senior Championship!
The championship of the B&W senior cows went between four cows, that in some way all hail from the Big Holsteins herd. Champion, Reserve Champion and the Honorable Mention are all daughters of sires bred by Knoef, namely Big Malki and Big Spell. The fourth cow in the championship - Isabel 3 VG-89 - is a third lactation Bouw Rocky, owned by Knoef.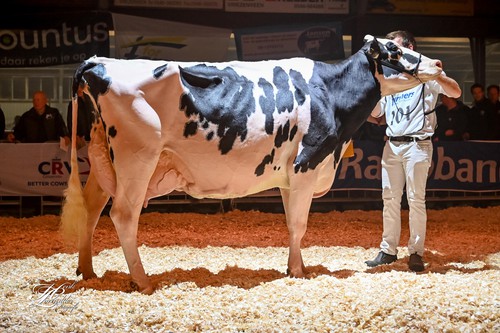 Isabel 3 VG-89 presented by Ben Knoef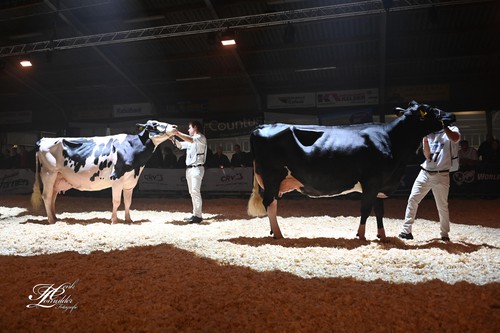 Isabel 3 VG-89 (owned by Knoef) & Res. Champion Coba 374 (s Big Spell) owned by the Oude Hengel family
There was even more success for Knoef in the R&W competition. A daughter of the famous Big Boukje 305 Red EX-90 won the Reserve Junior Championship: the well balanced Big Boukje 392 Red (by Broekhuizen Bart). Now just 1.5 months fresh she is already projected at 9,805 kgs of milk with 4.41% fat and 3.52% protein!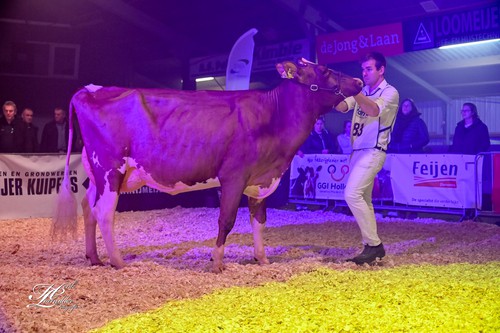 ​Big Boukje 392 Red (s. Bart), R&W Junior Reserve Champion
Last week we wrote about the show success of the second lactation Leaninghouse King Abel daughter Sudena Abel Maui VG-87 of Sudena Holsteins. At the Twentse After Summer Show this white beauty was in great shape again. The fantastic uddered Abel Maui VG-87 went home with the well-deserved Reserve Junior B&W (up to 3-yr-olds) title.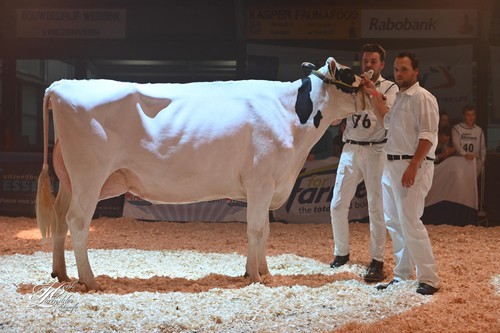 Sudena Abel Maui VG-87, B&W Reserve Junior Champion