Sonderkollektion sells € 6,885 on average!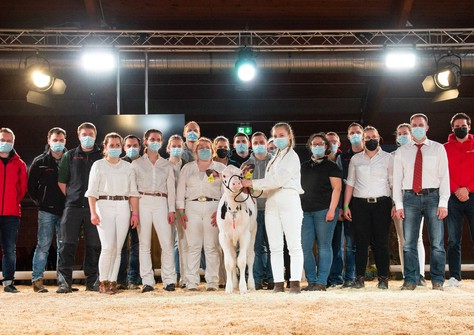 Sales
Top seller HIN Deena P RDC
The Sonderkollektion of 2022 surpassed everything! In the week before the auction many expensive embryo contracts have been signed, which increased the value of quite some sale lots and made them sell for tremendous prices!
Sold for € 36,000, HIN Deena P RDC topped off the auction. The polled and red carrier Peak AltaZazzle daughter impresses with her 161 gRZG, 218 gISU, 2809 gTPI, 4457 gPFT, 5136 gRZG, 317 gNVI, 1640 gISET and 816 gPLI. In addition, she is sold with a total embryo-contract value of € 17,050. Deena P RDC will continue her way to her new owner in the Netherlands.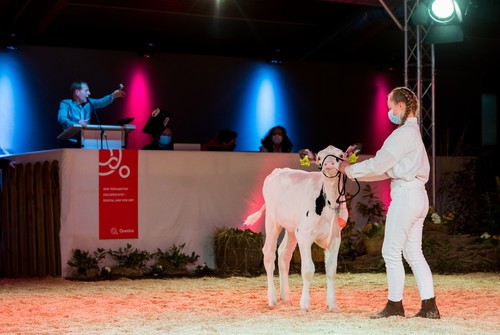 Bestseller lot 16 HIN Deena P RDC, sold for € 36,000 (Photo: Anne Mette Evers)
In addition to the complete AltaZazzle, Dykster 3STAR Aldayna, the number 1 ranking daughter of Peak Dayne, also had a lot of interest. For no less than € 30,800 she changed hands and is now owned by Tirsvad Genetics. This Snow-N Denises Dellia EX-95 descendant is scoring 166 gRZG, 40 gNTM, 197 gISU, 2795 gTPI, 4486 gPFT, 5005 gICO, 294 gNVI, 1681 gISET and 780 gPLI!
Among the top sellers was also the red and white Ileyna Red, a very high Poppe Freestyle-Red which is sold for € 19,500 to a German AI stud.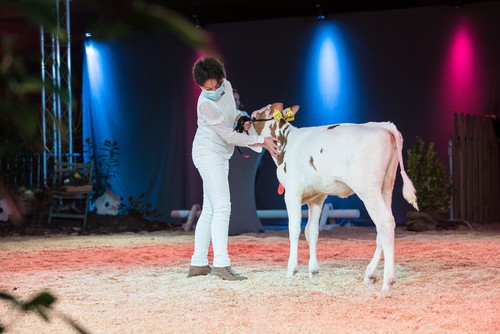 Lot 11 Ileyna Red, sold for € 19,500 (Photo: Anne Mette Evers)
HIN Deena P RDC (s. AltaZazzle)                                  € 36,000
Dykster 3STAR Aldayna (s. Dayne)                               € 30,800
Ileyna Red (s. Freestyle-Red)                                         €  19,500
Pazifik Red P (s. Freestyle-Red)                                     €  15,800
Tirsvad 3STAR Mars Aros Red PP (s. Mars Red P)       €  15,500
The sale average came to a fantastic € 6,885 and was combined with a very high selling percentage! Check the results here.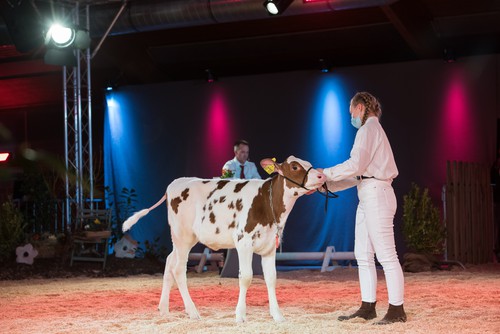 Lot 13 Pazifik Red P, sold for € 15,800 (Photo: Anne Mette Evers)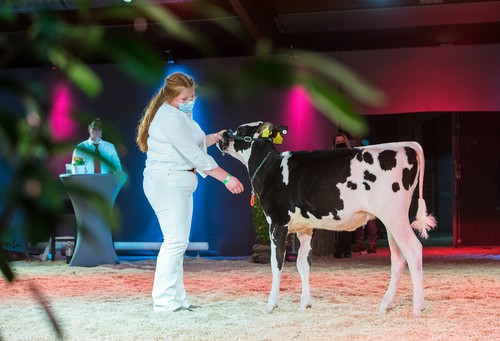 Lot 25 HZK Withney switches hands for € 10,000 (Photo: Anne Mette Evers)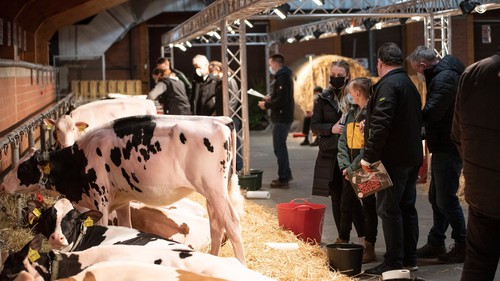 Friday afternoon Qnetics organised an open barn.