Zandenburg Doorman Camilla EX-90 wins reserve title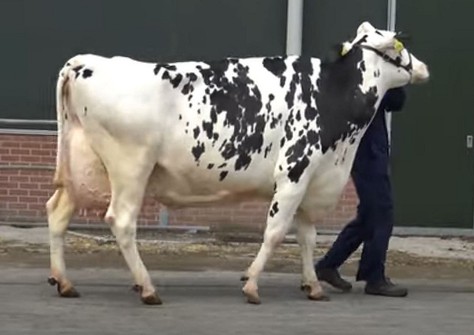 Type
Zandenburg Doorman Camilla EX-90
The fourth lactation Zandenburg Doorman Camilla EX-90 recently appeared in front of the video camera during an online competition of the region of Land van Cuijk. In the class with Senior Cows, the Chemello Jocko Benge VG-87 descendant made a great impression and earned the reserve title.
The powerfull and excellent uddered Camilla EX-90 (by Val-Bisson Doorman), from the herd of Zandenburg Holsteins, descends via five generations of VG scoring dams, from bull dam Chemello Jocko Benge VG-87, (grand)dam of proven sires as Leko, Selvino, DT Benito and Delta Castor. Dam of the EX-90 Doorman is even an All-European Championship Colmar 2016 participant, Zandenburg Meridian Camilla, which received the maximum score of VG-89 as a 2-yr-old. Camilla EX-90 is so far dam of four females, sired by three different sires. One of them is the two-year-old Zandenburg Casino Camilla GP-84 which is projected at 12.108kgM 3.84% fat and 3.34% protein.
In April the fourth lactation Doorman calved from a Kings-Ransom Dynasty heifer calf and has now produced about 54,000 kgs of milk. Participation in this online video competition resulted in winning the Senior Reserve Championship!