Visstein K&L SV Aderina Red raised her score!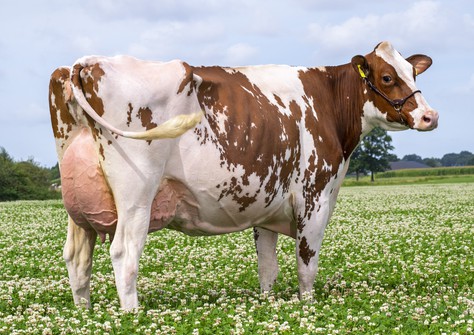 General
Visstein K&L SV Aderina Red, NOW VG-89!
Visstein Holsteins recently received a visit from the Dutch herdbook classifier. A select group of six females were (re)classified. Part of this group was also the third lactation Mr Salvatore RDC Visstein K&L SV Aderina Red. 
Visstein K&L SV Aderina Red is now known as a tremendous result of the successful collaboration between Visch and GenHotel. This is partly due to the delivery of top genomic sires Visstein K&L Ghost Red and Visstein K&L Money P Red. The Salvatore RDC out of Willsbro K&L Nugget Aderyn RDC VG-86, classified VG-88 as a milking 2-yr-old, managed to improve her score to VG-89 with EX-92 for Dairy Strength at the age of five and in third lactation!
In the list of results we find even more Kamps-Hollow Durham Altitude RDC EX-95 offspring. With VG-86 points, a Marsden P Red daughter from Aderina Red, Visstein K&L MD Aderina Red, was also classified. In addition, this second calver earned a fantastic EX-91 for Dairy Strength. Visstein K&L Jacu Aderyn Red, first lactation Delta Jacuzzi-Red sister of the VG-89 Mr Salvatore RDC, got a score this day of VG-86 (VG-87 MS). Visch and GenHotel bred a fantastic bull from her named Visstein 3STAR Gavino Red: the current number 1 gICO R&W in Spain! Aderyn Red VG-86 currently produced 12,924 kgM with 5.01% fat and 4.02% protein in 473 days.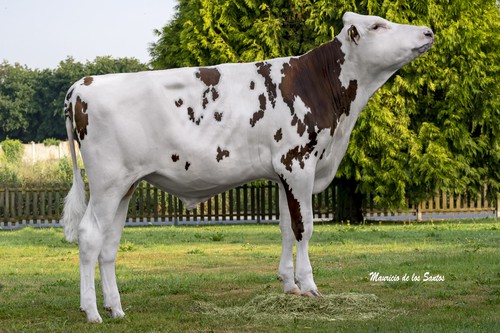 Visstein 3STAR Gavino Red (Gnabry RDC x Visstein K&L Jacu Aderyn Red VG-86)
An odd one out is Visstein K&L Joel Moosa, a Guimo Joel out of the purchased ARGH Miss Tequila Minnie VG-85. This Jersey was even good for VG-86! These Jerseys come from the same cow family as Jif Little Minnie EX-96!

Dam: ARGH Miss Tequila Minnie VG-85