Classification upgrade for Beeze Oldleus Gwenna 4 Red!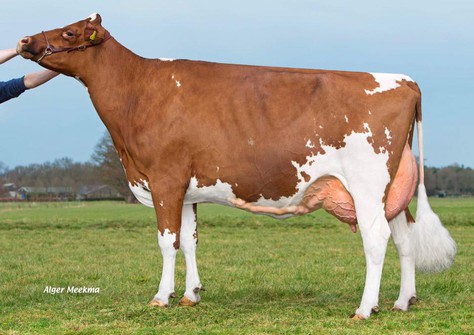 General
RZH Gwen P-Red VG-89, 3rd dam Gwenna 4 Red
From a branch backed by the Molenkamp Grietjes, Voorhof Holsteins got a Gywer RDC daughter Beeze Oldleus Gwenna 4 Red. The topper, bred by Beeze and Oldleus Holsteins, has now grown into a great dairy cow!
The fresh second calver Beeze Oldleus Gwenna 4 Red was recently re-classified. As a 2-yr-old, the Gywer RDC daughter from the high-scoring Beeze Oldleus Gwenna P Red was already good for VG-85, but during the latest classification she managed to increase her score to VG-87! Gwenna 4 Red finished her first record with 12,619 kgs of milk and 4.23% fat with 3.48% protein in 379 days.
Beeze Holsteins, in cooperation with Red Hot Holsteins, bred a heifer calf by Tirsvad Match P RDC which is polled and also red carrier. This particular heifer was by all means a granddaughter from NRP Alisha RDC VG-88!  Because at the start of this year, the Match P RDC calved and managed to achieve a 305-day lactation of 9,290 kgs of milk with 4.46% fat and 3.63% protein and now Astrea P RDC is classified with VG-85. Voorhof Holsteins bought the share of Beeze Holsteins in 2020, after which this young Beeze Red Hot Astrea P RDC. Her Genesland Bellroy brother Beeze Red Hot Alroy is at the Dutch AI stud KI Kampen.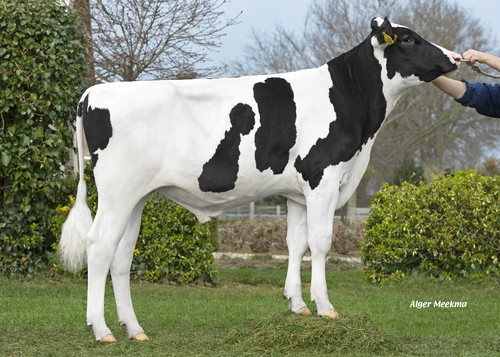 Beeze Red Hot Alroy (Belroy x Beeze Red Hot Althea RDC VG-86)
A great score of VG-85 with VG-87 MS was for Etazon Annecy VG-87 offspring Voorhof Allure 125. She is a first lactation De Leenhorst E-Profit (Magister x Danno) daughter from a branch of which Kurstjens also bred the progeny proven Voorhof Lostau P Red of. This very deep cow family goes back to none other than Plushanski Chief Faith EX-94, also the brood cow behind sires such as Big Gospell & Delta Magister.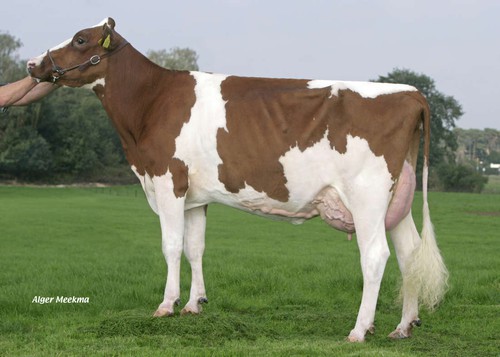 Green-Valley Allure-Red VG-87, 4th dam of Allure 125 VG-85 & also dam to Lostau P Red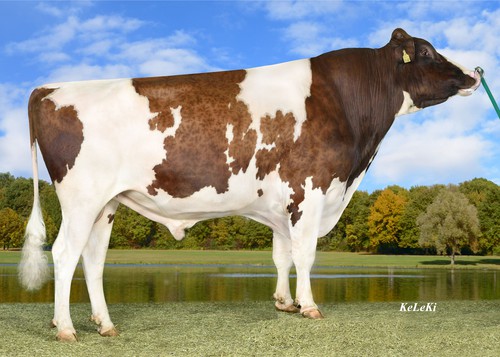 Voorhof Lostau P Red (s. Laron P Red)