First score for brood cow R&B Solitair Aisha P Red!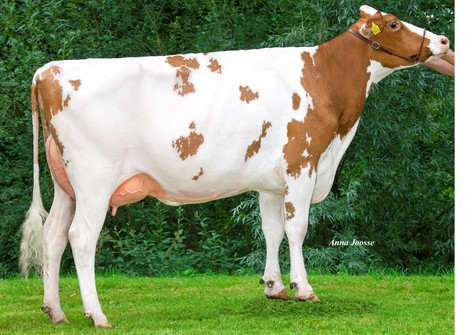 General
R&B Solitary Aisha P Red VG-85 (VG-86 MS), again photographed in her first lactation
The Caudumer Solitair P Red daughter R&B Solitary Aisha P Red, bred by Batouwe and Roubos Holsteins, already has gained a great reputation in the top (Red)Holstein breeding before calving. The polled and red granddaughter of bull dam Batouwe Salsa Aiko Red VG-85 tested high in several systems and was contracted by foreign AIs', as a result of her awesome profile. Partly due to her fantastic bloodline and the many high testing offspring, Aisha P Red has become a true icon for her owner Batouwe Holsteins.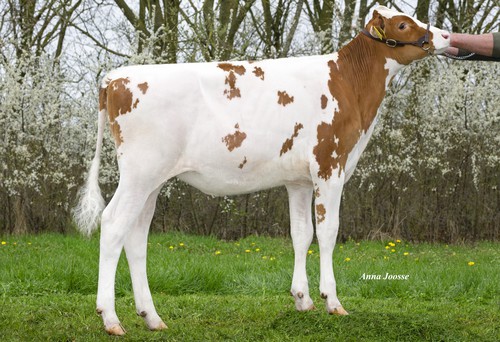 R&B Solitair Aisha P Red, pictured as a heifer
After being flushed as a heifer several times, R&B Solitair Aisha P Red calved at 2.05 years back in April and is projected in her first record at almost 10.000 kgsM with 4.56% fat and 3.47% protein (305d.)! Since then she has made a great development and the Solitair P Red has grown into a beautiful, youthful milking 2-yr-old. This was an excellent reason to invite the Dutch herdbook's classifier, which resulted in a fantastic score of VG-85! This makes Aisha P Red an excellent example of everything you can and should expect from the KHW Goldwyn Aiko RDC EX-91 branch.
The number of male and female offspring from the Solitair P Red is currently already at 35, with genomics results rising to 155 gRZG, 2822 gTPI & 336 gNVI for the females! For example, the VG-85 classified Aisha P Red is also dam of the VOST Select Sale 10 topseller  - the number 1 red, homozygous polled on RZG base for her age. Ailani PP Red was sold during the 2022 edition for no less than € 40,000 to De Oosterhof and GenHotel! Recently, the top seller produced her first embryos for the OH and 3STAR Embryo Program.
Daughter Batouwe Cartoon Aisha Red, a Delta Cartoon P Red, also appears in the top of Europe. With 2801 gTPI, she is the number two Cartoon P Red daughter in Europe! In addition, this Aisha Red also tests 152 gRZG and 336 gNVI (top 25 gNVI RB)!
Dam Rhala RE Quickstep Red produced other fantastic offspring in addition to this brood cow as well, including R&B Sw Aimy Red - the No. 1 Westcoast Swingman-Red daughter for gNVI & former No. 1 R&W NTM in the world - and Koepon AltaTop-Red daughter R&B Altatop Aivy Red with offspring up to 156 gRZG. In addition, a little further in this pedigree we also find the well-known Batouwe Salsa Aiko Red VG-85, in addition to being the dam of Quickstep Red she is also the dam of the progeny proven Rhala RE Blues Red - the no. 8 R&W NVI sire for Interbull (08-2023).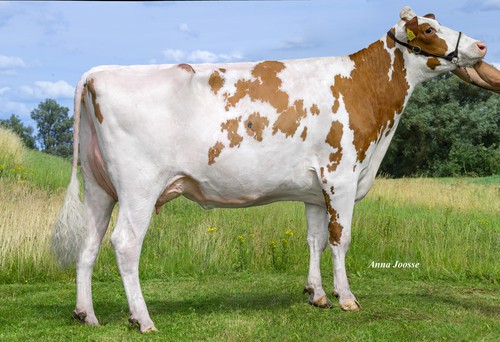 R&B Altatop Aivy Red (AltaTop-Red x Rhala RE Quickstep Red)