Top GNVI list online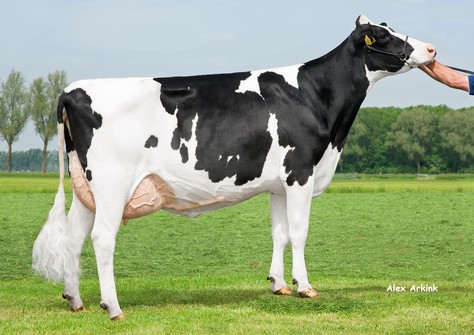 Genomics
Willem's Hoeve Rita 885 VG-85, granddam to Rita 1626A
The GNVI's of December are added to the GenHotel website. GenHotel members can find the new breeding values of their cows/heifers on their own GenHotel page. They also have the opportunity to print an overview of their herd with Dutch, US and/or German genomics.
B&W
The #1 GNVI B&W is Miri-ET, a +408 GNVI Adorable daughter. Miri is born and still owned by de Lahousse-Zomerbloemhof family (Van het Zomerbloemhof) but hails from a CRV-embryo. Also still very high is Jetset daughter Willem's Hoeve Rita 1626A (+383 GNVI) owned by Willem's Hoeve Holsteins. Caudumer Ebony 2 (+383 GNVI; Finder) from Caudumer Holsteins, Diepenhoek Rozelle 137 (+379 GNVI; Finder) from Diepenhoek Holsteins and Sanderij Riva's Smile RDC (+378 GNVI; Riverboy) owned by De Sanderij have very nice genomic breeding values on Dutch basis.
Click here for the B&W GNVI list
R&W
The #1 GNVI R&W is Kalibra SX 5631 Red who sold recently to Willem Scholten from Melkveebedrijf De Oosterhof (see: Kalibra SX 5631 Red sold to De Oosterhof). This Styx daughter scores +382 GNVI and with +158 GRZG she also has a very high breeding value on German basis.
A few more GenHotel members have high heifers in the list. Just think of Caudumer Lol 389 Red (+356 GNVI; Riverboy) owned by Caudumer Holsteins and Aalshorst Fienchen 14 Red (+356 GNVI; Salvatore) owned by Aalshorst Holsteins. Poppe Fienchen 1270 Red (+342 GNVI; Norbert) from Poppe Holsteins and Red Rocks Massia 155 Red (+342 GNVI; Wisent) owned by Red Rocks Holsteins are also among the highest R&W heifers on Dutch basis. Massia 155 Red is also the #1 GRZG R&W on German basis with an incrediable +164 GRZG.
Click here for the R&W GNVI list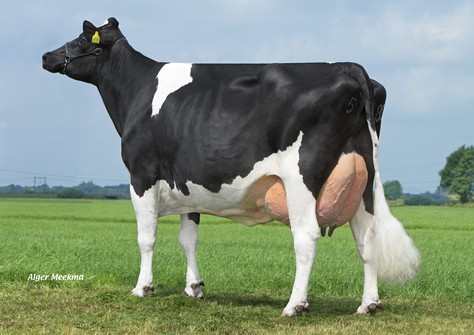 Poppe Fienchen 580 RDC VG-88, two R&W members of her family are among the highest heifers for GNVI in teh Netherlands.