New top heifers for Koepon and Exloër Holsteins!
Genomics
Col Carmen VG-86, 4th dam of Koepon Helix Carmen 8, 9 & 10
The American genomics run in November was very successful for Koepon Genetics. No fewer than 4 newly tested Koepon females are in the top 50 gTPI in Europe this month. Exloër Holsteins also has a great conformation topper in the barn with Exloër Wendy.
With 2920 gTPI, Koepon Helix Carmen 8 is the number 2 gTPI of females in Europe this month. She is a daughter of the global number 1 TPI proven bull AOT Silver Helix and is the number 1 gTPI Helix daughter in Europe. Her dam Koepon Strjk Carmen 1051 (v. AltaStarjack) has recently calved and comes from the Larcrest Cosmopolitan VG-87 family. Carmen 8 her full sisters Carmen 10 and Carmen 9 also score, with resp. 2857 and 2834 gTPI, in the top 50 gTPI in November.
Koepon Helix Hilite 1, from the Cookiecutter Halo VG-88 / Snow-N Denises Della EX-95 family, is also one of the highest Helix daughters in Europe with 2843 gTPI. Her dam is an AltaLawnson from CNN Delta Hilite VG-86, the former number gTPI in Europe and granddaughter of Cookiecutter Mom Halo VG-88, Global Cow of the Year 2019.
At Zwanebloem Holsteins, family Masscheleyn, Zwanebloem Charl Rozelle 2 is an absolute winner in several systems. Rozelle 2 is a Charl x Frazzled x Silver, from the well-known Diepenhoek Rozelle family and scores 2854 gTPI, due to many kilos of fat and good management traits. On the NVI basis, Rozelle 2 with 370 NVI is the number 1 NVI Charl-daughter and the (shared) number 2 NVI of all genomic tested females in the Netherlands and Flanders. She is also the number 3 of all Charl-daughters tested on the German basis with 155 gRZG.
3STAR OH Mianca is the 7th daughter of K&L OH Mirror above 2800 gTPI. She is the number 1 Bomaz Fastball daughter in Europe (2804 gTPI & 155 gRZG) on both an American and German basis.
In terms of conformation, Exloër Holsteins, the Dollen family in The Netherlands, bred a great topper with Exloër Wendy, a very nice Blondin Thunder Storm daughter out of K&L KD Wanda. Wendy scores +3.88 gPTAT and is the number 1 gPTAT of all females this month and the number 1 gPTAT Blondin Thunder Storm worldwide! In Europe, with this sky-high result, she belongs to the top 3 gPTAT of all genomic tested females. Wendy her pedigree goes back to the phenomenal brood cow Juniper Outside Wish EX-95.
Other high conformation results are available for 3STAR Cimona RDC and 3STAR Cosmoly, both Lindenright Moovin RDC offspring from Larcrest Crimson EX-94 (s. Ramos), the Global Cow of the Year 2016. They score resp. +3.51 and +3.09 gPTAT, their dam is K&L Ciracha, a promising Woodcrest King Doc granddaughter of Larcrest Cordial EX-92, former number 1 PTAT worldwide.
Wilder 47356, owned by the Holtkamp family, also has a nice type result with +3.29 gPTAT. This Walnutlawn Solomon is a granddaughter of Farnear-TBR-BH AT Corona EX-92, the beautiful Atwood from the Regancrest Durham Barbie EX-92 family.
Click HERE for the top 50 gTPI females in Europe in November.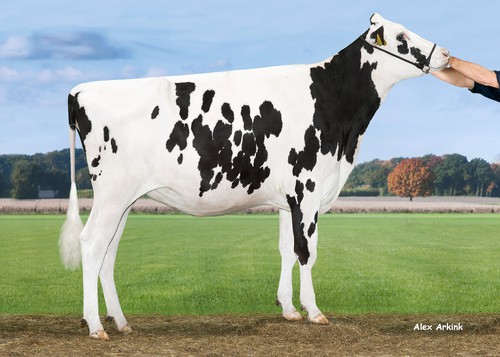 K&L KD Wanda (King Doc x Solomon),
                       dam of Exloër Wendy, the #1 PTAT Blondin Thunder Storm globally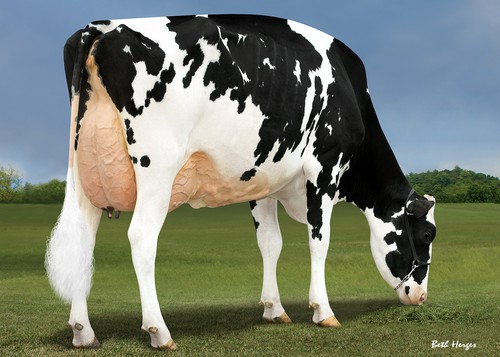 Larcrest Circadian EX-90 (s. Doorman), 3rd dam of 3STAR Cimona RDC

Farnear-Tbr-Bh At Corona EX-92 (s. Atwood), granddam of Wilder 47356