Claynook Casper marks the Holbra Holsteins herd!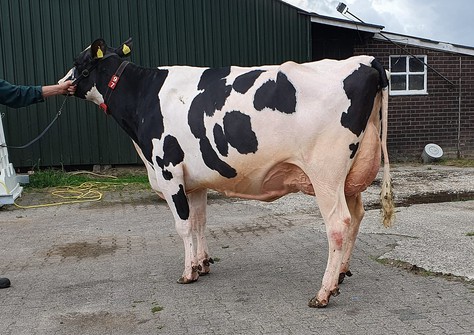 General
Casper daughter Holbra Sonya 2 classifies excellent
The Holmer family (Holbra Holsteins) received a visit this week from the Dutch classifiers who, in addition to no less than 18 2-yr-olds, were also able to re-classify three young Claynook Casper daughters from the well-known Golden-Oaks Mark Prudence branch! Casper, a sire that was initially only used at Holmer's dairy farm for a few flsuhes, now delivers fantastic dairy cows with superb udders a few years later! Among this trio was the four-year-old Holbra Sonya 2, the 2-yr-old Champion of Laren-Bathmen 2021, which received the highest score this day.
The second calver Holbra Sonya 2 has been in milk since last September, but still showed enough dairyness to have her score increased during the classification day this week. This Casper daughter leads via fourth dam Holbra Sandian VG-88 - 2-yr-old Champion of Laren-Bathmen 2015 - back to the well-known Snowman daughter and dam of proven sire Holbra Inseme Rodanas, Holbra Sana VG-89. Sonya 2's fantastic high and wide rear udder made her mammary score a wonderful score of EX-91 which resulted in a total score of EX-90. With this, the Holmer family bred the first excellent Casper daughter in the Netherlands.
Daughter Holbra Sonya 6 (by Twitch), result from Sonya 2 EX-90's first pregnancy, calved last March at 1.11 years old. The well producing 2-yr-old bred a 2866 gTPI scoring Plain-Knoll Revolution daughter, Holbra Sonya 8, with plenty of milk, positive components and a whopping udder index of +2.19 UDC. The young Twitch scored a well deserved VG-86. Sonya 2 EX-90 also shows an impressive projected 305-day production of 13,582kgM with 4.70% fat and 3.77% protein!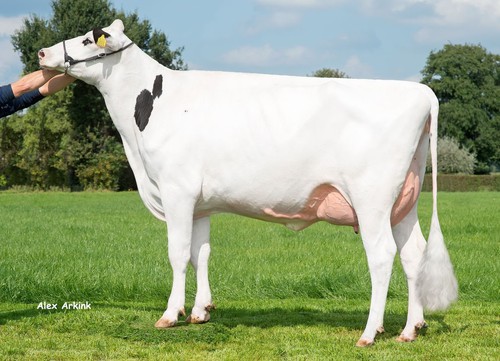 Granddam Sonya 2, Holbra Sandoya VG-86 (s. Kingboy) 
The two full sisters by Casper from the well-known S-S-I Montross Jedi daughter Holbra Joy VG-87, Joy 1 and Joy 2, already have a considerable reputation. Where Holbra Joy 1 (A2A2 & BB) scored high on multiple systems and attracted attention from several foreign AI studs, her full sister Holbra Joy 2 was named Res. Intermediate Champion Bathmen/Laren 2022. Joy 2, in her third lactation, was rewarded with a score of VG-89 with a whopping EX-90 Mammary! Now one month fresh and already peaking at 60kgM/day. Should everything go as planned, this VG-89 Casper will defend her 2022 title next month during the summer show of Bathmen/Laren. The now second calver Joy 1 was flushed several times, after which no less than 34 embryos were exported to, among others, the Swiss AI-stud Swiss Genetics and Inseme in Italy. From the combination produced with former sire of sons Silverridge V Einstein, the bull Holbra Escope SG was born, which in April 2023 with 1536 gISET belongs to the top 25 in Switzerland. Bull dam Holbra Joy 1 received a score of VG-88 with her awesome mammary awarded with EX-90! With this mammary score, makes the average udder score over these three scored Casper daughters at Holmer a whopping EX-90.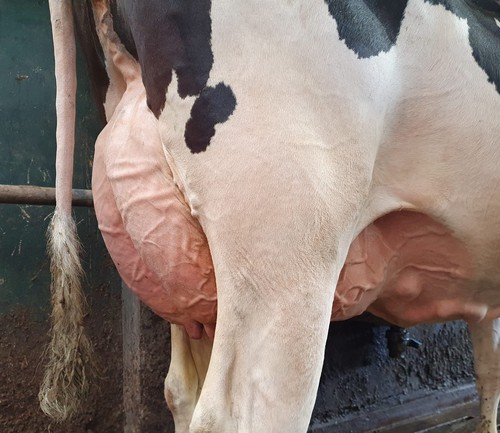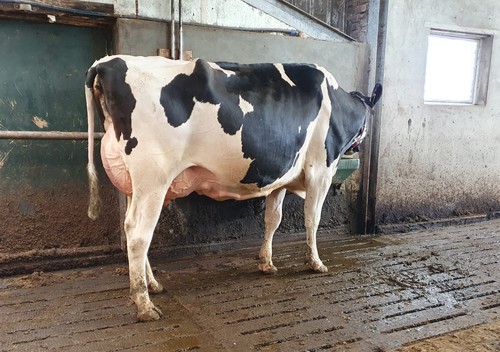 Bull dam Holbra Joy 1 VG-88. Pregnant with Cookiecutter Holysmokes. Will soon enter the dry pen.
LA2. 305d: 13487kgM 4,91% fat & 4,02% protein
Highest scored 2-yr-old of this round of scores is a daughter of the American bull Penn-England Barclay (Big Bubba x Richmond-FD Barbie family), namely Holbra Exota 2. Through her GP-84 Balisto dam we arrive at her Shotglass granddam with a lifetime production of 120,000kgM, which is followed by the well-known HS Excitement VG-86 (by Bookem) with a lifetime production of 130,000kgM. Exota 2 received two maximum scores of VG-89 for Frame and Type which made her total score come to VG-88!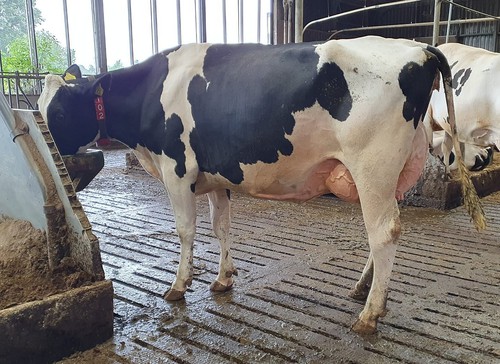 Holbra Exota 2 VG-88
The Holbra Malon branch, the line from Prudence EX-95 that starts with Holbra Malon VG-87 (Man-O-Man x Holbra Pam VG-87), harvested no less than three2-yr-olds with 87 points! These are Holbra Malon 27 VG-87 (VG-88 MS), Remington x Holbra Malon 8 EX-90, Holbra Malon 31 VG-87 (VG-88 FL) a Peak Chilton daughter from Holbra Bastilo's full sister Holbra Malon 3 VG-88 and Holbra Malon 32 VG-87 (VG-88 FL). Malon 32 VG-87 is a daughter of the French sire Nuberon and calved at 1.10 years. She is one of four daughters from Holbra Malon 17 VG-87, a Progenesis daughter from the well-known VG-88 Board at Holbra Holsteins.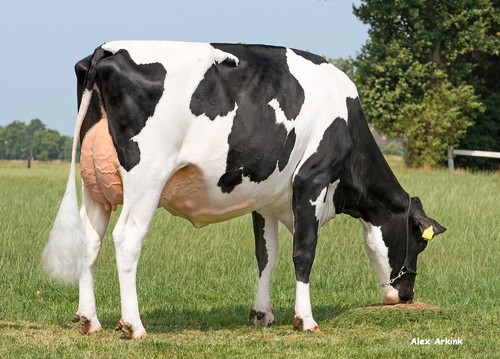 Granddam to Malon 32 VG-87, Holbra Malon 9 VG-88 (s. Board)