Impressive results for Hedra Holsteins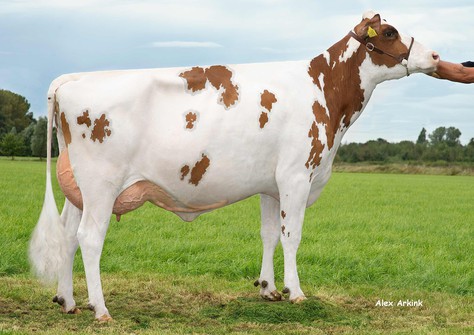 General
A daughter of the impressive Caudumer Lol 422 PP Red VG-85 scored VG-86
The classification of a group of first and second calvers at Hedra Holsteins (the Vernooij family) resulted in an average score of VG-85.4!
Hedra Remarlinda 1104, the second lactation Delta Lendor was re-scored with VG-87. In addition, she was awarded with an excellent score of EX-90 for her mammary. As her name suggests, she descends, via dam Delta Riana VG-89 & granddam Delta Riant VG-87, from Remarlinda EX-90 (s. Jocko). Riana VG-89 is the maternal-sister of proven sire Delta Bookem Danno. The well-known sire Delta Atlantic also hails from this line.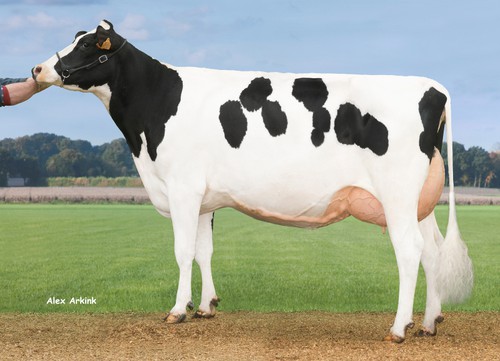 Dam: Delta Riana VG-89
The first lactation Hedra Bianca 1297 is with VG-87 the highest classified 2-yr-old. The deep, Dutch Bianca family contains many generations with good, functional conformation and top producers. Bianca 1297 VG-87 is sired by Delta Floris. 
From the well-known Caudumer Lol 422 PP Red VG-85, dam of the high ranking young sires Delta Cartoon P Red, Delta Launch PP Red and Delta Louis P Red, a full sister of Louis P Red is housed at Vernooij: De Steeg Delta Lalita Red P. This Gywer RDC, which calved in March, scores 242 NVI with 1401 kgsM at the age of 2.5 yrs. In her 305-day lactation, this index is strongly reflected with an projected production of 11,054 kgsM with 3.54% fat and 3.30% protein! The classifier scored her VG-86 and VG-87 Frame. 
An important bull dam for Hedra Holsteins at this moment is Hedra Froukje 1279. This 2-yr-old is sired by Delta Floris and is a member of the impressive Mars Froukje family. A Dutch cow family that has bred many AI bulls, including Delta Frontline and Mars Inseme Chapeau. From Froukje 1279 Vernooij bred the high scoring Hedra Froukje 1541 P RDC (by Launch PP Red) with 366 gNVI (4-2022), which was sold to CRV. Shortly thereafter, her Jawliner son also left to the AI facilities of CRV. Froukje 1279 was good for VG-86 (VG-88 FL) and has recently been photographed. This picture will follow soon.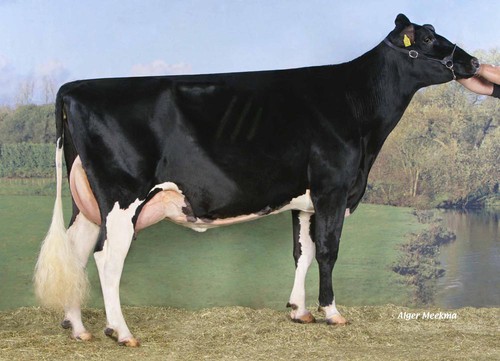 Important brood cow: Mars Froukje 478 VG-88 (s. Fibrax)
A score of VG-86 was also given to Hedra Anne 1288 (by Floris) and her two full sisters Anne 1290 and Anne 1291, daughters of Hedra Anne 587 VG-86. Generations back in the pedigree we find the American Lylehaven Royalty Anne VG-87 (s. Royalty), a daughter of Yarsons Apollo Havn Amber VG-86, who is also the foundation behind the Dixie-Lee Aspen EX-92 branch! Royalty Anne stands at the foundation of various AI bulls such as Lylehaven Ambition and Lylehaven Chair Ambrose.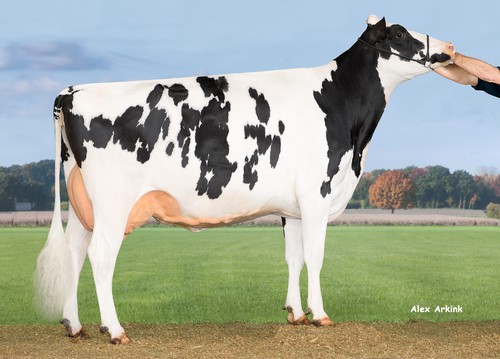 Hedra Anne 587 VG-86 (s. Bouw Rocky)
| NAme | sire | dam | col | LACT | FR | ds | ms | fl | TOT |
| --- | --- | --- | --- | --- | --- | --- | --- | --- | --- |
| Remarlinda 1104 | Lendor | Riana VG-89 | B | 2 | 87 | 87 | 90 | 84 | 87 |
| Bianca 1297 | Floris | Bianca 1021 VG-85 | B | 1 | 86 | 84 | 87 | 87 | 87 |
| Lalita Red P | Gywer RDC | Lol 422 PP Red | R | 1 | 87 | 86 | 86 | 86 | 86 |
| Riedel 1207 | Lendor | Robyn VG-85 | B | 1 | 86 | 87 | 86 | 87 | 86 |
| Cosmo 1278 | Floris | Corine GP-83 | B | 1 | 86 | 86 | 87 | 84 | 86 |
| Froukje 1279 | Floris | Joukje G-80 | B | 1 | 85 | 87 | 85 | 88 | 86 |
| Anne 1288 | Floris | Anne 587 VG-86 | B | 1 | 85 | 86 | 86 | 87 | 86 |
| Anne 1290 | Floris | Anne 587 VG-86 | B | 1 | 86 | 84 | 87 | 86 | 86 |
| Anne 1291 | Floris | Anne 587 VG-86 | B | 1 | 86 | 86 | 87 | 84 | 86 |
| Caro | Frontline | Cristi GP-83 | B | 1 | 85 | 84 | 87 | 87 | 86 |
| Remarlinda 1281 | Floris | Remarlinda 1018 GP-83 | B | 1 | 82 | 81 | 86 | 87 | 85 |
| Jorita | Batch P | Jalissa P RDC VG-85 | B | 2 | 87 | 84 | 85 | 85 | 85 |