Exciting classification update for Rhala Shania!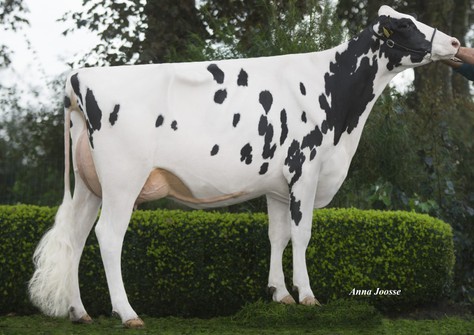 General
Granddam of Shania VG-88: Hul-Stein Chipmunk VG-85
For Rhala Holsteins/Excellent Genetics, a classification took place on both dairy farms recently. One of the highlights at the new location was a score of VG-88 for a Delta Reloader descendant out of the famous Larcrest Juror Chanel EX-93 family!
We are talking about Rhala Shania, freshened at 1.11 years. During a previous visit of the classifier last year the Reloader was already good for VG-87. Now, a year in lactation, she increased her score to VG-88 with VG-89 MS! Her granddam Hul-Stein Chipmunk VG-85 (by Supershot) is the full sister of daughterproven sire Hul-Stein Casey. Behind Chipmunk we find more generations of bull dams, like the well-known cows Larcrest Calinda, dam of dairy bull Larcrest Commander, multiple bull dam Larcrest Crimson EX-94, followed by the phenomenal brood cow Larcrest Cosmopolitan VG-87!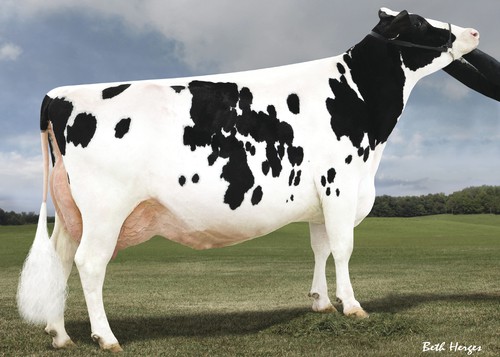 Larcrest Crimson EX-94
Rhala Re Patience PP Red (Solitair P Red x VG-88 Lucky PP-Red x VG-85 Salsa RC x VG-87 Supersire) was flushed as a maiden heifer to former sire of sons Visstein K&L Money P Red. This has led to five females, which are all homozygous polled! It is daughter RE Bonnie PP Red (A2A2) that performs well in the German system with 153 gRZG, 1639 kgsM, 121 gRZN and 123 gRZE. At the start of this year, the Van der Steege family sold this high PP heifer to Koepon Genetics. Patience PP Red calved in March and is projected at a 305-days production of 9,008 kgsM with 4.35% fat and 3.44% protein. Visit of the classifier made her receive VG-87 with MAX VG-89 DS and VG-88 MS! Dam Rhala RE Samba Red P increased her score that same classification day to VG-88 (EX-91 MS) in her third lactation. Samba Red P VG-88 is maternal sister of the R&W sire Rhala RE Blues Red (s. Salvatore RDC), which will presumably get his first daughter proven index in December.
From the same branch - Solitair P Red x Alaska Red x VG-85 Salsa RC x VG-87 Supersire - embryos are available in the GenHotel EmbryoSale. Click here!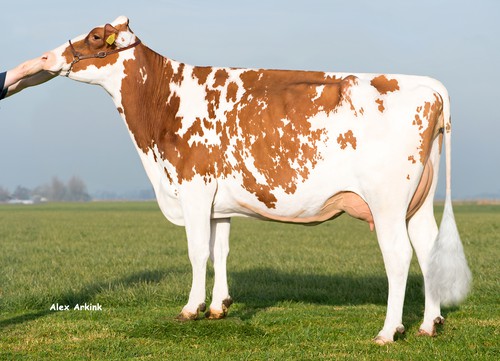 Granddam: Batouwe Salsa Aiko Red VG-85 
Meanwhile, the Van der Steege family has established an own branch from Ralma Juror Faith EX-91. One of these great young cows is Rhala Ex Jasmijn RDC, a Delta Jacuzzi-Red x Rhala Excellent Flower VG-89 (sister of Bouw Rocky & dam of Rhala Ex Blackbush). Jasmijn RDC upgraded her score in second lactation with VG-88 for all traits! Her full sister Rhala Ex Blackrose RDC was sold to Poppe Holsteins and GenHotel during the VOST Select Sale 2019. Blackrose RDC was being regularly flushed to create additional offspring based on her tremendous gNVI. She has produced interesting offspring with high gNVI scores, like the polled Queen 3STAR Flower P (by Nippon P) with 338 gNVI.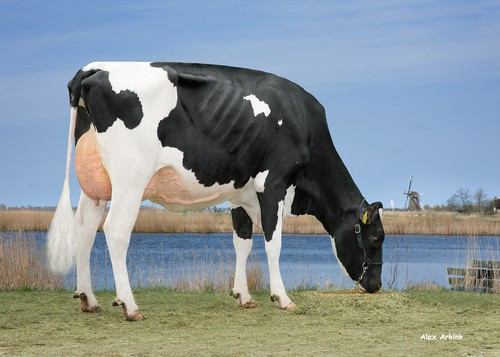 Dam: Rhala Excellent Flower VG-89
The story of the outcross Italian cow family, which goes back to Bel Iron Irene EX-90, started at Van der Steege with Veelhorst Lyzette (by Mr Welcome Hill Tango). Many embryos are sold and eventually several offspring of S-S-I Montross Jedi and Ocd Jabir Heisenberg are born under the prefix 'Rhala Ex'. Rhala Ex Lyette (by Westcoast Alcove) is one of the daughters from a high gTPI scoring VG-87 Heisenberg. Lyette, freshened as a heifer, received a score of VG-86 with VG-89 Frame! Maternal sister, Rhala Re Misswa, a second lactation Bomaz Skywalker with 252 NVI was scored the same day at the other dairy location with VG-87 (VG-89 FL). 
The 2nd calver Mr Spring Nightsky Pasky de Roccafarm was good for VG-88 (VG-89 DS). For some time she belonged to the top 25 V€G in Wallonia. Via Dozer x VG-85 Supersire VG-88 Snowman, Pasky VG-88 hails from Holbra Bolton Paulona VG-85.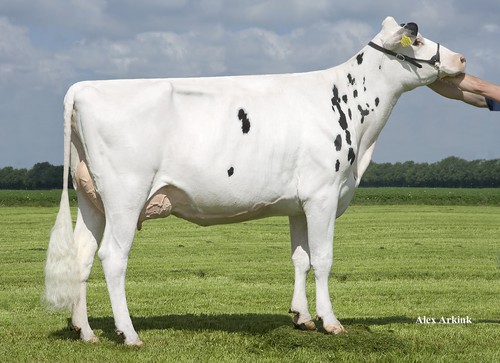 3rd Dam: Holbra Lady Snow VG-88 (by Snowman)
| name | sIRE | dAM | cOL | LACT | FR | ds | ms | fl | TOT |
| --- | --- | --- | --- | --- | --- | --- | --- | --- | --- |
| Rhala Re Samba Red P | Lucky PP-Red | Salsa Aiko Red VG-85 | R | 3 | 91 | 91 | 91 | 80 | 88 |
| Rhala Ex Jasmijn | Jacuzzi-Red | Excellent Flower VG-89 | R | 2 | 88 | 88 | 88 | 88 | 88 |
| Aafke 523 | Stellando RF | Aafke 513 | R | 3 | 85 | 87 | 88 | 89 | 88 |
| Edith 6 | Beart | Edith 5 | B | 2 | 88 | 88 | 89 | 87 | 88 |
| Pasky de Roccafarm | Nightsky | Pazza de Roccafarm | B | 2 | 84 | 89 | 90 | 87 | 88 |
| Shania | Reloader | Chanaya | B | 1 | 87 | 87 | 89 | 87 | 88 |
| Patience PP Red | Solitair P Red | Samba Red P VG-88 | R | 1 | 87 | 89 | 88 | 84 | 87 |
| Frieske 87 | Scolari | Frieske 80 VG-86 | B | 2 | 88 | 89 | 88 | 85 | 87 |
| Jacinta | Answer Po | Leadm.Jantina79 | B | 3 | 89 | 90 | 87 | 85 | 87 |
| Ruby 5 | Humblenkind | Koepon Charley Ruby | B | 1 | 89 | 88 | 86 | 84 | 86 |
| Magnifiqu 1 | Rapid | Magnifiqu | B | 1 | 87 | 86 | 87 | 85 | 86 |
| Lianne | Casper | Lyana | B | 2 | 84 | 87 | 88 | 84 | 86 |
| Lyette | Alcove | Lynette VG-87 | B | 1 | 89 | 86 | 87 | 82 | 86 |
| Tryntje 148 RDC | Kian | Tryntje 114 | B | 9 | 83 | 88 | 88 | 84 | 86 |