Great improvement of scores at Diepenhoek Holsteins
General
WIT Ricky VG-86, granddam of Ricky 2 VG-87
During the latest classification  round at the Adriaans family of Diepenhoek Holsteins Martien Adriaans was able to show some 2nd and 3rd calf cows to the herdbook classifier which resulted in great new scores!
Adriaans recently showed a couple of fresh first calvers and young cows to the classifier. For four of these cows this visit resulted in great score updates. One of these cows is the second calf
Diepenhoek Ready 2
, a Delta Topgear from the German 'WIT R' family. Member of this cow family is also Wit Ricky VG-86 a proven brood cow and also broodcow behind the high ranking progeny tested sires
Double W Ranger and Rush Hour
. Ready 2 raised her score to VG-87 (VG-88 MS).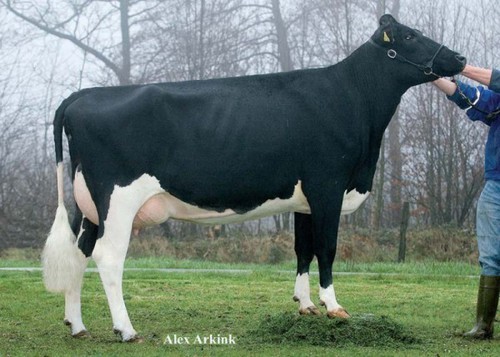 Regina VG-88 (v. O Man) 4e moeder Ricky 2 VG-87
Diepenhoek Chanel 2
(s. All Star), a member of the Larcrest Juror Chanel EX-93 family, reached VG-87. Chanel 2 VG-87 is in her second lactation and a maternal sister of
THE Adora Chanel ET VG-86
(s. Adorable). This Juror Chanel EX-93 family brood many successful AI bulls such as, Larcrest Contrast, Larcrest Commander, Col Simon, DG Checkmate RDC and Fanatic. The GenHotel Selection Sale top seller
Waldclass 3STAR HS Chanel 2 PP
(153 gRZG/129 gRZE) is also descending from this bull dam family.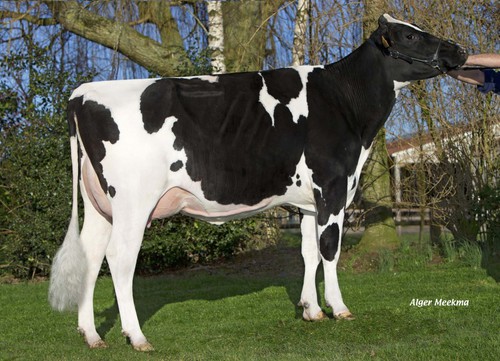 Roccafarm Beacon Chrissy VG-87, granddam of Diepenhoek Chanel 2 VG-87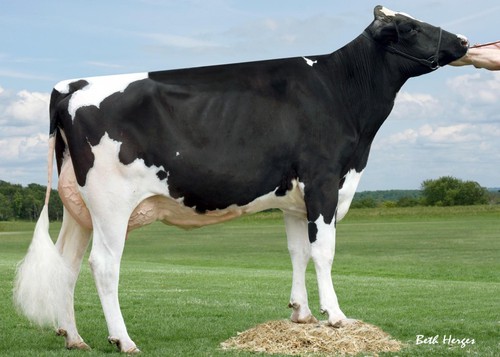 Larcrest Chenile VG-86, granddam Chanel 2 VG-87
From the Diepenhoek Rozelle family, the 3rd lactation Bouw Finder Diepenhoek Rozelle 139 was also re-classified. This all-rounder with A2A2 produces a lot of milk without any problems and proved to have a fancy and functional type too with VG-87 (VG-89 MS). 
The highest classified heifer is a member of the the Rozella family too. With VG-86 (VG-86 MS) Diepenhoek Rozelle 181 by Delta Assist makes a wonderful debut within the herd of the Adriaans family. 
| | | | | | | | | | |
| --- | --- | --- | --- | --- | --- | --- | --- | --- | --- |
| Name | Sire | Dam | Col | Lact | FR | DS | MS | FL | TOT |
| Rozelle 139 | Finder | Rozelle 97 VG-86 | B | 3 | 84 | 87 | 89 | 86 | 87 |
| Ready 2 | Topgear | Ready VG-86 | B | 2 | 88 | 87 | 88 | 86 | 87 |
| Chanel 2 | All Star | Chanel VG-87 | B | 2 | 86 | 87 | 87 | 87 | 87 |
| Rozelle 181 | Assist | Rozelle 137  | B | 1 | 84 | 86 | 86 | 84 | 85 |
| Model Lady 48 | Rocky | Model Lady  38 GP-83 | B | 3 | 86 | 85 | 84 | 84 | 8 |