Holbra Malon 8 is now Excellent
General
Holbra Malon 8 EX-90 - the first Dutch Jetset with an Excellent classification score!
It must have been a terrific day for the Holmer family when Holbra Malon 8 ( by De L'Avenir Jetset) moved to a fantastic new score of EX-90! This was followed by a new photo for both Malon 8 EX-90 and her great breeding dam - Holbra Malon 3 VG-88 (VG-88 MS).
The Holbra Malon branch started a few years ago with the reknown Holbra Pam VG-87 - descendant of the strong breeding Golden-Oaks Mark Prudence EX-95 and daughter of Sunday ALH Prudence VG-88. This Sunday ALH Prudence VG-88 is the key-cow for the Holmer herd. In addition to the Malon branch the well-known Holbra Sana line hails - through Holbra Petra EX-90 - from this cow too. 
The Prudence EX-95 family already brought great success to Holbra Holsteins. This family not only gives high production matched by lovevity and positive components, but also molds heifers into super frame cows with well-developed udders with stunning texture. This all attracted the interest of AI-studs, resulting in several proven bulls like Holbra Inseme Rodanas. Holbra Malon 3 VG-88 was one of the highest De-Su 11236 Balisto daughters at that time, which made her an interesting bull dam. Now she has several sons in AI: Holbra Adori, Holbra Silvershot and Holbra Mastershot. Malon 3 VG-88 is in her fourth lactation and has already produced 62,594kg of milk with 4.52% fat and 4.05% protein in 1574 days!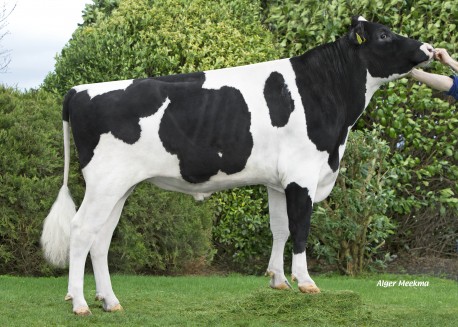 Holbra Mastershot @KI Samen (Jetset x Malon 3 VG-88) full brother of Malon 8 EX-90
Now back to the third lactation Jetset daughter Holbra Malon 8 EX-90, daughter of Malon 3. Recently she moved to a total score of EX-90, with very high scores of EX-91 for Dairy Strength and Mammary System! This makes her even the first Excellent classified Jetset in the Netherlands! Malon 8 EX-90 was flushed in order to supply female progeny the future and to make sure this super breeding cow family continues to develop at Holbra Holsteins. This flush resulted in several daughters by Peak Remington-Et.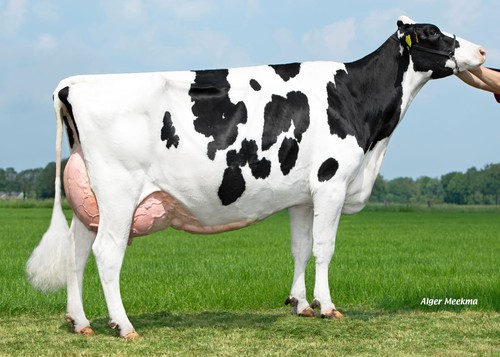 Holbra Malon 8 EX-90 (s. Jetset)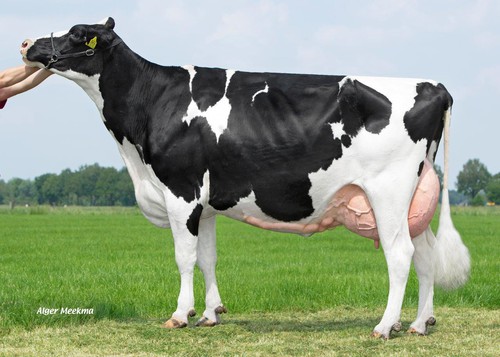 Holbra Malon 3 VG-88 (s.Balisto) dam of Malon 8 EX-90