Genhotel members succesfull in annual statistics CRV
Last October the Dutch magazine Veeteelt published the results of the annual statistics of the CRV classifications during September 2018 - September 2019. Those statistics tell which dairyfarms have the highest average of the overall conformation. Besides it shows a lists of individual cows which have the highest classifications. The statistics includes some GenHotel members!
Bolleholster Adele claims the highest classification of first-calver
The list of first calved black and white cows, which scored the maximum classification of VG-89, included six animals. The Dutch Holstein breed's best first calver is Bolleholster Adele. She earned a maximum score of VG-89 on all linear traits. This Pitbull daughter from the Van Der Eijk family earlier this year stood in the European spotlights during the Championship in Librabont (Belgium): she won her class! 
Besides Adele, also Maartje 200 (Goldwyn) from the Van Der Eijk family reached the toplist. This nine-year old lady has become a score of EX-92. In 2018 she won the Grand Championsip at the Landbouwshop at Opmeer.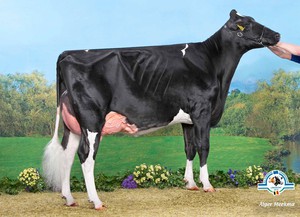 Bolleholster Adele VG-89 | Van der Eijk Holsteins, Twisk
Red-and-White first calvers with maximum score
The list of young red and white cows which got the maximum score of 89, included four animals. Two of them belong to GenHotel members. The highest classication in The Netherlands belongs to Drouner DH Aiko 1445 VG-89 (s. Pat). Aiko 1445 is born and raised at the dairyfarm from Albring in Drouwenermond (Drouner Holsteins).  She became famous this year because of her second position, and best udder in her category at the European Holsteinshow in Libramont. After her debut at the European Championship she competed at the Dutch national show (NRM) and became Reserve-Champion!
NRM Champion of the young cows turned out to be Barendonk Massia 7273 (s. Agent) . She is owned by the family Hermanussen (Barendonk Holseins). Also Massia 7273 got the maximum score of VG-89!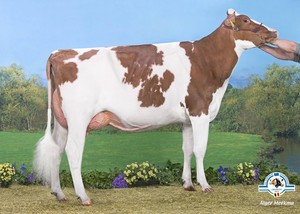 Drouner DH Aiko 1445 VG-89 | Drouner Holsteins, Drouwenermond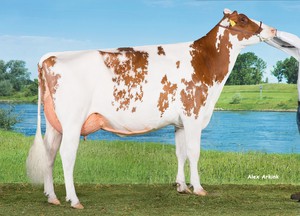 Barendonk Massia 7273 VG-89| Barendonk Holsteins, Beers 
Both Drouner Holsteins and Barendonk Holsteins got to the list of best average herd classifications in The Netherlands during September 2018 - September 2019. Drouner Holsteins got the the eighth place with an average of 86,3 (black and white basis). Barendonk Holsteins got it to the list of best red and white farms. With a herd average of 85,5 they reached the ninth place.
A summary of the annual statistics of Genhotel members
| NAme | sire | M.sire | R | DS | MS | FL | VG  | Owner, place |
| --- | --- | --- | --- | --- | --- | --- | --- | --- |
| Bolleholster Adele | Pitbull | Reality | 89 | 89 | 89 | 89 | 89 | M. van der Eijk, Twisk |
Black and wihte first calved, best first calved of Bolleholster Adele (source: Coöperatie CRV)
| NAme | sire | M.sire | R | DS | MS | FL | VG  | Owner, Place |
| --- | --- | --- | --- | --- | --- | --- | --- | --- |
| Drouner DH Aiko 1445 | Pat  | Olympian | 88 | 89 | 89 | 89 | 89 | Mts. H. en C. Albring, Drouwenermond |
| Barendonk Massia 7273 | Agent | Jorck | 89 | 89 | 89 | 88 | 89 | Barendonk Holsteins VOF, Beers |
Red and white, secondd best first calved of Drouner DH Aiko 1445 and third best of Barendonk Massia 7273 (bron: Coöperatie CRV)
| Owner, place | number cows | R | DS | MS | FL | VG  |
| --- | --- | --- | --- | --- | --- | --- |
| Mts. H. en C. Albring, Drouwenermond | 18 | 86,3 | 86,5 | 86,5 | 86,5 | 86,3 |
Herd average black and white, eighth place for Drouner Holsteins  (source: Coöperatie CRV)
| owner, place | number cows | R | DS | MS | FL | VG |
| --- | --- | --- | --- | --- | --- | --- |
| Barendonk Holsteins VOF, Beers | 21 | 86 | 87 | 86 | 84 | 86 |
Herd average black and white, ninth place for Barendonk Holsteins (source: Coöperatie CRV)